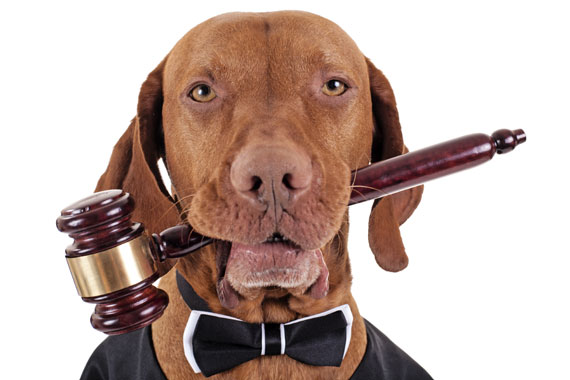 With unforeseen — often tragic — circumstances waiting around many corners, pets should be considered just like children, real estate and other items of particular interest.
Local law firm Ackerman Brown handles many complicated and contentious legal matters every day, but pets can bring out the softer side of the infamous lawyer work ethic. The firm's attorney Kody Silva explains that, sad as it is to consider, there are ways to ensure your fuzzy buddy's well-being when you're gone.
"When we meet with clients to discuss and begin the estate-planning process, continued care for our loved ones in the event of incapacity and after death is of paramount importance," says Silva. "Pets, as loved and valued members of the family, are very naturally part of the estate-planning process from the start."
Should the time come that a pet owner is still alive, but unable to care for their charge due to health or hospitalization, a good estate plan can pre-elect a trusted guardian for the animal. This will often be someone, perhaps a child or spouse, that is already trusted with carrying out aspects of the living will.
After an owner's death, a pet is, unfortunately, considered property and cannot be willed money or possessions. But funds can be allotted to a designated human caregiver with the suggestion it goes to pet care. Notably, there is no way to enforce this under law. D.C., Virginia and other states allow, however, for the creation of "pet trusts," in which a pet is made beneficiary of a trust fund and a trustee is assigned to ensure that the money goes toward the pet's well-being.
"We're rather lucky," says Silva. "In the [D.C. area] there are many distinguished organizations that can be relied upon to provide good information on services available to pet owners. For a person unsure of who might like to adopt their pet or who might accept the responsibility of becoming the trustee of a pet trust, there are many local resources able to provide valuable guidance."
Another serious circumstance to consider is what happens to a shared pet in the event its owners end their relationship.
Pets shared with significant others are a common legal consideration for same sex couples. Fellow Ackerman Brown attorney Matthew Barnes says that pet ownership and possession can often pose a "significant issue" in breakup proceedings.
For that reason, and despite its unpleasantness, Barnes cautions that it is best to consider the issue before trouble stirs in paradise.
"It is very rare to see couples take the steps necessary to protect their interests in their pets prior to breakup," says Barnes. "It is much more common for these couples to seek remedial assistance after they have separated. It can result in a very long and expensive negotiation process to reach an agreement regarding the pet."
While most owners consider their pets part of the family, the law does not hold the same view. As mentioned, pets are legally designated as property. This means that if the pet was purchased before the couple's marriage or domestic partnership, it is considered the separate property of the person who purchased it. If it were purchased after the couple formed, the court would use its authority of equitable distribution to decide who retains custody.
But there are measures that can be taken upon the purchase of a new pet to ensure it doesn't become a bargaining chip if the relationship goes south. Barnes says it's advisable to do some extra work upon the purchase of a pet to avoid heartbreak down the line.
"To ensure your interest in your pet is protected, it is important to have an agreement with your significant other, partner or spouse that provides for the pet in the event of a breakup, separation or divorce," he advises. "The agreement can be verbal, though we recommend putting the agreement in writing, signed by both parties. The agreement should be detailed in nature, reflecting issues such as ownership, possession and financial responsibilities."
All marriages will end, presumably in death or divorce, but those two events do not necessarily have to mark the end of your relationship with, or stewardship over, your beloved companion critter.
Allowing for their care after your death ensures that you can keep them happy and loved long after you're gone, which becomes especially important with long-lived heirloom pets like parrots, tortoises and certain tarantulas. As those animals can live twice the length of the average American marriage, they'll also appreciate a little forethought on who they'll end up with when their parents split.
For assistance with estates or other legal instruments that can help ensure a pet's well-being in case of death or divorce, contact the Ackerman Brown Law Firm at 202-393-5428, or visit them online at ackermanbrown.com.
Editor's note: The Ackerman Brown Law firm serves as Metro Weekly's legal representation.