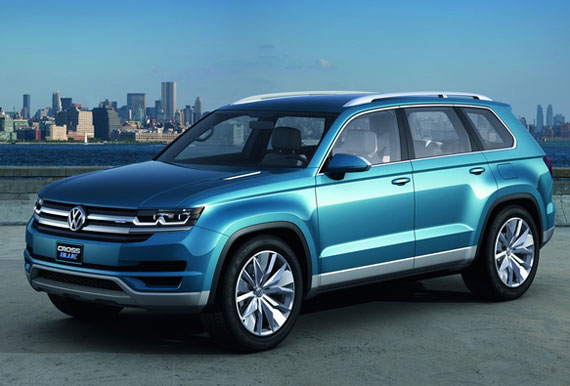 Volkswagen's Chattanooga, Tenn., factory is somewhat unique. The assembly plant, which opened in 2011 and employs over 2,000 people, exclusively manufactures Volkswagen's Passat — churning out 100,000 of the sedate sedans in its first year of operation. Its single production line isn't unique, though. Neither is its setting in Tennessee — General Motors builds the Chevrolet Equinox two hours away in Spring Hill. Instead, Chattanooga has the somewhat dubious honor of being the only VW manufacturing plant in the world that lacks any form of union representation.
Of course, that could be reasoned with its location in the South, which has long fought against labor unions. When Volkswagen, Honda and other manufacturers came to the U.S. in the '70s, they chose to buck the trend of the Big Three — who mainly manufactured in the North — and take their initial production lines to Southern states to avoid the unionization workers enjoyed at Ford, GM and Chrysler. Indeed, the introduction of these foreign manufacturing plants has been attributed to the general decline of the United Automobile Workers (UAW) labor union, which saw membership plummet over the following decades to a low of just 400,000 active members today.
Volkswagen's Southern belle, which remains its only manufacturing plant in America, operates in stark contrast to its other plants. VW attributes its recent success — the German automaker has risen to become the third largest in the world — to the worker-representation "works council" ethic it employs at its factories. The system entails a council with a mixture of blue- and white-collar workers, who discuss and make decisions on important issues relating to the workers at the plant. Vacations, benefits, manufacturing decisions — all are discussed and approved before being rolled out across the factory. Volkswagen believes the system grants a degree of control to every worker in the plant, enabling a better dialogue between managers and workers and helping to improve efficiency and morale. Each factory also sends representatives to VW's Global Works Council, which meets at the company's headquarters in Wolfsburg, Germany, to discuss the company's future operations and global manufacturing decisions.
It all sounds pretty great, and judging by VW's recent sales surge it's evidently working, which makes it all the more confusing that Chattanooga would lack any such council. Of course, the reason is far from simple. VW fully supports a council of workers at the Tennessee plant, but experts believe establishing such a council would directly violate U.S. labor laws. Participating in a works council at a VW plant without first establishing or joining a union to aid negotiations would apparently contravene federal law. While VW has rejected unions, along with other foreign automakers, in the past, it would be forced to work with one in order to have the works council structure it employs at other plants.
All of the above led to an agreement with UAW, which held formal talks with Volkswagen last year to unionize workers at the Chattanooga plant so that a works council could be established. Volkswagen didn't publicly oppose UAW's efforts to unionize workers and, in return, the union would "negotiate an agreement with the company, including how a works council would operate in the Chattanooga facility based on the principles of co-determination," UAW announced in a statement. In February of this year, workers at the plant would vote to determine whether or not the plant would join UAW.
As clear cut as the issue seemed to be — UAW reported that an initial interest ballot found that a majority of workers supported joining a union — when a union tries to establish a base in a Southern manufacturing plant, they're going to run into some opposition. The UAW ran straight into a brick wall. Public opposition to the move was incredibly vocal, both within the plant and the state. Tennessee Gov. Bill Haslam stated that unionization could impact efforts to attract further investment to the state. Sen. Bob Corker (R-Tenn.) told Reuters that VW would become a "laughingstock in the business world" if it entered an agreement with UAW. A petition circulated at the plant, with 600 signatories objecting to UAW's attempts at unionization. State Sen. Bo Watson (R) told a press conference that VW would face a "very rough time" in securing future incentives from the state if unionization occurred, while the state's House Majority Leader Gerald McCormick (R) said the UAW's "heavy hand" was not welcome in the state. WTVF-TV in Nashville obtained documents last month that claimed the state had offered $300 million in further incentives to Volkswagen in exchange for "creating 1,350 new full-time jobs and bringing a new full-size SUV line to Chattanooga." It also demanded that any such agreement was "subject to works council discussions between the State of Tennessee and VW being concluded to the satisfaction of the State of Tennessee." The deal was reportedly rescinded in January of this year.
Further clouding already murky waters is the proposed production of a new crossover from Volkswagen. Based on its CrossBlue Concept, it is seen as a key part of revitalizing sales in North America, which have lagged behind those in other markets. Volkswagen has yet to announce where the CrossBlue, which is expected to launch in 2016, will be manufactured, but it was heavily rumored that either Chattanooga or Mexico would receive production rights. Chattanooga was specifically built to handle a second production line alongside the Passat, so it seemed a natural fit, however, nothing was certain. Enter Sen. Corker, again, to sprinkle an extra dose of doubt into workers' minds. On the first day of a three-day secret ballot held at the plant in February, Corker stated, "I've had conversations today and based on those am assured that should the workers vote against the UAW, Volkswagen will announce in the coming weeks that it will manufacture its new mid-size SUV here in Chattanooga," Yahoo News reported. VW refuted the statement, responding: "There is no connection between our Chattanooga employees' decision about whether to be represented by a union and the decision about where to build a new product for the U.S. market." VW's words were lost on the workers of the plant, however, who voted against joining UAW, with 712 opposed and 626 in favor.
For UAW, it was something of a crushing blow. It viewed unionization at VW's plant as a step toward gaining access to numerous other foreign manufacturers' factories in the South, but instead was left to blame the failure of the vote on "outside interference," claiming "politically motivated third parties [had] threatened the economic future" of the Chattanooga plant. In the aftermath of the vote, anti-union groups and individuals jumped into attack mode. The Center for Worker Freedom told Reuters, "Not only can you [defeat unions], but if you don't you're a weenie," while South Carolina Gov. Nikki Haley warned any company using union labor not to invest in the state. As she told Automotive News: "We discourage any companies that have unions from wanting to come to South Carolina because we don't want to taint the water." This doesn't mean UAW has abandoned its efforts entirely, however. Last week, it dropped its appeal of the original vote, instead looking to organizing a second vote at the plant. Reuters spoke with a number of labor experts, who stated that UAW could seek to unionize the whole plant, or focus on specific sections, such as the body shop, which has majority pro-union workers. Whatever happens, the UAW is limited by the National Labor Relations Board from undertaking another ballot until February 2015 at the earliest.
For VW's American group and its Chattanooga workers, the future is less certain. The head of VW's works council in Germany, Bernd Osterloh, stated that "another VW factory in the United States, provided that one more should still be set up there, does not necessarily have to be assigned to the south again," as VW workers couldn't support a plant that wouldn't establish a works council. In Chattanooga, bosses are still determined to establish a workers council, which, perhaps surprisingly, is supported by those opposed to UAW membership. For workers at the plant, some form of unionization would still be required, but it could be as simple as establishing a localized union, specific to the Chattanooga plant, which then helps determine the scope of a works council.
Whatever the eventual outcome of the works council debate, one thing's for certain: Now that the UAW decision has been made, Tennessee lawmakers and Chattanooga's owners and workers need to convince VW to bring production of its forthcoming SUV to the state. Volkswagen plans to invest $7 billion in North America over the course of this decade and, if it's between Chattanooga and Mexico's Puebla factory, that's money many would prefer be invested this side of the border.