As he started work on HBO's True Blood,actor Denis O'Hare was instructed that vampires don't touch each other.
"I was like, 'Oh my God, fuck that! This one does," says O'Hare, who played Russell Edgington, the evil vampire king of Mississippi for two seasons. "I was playing the most ancient and most colorful vampire. And I was like, 'I'm not going to be bound by these rules.'" So O'Hare kept his arm around the actor who played his character's first boyfriend. "He was probably beyond sexuality in some ways," O'Hare says. "As such an ancient person, he had a different conception of what sexuality was. But he certainly preferred to sleep with men."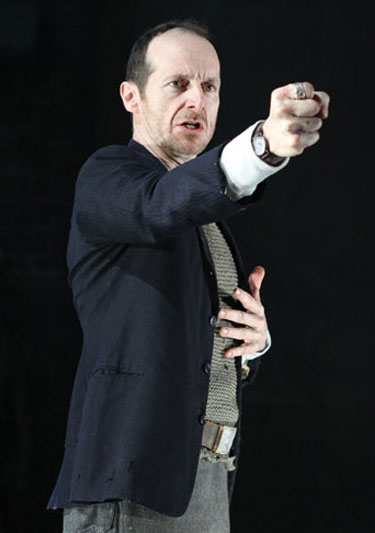 Denis O'Hare in "Homer's Coat: An Iliad"
(Photo by Joan Marcus)
O'Hare, who's also a key cast member on FX's popular American Horror Story, has appeared in numerous supporting roles in film and television over the past decade, most notably in critically heralded LGBT-themed projects, including 2008's Milk, 2009's An Englishman in New York, last year's Dallas Buyers Club and HBO's forthcoming The Normal Heart. More often than not, O'Hare plays the villain, or at least an unpopular character. He traces the work back to growing up in suburban Detroit, and specifically playing Pontius Pilate in a high school production of Jesus Christ Superstar. "Oh, this is the best part here," the 52-year-old recalls thinking. "He's the most tortured. He's the most interesting. He's got the best song."
O'Hare, who is gay, won a Tony Award for his role in the 2003 gay-themed baseball play Take Me Out, and continues to work in theater, both as writer and actor. This weekend at the Clarice Smith Center he'll perform the one-man show he developed several years ago with his writing partner Lisa Peterson. Created partly in reaction to a sense that America is now "perpetually at war," An Iliad is an intriguing contemporary adaptation of the classic war poem by Homer.
"It sounds so daunting when somebody hears Homer or they hear The Iliad," he says, adding that audiences don't need to know or remember anything. "We tell the entire story, we fill them in. It's actually funnier than people would expect. The Iliad is one of the great stories of all time." '
An Iliad runs Friday, May 2, and Saturday, May 3, at 8 p.m. at the 'Clarice Smith Performing Arts Center's Kay Theatre, University of Maryland, University Boulevard and Stadium Drive, College Park. Tickets are $40. Call 301-405-ARTS or visit claricesmithcenter.umd.edu.