Rick Hammerly hisses at Erin Driscoll early in Act 2 of Signature Theatre's The Threepenny Opera. Yes, the veteran local actor really and truly hisses at his younger but equally celebrated colleague — as loudly and dramatically as any big cat feeling threatened. Hammerly hisses at Driscoll after she nails an operatic vocal run that he had just fumbled — although the real reason he hisses is because Driscoll's character, Polly Peachum, aka "Pirate Jenny," has stolen away the man with whom Hammerly's character, Lucy Brown, had planned to have a baby.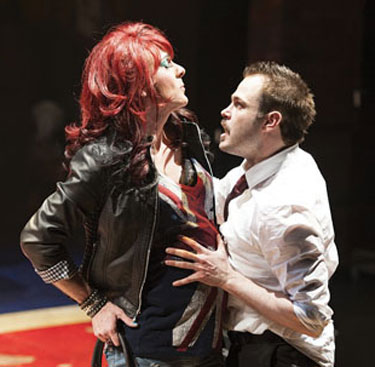 Threepenny Opera Hammerly (L) and Jarvis
(Photo by Margot Schulman)
Did you catch that? Yes, it's true, Hammerly is once again pulling a wig down from the shelf and donning female drag at Signature Theatre, a decade after his Helen Hayes Award-winning turn in the title role of Hedwig and the Angry Inch. Here he all but steals the show as Lucy, arguably the most hopelessly deluded lover of Macheath, aka Mack the Knife, played by the charismatic Mitchell Jarvis. The notorious criminal in Bertolt Brecht and Kurt Weill's nearly 90-year-old musical farce has got quite the harem lined up in London's gritty underworld. And director Matthew Gardiner has seen to it that you'll love the women in Signature's production all right. The phenomenal Natascia Diaz as Jenny, the woman who ultimately betrays Mack, is the first to sing, offering a dramatic rendering of the famous standard "Mack The Knife" — here dubbed "The Flick Knife Song" — which she starts off singing a cappella, showcasing her seemingly perfect pitch and incredible tone. Another female standout is the Signature staple Donna Migliaccio, who bowls us over in her typically wonderful way as Polly's domineering mother Mrs. Peachum.
For its first-ever production of either Bertolt or Weill, Signature Theatre doesn't flinch for a second — not just in picking one of the most cutting critiques of capitalism and modern society, but also in choosing possibly the most shocking of recent adaptations. Book writer Robert David MacDonald and lyricist Jeremy Sams's 20-year-old British take on the classic freely and naturally incorporates profanity and scandalous talk and action into this, well, fucking tale. As but one example, in earlier, tamer — as far as it goes — versions of The Threepenny Opera, one of the most compelling numbers is known as "The World Is Mean." Here, that song is "Life's A Bitch (And Then You Die)." It's the first of three finales, and it's sung by the Peachum family, led by the sturdy Bobby Smith as Mr. Peachum. Yes, father, mother and daughter all agree that, essentially, life sucks. They'd like to do good and do better, they sing, but there's just not enough demand for it.
The Threepenny Opera is a satire on the consumerism and corruption that runs rampant in a society in which everyone, even those at the top, have to take and steal and just live selfishly to get ahead. Even if your views are that dystopian and depressing, you can't help but find the good in this production: its strong cast, and also its sharp design team. You'll be awed by Misha Kachman's bright, multi-leveled set, which is especially enhanced by video designer Rocco DiSanti's CNN-style news tickers espousing familiar platitudes such as "So what?" and "Not my problem" in addition to stock numbers. Costume designer Frank Labovitz adds pizazz with his colorful wear, from Burberry plaids for Polly to Adidas attire for Macky's cohorts.
Labovitz dresses Hammerly in a burgundy wig, too-tight tie-dyed jeans, a black leather jacket and a Union Jack T-shirt covering up a bulging belly. So by the time he lets out that drag queen hiss, in other words, you'll no doubt be purring with laughter.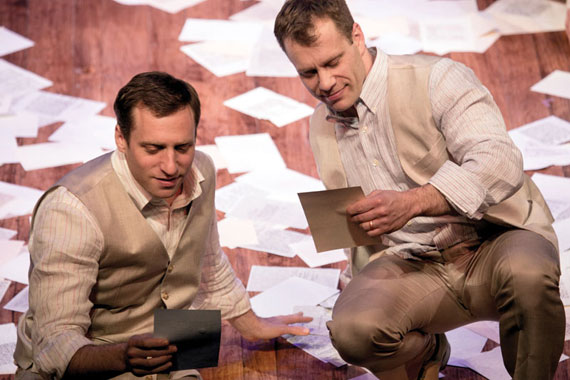 Two GentlemenofVerona: Valentine Zachary Fine (l) and Proteus Noah Brody
(Photo by Jeff Malet)
Over at the Folger Theatre, meanwhile, it's more barking than hissing.
Notably, no actual dog appears in the new production of Two Gentlemen of Verona at the Folger, despite the fact that a sad-faced canine is the central image used in the show's promotions, including on the program cover.
Instead, the Fiasco Theater company, as so many companies before it, gives the minor role to one of its two gentlemen leads, Zachary Fine, letting him double as the anthropomorphized dog, Crab. The result might be slightly less of a cheap shot than it is as written by Shakespeare, in what is believed by many to be his first play — after all, putting a real dog onstage is a pretty base stab at generating easy laughs. But it certainly doesn't make you love this problematic comedy any more, and doesn't help Fiasco and Folger's case for reviving it.
The human dog is naturally not the only twist this production makes in a mostly vain attempt to dress up this stale tale as contemporary. In the program Folger even excerpts an essay from a Shakespeare scholar who sees homoeroticism in the same-sex friendship at the heart of the story, going on to assert that this otherwise platonic relationship seems paramount to any of the play's male-female romantic pairings. Yet that doesn't make it gay, or even gay-friendly, in a contemporary way. Chalk it up to just one more attempt to rationalize what is otherwise a pretty irrational story.
Two Gentlemen of Verona revolves around two men, Proteus (Noah Brody) and Valentine (Fine), who are bosom buddies until each meets a beautiful woman who harbors love in return. But then in a jealousy-fueled power play, Proteus decides he prefers Valentine's love Sylvia (Emily Young) to his own Julia (Jessie Austrian), and schemes to make her his. And thus what develops is a de facto broken love square: Julia loves Proteus, who loves Sylvia, who loves Valentine — who also loves Sylvia. Poor, poor Julia. By play's end, Proteus has even resorted to rape as his last-ditch ploy to make Sylvia his, and his attempt is only foiled when Valentine catches him in the act, threatening murder if he proceeds. Proteus relents and begs Valentine's forgiveness, a plea that Valentine accepts all too readily from someone who violated his friendship and came "thisclose" to violating his beloved.
That the two couples also seem to unite and live happily ever after from this point on is the chief problem with the play, at least in a contemporary time when women are not powerless or one-dimensional. Post-assault Sylvia doesn't seem to object one bit to Proteus as Valentine's best man. Even worse, Julia doesn't so much as blink about rekindling romance with such a violent, treasonous lover. Whatever the "gentlemen" want, it seems, these wilting women give, without reservation or hesitation.
The actor-driven Fiasco Theater has been celebrated in its home base of New York for its inventive, stripped-down way of reimagining and re-telling Shakespeare, particularly the Bard's weaker plays — including Cymbelline, a production of which Fiasco will offer in a week's run at Folger Theatre immediately after Verona. The focus is on the acting, not the staging — although here, at least, you can't help but appreciate acclaimed Washington set designer James Kronzer's simple but dramatic backdrop. It's the kind of classically minded elegant stage on which anything would look better and engage you more than it probably should.
As co-directors, Jessie Austrian and Ben Steinfeld managed to cast a team of actors with great comic timing and sensibility, who also have an abundance of good looks and charisma, such that you're willing to suspend disbelief and escape reality, taking an improbable journey with them far more willingly and for much longer of time than makes sense. Because, ultimately, you can try hard to understand or even justify The Two Gentlemen of Verona — through contemporary allusions or modern sensibilities about love and friendship. But to inverse and twist a famous mathematical metaphor, you just can't circle this broken square.
It's pretty much a dog of a play.
The Threepenny Opera (




) runs to June 1 — with a Pride performance Friday, May 9, at 8 p.m. — at Signature Theatre, 4200 Campbell Ave., Arlington. Tickets are $40 to $95. Call 703-820-9771 or visit signature-theatre.org. The Two Gentlemen of Verona (


) runs to May 28 at Folger Shakespeare Theatre, 201 East Capitol St. SE. Tickets are $40 to $72. Call 202-544-7077 or visit folger.edu.