19. Paul McCartney – Flaming Pie (1997)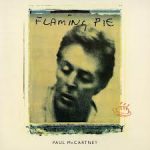 McCartney's post-Beatles career has been notoriously hit-and-miss, but every so often he delivers an album that reminds that world that he's still, ya know, Paul McCartney. Flaming Pie is unquestionably one of those albums. It's A+ songwriting from start to finish, and McCartney's voice is in fine form. Although 1989's Flowers in the Dirt is outstanding, Flaming Pie is arguably his best release since 1982's Tug of War. Flaming Pie begins with a look back, the nostalgic "The Song We Were Singing," a reminder that for all the craziness, in the end it was all about the music. There are a couple classic McCartney rockers here, especially "The World Tonight," "Young Boy," and two great bluesy numbers: "Used to Be Bad" and "Really Love You." Flaming Pie also features some touching ballads, especially the poignant "Little Willow," written in remembrance of Ringo Starr's first wife Maureen who had died of cancer. "Heaven on a Sunday," "Somedays," and "Beautiful Night" are all first-rate Paul McCartney ballads, which means they're something pretty special. Flaming Pie was played largely by McCartney himself, with help by Jeff Lynne and a producer he'd worked with a time or two before: Sir George Martin. Flaming Pie is one of McCartney's most successful solo albums, reaching #2 on the Billboard Album Chart. Despite it's general acclaim upon its release, like many latter-day McCartney albums Flaming Pie seems to be neglected. That should hopefully change – Tug of War, Flowers in the Dirt, and Flaming Pie all deserve the deluxe reissue treatment that other key McCartney albums have been given in recent years.
18. Sarah McLachlan – Surfacing (1997)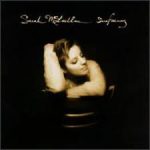 It must have been a daunting task to sit down and come up with something worthy of following 1993's superb Fumbling Towards Ecstasy, itself one of the decade's landmark pop albums, but Sarah McLachlan pulled it off with an even stronger album, Surfacing. Imagine sitting down at a piano and writing a song as utterly sublime as "Adia" — and it's sung so convincingly on the album, McLachlan's empathetic voice wrapping around the melody with breathtaking beauty. It's a work of remarkable talent, and the same can be said about the shimmering "Sweet Surrender." "Building a Mystery" was a strong lead single (and a Grammy winner for Best Pop Vocal – Female), and of course the ballad "Angel," simple and heartrending, will forever be one of the greatest ballads of the decade. Other standouts include "Do What You Have to Do," "Black & White" and "I Love You," but really there are no weak points. Sarah McLachlan's crystal clear vocals shine on Surfacing, a highly polished collection of songs possessing an innate sense of warmth and comfort. "We are still innocent – it's easy, we all falter – does it matter? "
17. Saint Etienne – So Tough (1993)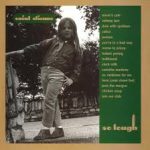 British trio Saint Etienne have released several great records, but really it all comes back to their second album: So Tough. It's an absolutely beguiling mix of modern electronic and dance textures with classic melodic pop. Sarah Cracknell sounds like she's a folk warbler from the summer of love with a flower in her hair who is launched Austin Powers-style into a future where she melds her twee pop with electronic beats and swirling samples. You won't hear a more intoxicating ballad than the exquisite "Hobart Paving." Cracknell's voice has an airy simplicity to it that is charming and endearing. "You're in a Bad Way" is a retro pop song that genuinely sounds like you might find it in a stack of old 45s along with The Archies, The Zombies and Petula Clark.  The sheer diversity of the sonic experimentation is remarkable. Bob Stanley and Pete Wiggs are wizards in the studio, and one only need listen to "Avenue" for a prime example (and for another amazing vocal by Cracknell.) In "Conchita Martinez" a searing guitar sample from Rush's "Spirit of the Radio" is used with great effectiveness. So Tough is long and quirky and exploding from every direction with wild imagination, creativity, and beautiful melodies. It's like listening to a stack of old 45s from the 60s and 70s that have ended up in the den of mad scientists from the future as they are toying around with them, adding sounds, and trying to understand what that "pop music" phenomenon was all about.
16. Jamiroquai – Traveling Without Moving (1996)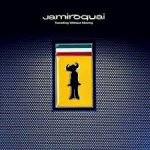 Jamiroquai were already hugely successful in the U.K. before American audiences were first dazzled by Jay Kay gliding and dancing across the floor in the iconic "Virtual Insanity" video directed by Jonathan Glazer. The first two Jamiroquai albums — 1993's Emergency on Planet Earth and 1994's The Return of the Space Cowboy — were both platinum sellers and scored 8 hits among them (one of them, 1994's "Space Cowboy," was a #1 dance hit in the U.S.) Their third album, Traveling Without Moving, opened them up to a much wider international audience. Jamiroquai's formula of old-school funk cooked with a modern glaze, with Jay Kay's vocals both soulful and chill at the same time, works beautifully. It doesn't hurt that there are some killer tunes and the band is tight as shit. Apart from "Virtual Insanity," the album includes the wickedly funky singles "Cosmic Girl" and "High Times" and the disco/funk classic "Alright." Just listen to those incendiary bass-lines and smokin' brass riffs on songs like "Use the Force," "You Are My Love" and especially the white hot title-track… Amazing. There's chill time too, like the sunshiny reggae "Drifting Along," or the spacey "Didjerama", no doubt what a leisurely float through the galaxies should sound like. Get beyond "Virtural Insanity," although the song is undeniably a classic, and dive into the rest of Traveling Without Moving. I have no clue where you'll end up but you'll have a good time getting there.
15. Whitney Houston – My Love is Your Love (1998)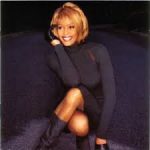 Although her final album I Look to You had some great moments – especially the bittersweet "I Didn't Know My Own Strength" – It just wasn't quite the same. It felt too much like a studio-enforced comeback, especially in light of YouTube clips of Houston performances that vividly illustrate that she wasn't yet ready for prime time. The last time Whitney Houston album that truly stands the test of time is 1998's outstanding My Love is Your Love. It was Houston's first album in eight years, since I'm Your Baby Tonight, although she had enjoyed substantial soundtrack success in the interim ("I Will Always Love You," anyone?) By the time of My Love is Your Love, though, her vocals aren't quite up to the powerhouse level of songs like "All the Man That I Need;" her voice matured and leant gravity to the songs.  My Love is Your Love veered more to R&B than her pop-focused earlier efforts, and that proved a good move. "It's Not Right But It's Okay" is a classic song of empowerment that became one of the most instantly recognized dance-floor anthems of the decade. "Heartbreak Hotel" is another classic of the era, and the gently reggae-influenced "My Love is Your Love," co-written by Wyclef Jean, is a joy. "If I Told You That" is a funky dance-pop strut, and "I Learned from the Best" is a powerhouse R&B ballad." My Love is Your Love is Whitney Houston at her most mature, focused, and self-assured. It's arguably the finest album of her career.