9. Sting – Ten Summoner's Tales (1993)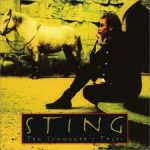 Sting made quite a transition from the edgy rock he sang in The Police to the polished, carefully-crafted pop of his best solo work. It was a switch that many fans were not prepared to accept, but while it's an undeniably different vibe than his work with The Police, Sting's best solo work compares favorably. Sting has proven himself one of the best lyricists in music, from his days with The Police (on epics like "Synchronicity II" and "King of Pain") to solo masterpieces like "All This Time." Ten Summoner's Tales is Sting at his versatile best. His breezy virtuosity is evident as the album veers from style to style. The gentle acoustic ballads "Shape of My Heart" and "Fields of Gold" are both recordings of timeless beauty. "If I Ever Lose My Faith In You," with its soaring chorus, is one of Sting's greatest singles. For an artist accused (often with some justification) of towering pretension, there are moments of self-deprecating humor, like on "Seven Days" and the raucous "She's Too Good For Me." Of course there are the more serious pieces as well, like moody and intense "Something the Boy Said," and the wonderfully manic "St. Augustine in Hell." The playing on this album is phenomenal, and the songwriting is ambitious and colorful. Ten Summoner's Tales is an album by one of the great songwriters of our generation in his prime.   
8. George Michael – Listen Without Prejudice V. 1 (1990)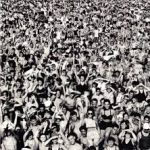 After the mega-success of Faith, George Michael wanted to go in a more mature direction and put out an album of more serious pop, and he succeeded with Listen Without Prejudice V.1 (a second volume, which was reportedly going to be more of a dance-pop album, never saw the light of day amid Michael's very public battles with Sony Records).  First single "Praying for Time" is straight out of the John Lennon songbook; musically and thematically it's very similar to "Mind Games." Michael delivers an impassioned vocal and a powerful set of lyrics about trying to hold onto hope in a world that seems cold and uncaring. It was a gutsy first single to unload on a marketplace used to upbeat pop from George Michael, but it became a #1 single and was widely acclaimed.  Michael openly tries to distance himself from some aspects of his past in "Freedom '90," with its self-conscious declaration that "When you shake your ass they notice fast; some mistakes were built to last." Ironically, "Freedom '90" is the most upbeat pop song on the album. One wonders if he was embarrassed enough about his past to hand back some of the millions that he earned… doubtful. The title of the album itself assumes that listeners, once they've seen your ass shake, won't be able to "listen without prejudice" and take you for a serious artist. There is something to be said for being able to appreciate great pop music for what it is, and Michael had apparently come to the conclusion that his past work didn't represent that of a "serious artist." Perhaps someone should have pointed him in the direction of Elton John's "Crocodile Rock," or The Beatles' "Yellow Submarine" — even the most pivotal pop artists weren't afraid to have a little fun, and Mick Jagger has shaken his ass more times than George Michael has drawn breath and it doesn't seem to have impacted his career longevity. Michael is running from and to some degree disassociating himself from his legacy, and he needn't have done so. In any event, he produced a fantastic record. His cover of Stevie Wonder's "They Won't Go When I Go," with its multi-tracked vocals, is a stunner. His heartrending ballad "Mother's Pride," about a mother grieving for first her husband and then her son, both lost at war, came at a time when the nation faced its first active warfare in a generation. Operation Desert Storm launched about a month prior to the release of Michael's album, so the song took on added poignancy. The rest of the album is largely mellow, melodic pop, all well-crafted and beautifully sung by Michael, although he does end on an upbeat note with "Soul Free" before a short mellow reprise of "Waiting." Not surprisingly, the relatively non-commercial Listen Without Prejudice didn't match the monster sales figures of Faith, but it still sold well and it holds up as a strong collection of mature pop… just as he had wanted.
7. TLC – CrazySexyCool (1994)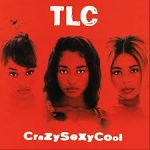 TLC matured quite a bit in the two years between their debut album, Oooooooh… On The TLC Tip, and it's follow-up, the sultry hip-hop/R&B mash-up CrazySexyCool. It was evident from the first single, "Creep." The funky tale of sexual retribution (revenge sex? Hot.) creeped its groovy way to #1. The follow-up single was even more brazenly sexual. The wonderfully steamy "Red Light Special" inspired enough masturbatory fantasies for it to reach #2 on the pop chart. "I'll let you go further if you take the Southern Route," indeed. It wasn't all sex, though. The trio's signature single "Waterfalls," which peers at social ills that are all too common and difficult to cure, is a classic. The track's strong hook, loosely extrapolated from a Paul McCartney single of the same name released 24 years earlier, and a powerful video helped send the track to #1 where it spent 7 weeks, becoming one of the decade's biggest hits. The sexy new jack swing "Diggin' on You," written and produced by Babyface, was another Top 5 hit when it was released as the album's final single during the fall of 1995. Their slinky take on Prince's classic "If I Was Your Girlfriend" is worthy of the song's greatness, and his influence is obvious throughout the album. TLC hit upon a winning formula on CrazySexyCool, and it has endured as a classic, selling over 10 million copies in the U.S. alone. The trio also won two Grammies: Best R&B Album and Best R&B Performance by a Duo or Group with Vocals for "Creep," although "Waterfalls" lost Record of the Year to Seal's "Kiss From a Rose."
6. Lauryn Hill – The Miseducation of Lauryn Hill (1998)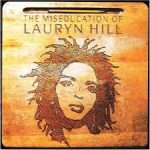 After the success of The Fugee's 1996 album The Score and their chart-topping cover of "Killing Me Softly," featuring a star-making vocal turn by Lauryn Hill, it was a given that Hill would at some point put out a solo album. It didn't take long, and she knocked it out of the park with an album of ferocious intensity. The Miseducation of Lauryn Hill was a blockbuster smash, hitting #1 and winning Grammies for Album of the Year and Best R&B Artist (and Hill landed the Best New Artist honor). It's a heady mix of R&B, hip-hop and pop, with Hill's soulful and versatile vocals taking center stage. It opens with "Lost Ones," a funky jolt to the side of the head. Hill is razor sharp during the rapped verses, and the quick left turn to the tight harmonies in the chorus is a roadmap to the rest of the album. Hill veers often back and forth between rapping and singing over beats that are edgy and restless. You never know what you might hear. The incisive and gutsy "Doo Wop (That Thing)," a #1 pop smash as the album's lead single, ingeniously meshes retro and modern styles. The melodic "Ex-Factor," featuring a sizzling solo by guitarist Mike Tyler, was another Top 40 pop hit. "To Zion" is a powerhouse epic Hill wrote about her son, and her vocal performance is ripped directly from the soul. One of the album's finest moments is Hill's incredible duet with D'angelo, "Nothing Even Matters," on which their voices merge with chill-inducing beauty. Hill's duet with Mary J. Blige, "I Used to Love Him," is sheer beauty. Hill also turns an old Frankie Valli chestnut, "Can't Take My Eyes Off You," into a recording with real power and beauty. The Miseducation of Lauryn Hill is a weighty masterpiece that's ambitious and reflects a singular passion. There is a fire behind this album, and it comes through in every song.