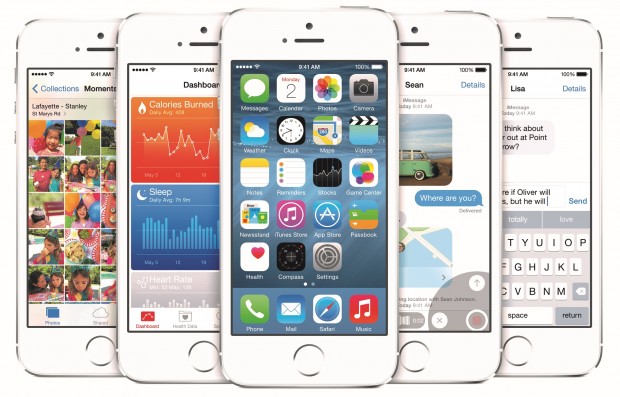 Christianity and Judaism have Jerusalem. Islam has Mecca. Apple fans? They have World Wide Developers Conference. Of all the great religious pilgrimages, WWDC arguably ranks as the most newsworthy, and is certainly in contention for most fanatical. Each year, hundreds of thousands of Apple devotees eagerly turn toward San Francisco, breath bated as they wait for Apple's evangelical leaders to spill forth their testaments. The path to enlightenment is paved with announcements for what those in attendance and watching over the Internet can expect to see on their smartphones, laptops and desktops in the coming months. When the house of Cupertino opens its doors, the world listens.
What, then, was in this year's sermon? Unsurprisingly, it was all about OS X and iOS — specifically, brand new updates to both. Let's jump in with the former.
OS X, which Apple is keen to tell their eager flock is bucking the current downward trend in the PC market, has been upgraded: goodbye Mavericks, hello Yosemite. While there's no sign of Sam, there are a whole heap of new additions and subtle tweaks, all aimed at helping those tied in to the Apple ecosystem better manage their lives across their devices.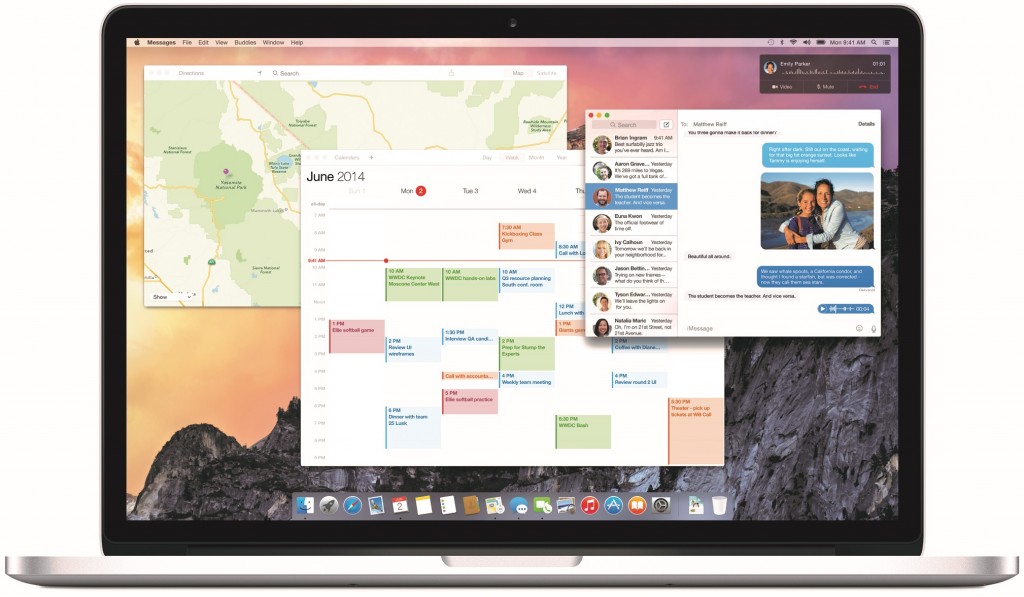 This time around, Apple's focusing on the core UI, which has received numerous changes with the overall aim of improving continuity and usability throughout the OS. Title bars in windows are now translucent, so users can see documents scrolling beneath them, while the Finder window will alter its color temperature to match your desktop wallpaper. The good ol' trashcan has been updated, too. Out goes the mesh design, in comes a new frosted glass affair. Yosemite enables those who prefer the darker side of life to switch to dark mode, which grants dark gray toolbars. The whole OS has been given an iOS 7-style flattening sweep. Icons in the dock are now flatter, with the background also flattened from its current faux-3D effect. It's "fundamentally still Mac," but should make icons much easier to discern in use.
Notification Center has also been overhauled, with a user's full schedule now included with notifications from other apps. Apple has included tabs to allow users to sort and minimize the information on screen, such as calendar and reminders, while widgets are also now included for more glance-friendly updates for weather and stocks, as well as a handy calculator, included. Borrowing from Android, where Google's search bar is omnipresent, Spotlight search will now offer a bar on the desktop to let users browse without having to click the dedicated icon. Spotlight itself is now much more integrated, with users able to browse documents, apps, contact information, appointments and other contact-specific search results. The inspiration here is Google Now – Spotlight wants to tell you things without you having to ask: it'll have an upcoming appointment waiting to be seen, let you know movie times for a film you're interested in, or even suggest nearby restaurants. Spotlight is also now integrated into Safari, so users can search their laptop or PC from multiple access points in the OS.
Yosemite also sees much tighter integration with iOS. One of the highlighted features is the ability to make and receive calls and send and receive texts directly from the desktop – something Gmail users have been enjoying for a while now and which Apple deemed worthy of borrowing from. Simply connect your iPhone to your computer and Yosemite will offer notifications for incoming calls and texts and let users craft their own messages and calls without picking up their phone. It's a handy feature, which has multiple applications: spot a phone number on a website? Simply click and Yosemite will make the call. No copy and paste required.
AirDrop has also been updated to now work with iOS, letting iPhone users transfer files between phone and Mac without cables. This is furthered with a feature titled Handoff: Yosemite can recognize when users have started a task on their phone that they may want to complete on the desktop. Start crafting an email but get sore thumbs? Simply open up a notification prompt which will appear on the desktop and start typing away on your keyboard to complete it.
All-in-all, it's a nice, if subtle, update that should keep OS X feeling fresh while further improving its core functionality. Expect the full Yosemite update to launch for free later this year, though those desperate to get their hands on it can register for a beta which will hit compatible computers this summer.
For the vast majority of Apple fans, however, it's iOS 8 which will cause the most excitement. Yes, folks, praise be to Tim Cook: iOS 8 is here. Now, don't expect the disorienting change that occurred between versions 6 and 7. This time around it's what's under the hood that's receiving the most attention. What's new? Quite a lot, actually.