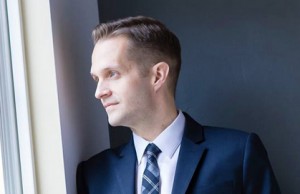 Local Washington-DC based vocalist Justin Thomas Ritchie is well-known in the local cabaret community. His one-man show, On My Way Here, was nominated for a Washington Area Music Award, and he's performed to sold out crowds at New York's Metropolitan room as part of the cast of Tonight, New York City. Ritchie has a long and impressive musical resume, including being a member of the Gay Men's Chorus of Washington, DC.
Now Ritchie is about to release his debut album, Feels Like Home. He launched a Kickstarter Campaign in order to fund the project, and it was well worth the effort.  Feels Like Home is a covers collection comprised of songs that are of particular importance to Ritchie. He explains, " I have always identified with the one on the margins, the one looking for a place to belong – at times I've been that one.  This is a collection of songs that speak to me on a deep level. They share a story and convey a message that mean a great deal to me."
It's not hard to understand why these songs would resonate. The album opens with his earnest take on Dolly Parton's Oscar-nominated "Travelin' Through," and he infuses it with an enthusiastic energy that works well as an opener. Ritchie shows off his strong vocals on Stevie Wonder's ballad "Overjoyed"; he does the classic song justice with his expressive tenor.
Ritchie deftly mixes older songs with more recent material. His take on Coldplay's "Fix You" is lovely, and he turns U2's "I Still Haven't Found What I'm Looking For" into a solemn ballad. Also beautiful is his recording of Patty Griffin's gorgeous "Up to the Mountain." With just a piano and cello accompaniment, Ritchie's sincerity shines through and he delivers what may be his best vocal performance on the album.
His raucous take on Bob Dylan's "The Times They Are A-Changin'" seems appropriately joyful, given all of the social progress we've seen in recent years. Dylan's music is timeless and can be performed in a variety of ways, so it's nice to hear this old classic performed with such gusto.
Justin  Thomas Ritchie's Feels Like Home is due to be released on June 17, and he'll be celebrating the CD's release with a show on June 14 at the Atlas Performing Arts Center. Check him out at JustinThomasRitchie.com.