"The message is simple: No hate. We want people to be happy, healthy and hopeful."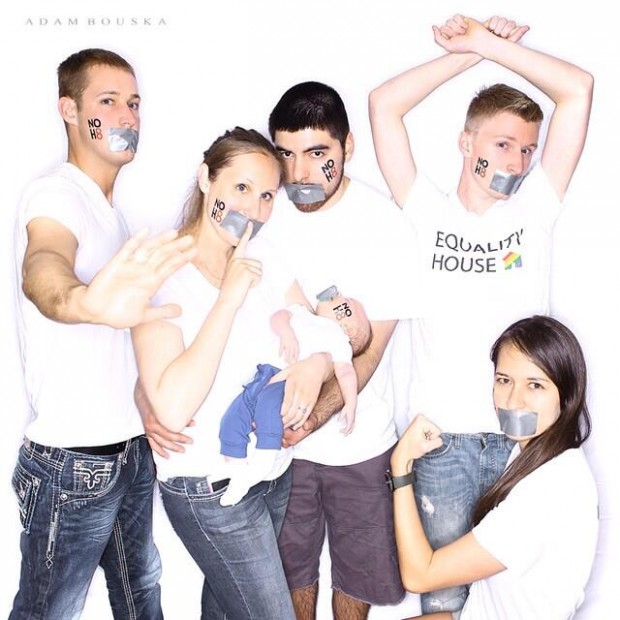 — Libby Phelps-Alvarez, grandaughter of Westboro Baptist Church founder Fred Phelps, posing for the NOH8 campaign with her family and friends. Phelps left the church, renown for its slogan "God hates fags" and its picketing of soldiers funerals, natural disasters and LGBT events, in 2009 and has since criticized its members and their beliefs.
"The whole family talks about homosexuality, every single day," she wrote in a column for the New York Post. "And it's always about how homosexuals are dooming the world. They talk about fornication and divorce, remarriage and adultery, but the main thing is the homosexual lifestyle. It wasn't a personal hatred toward anybody. We were taught that we were doing a loving thing. Either you are one or you're enabling one, and so everybody — except the Westboro people — is going to hell."
The NOH8 Campaign is a charitable organization that promotes "marriage, gender and human equality through education, advocacy, social media, and visual protest." Its most visible work is the NOH8 portraits series by Adam Bouska, created after the passing of Proposition 8 in California. In the five years since, NOH8 has shot over 33,000 people, including hundreds of celebrities.
The message is simple: No hate. We want people to be happy, healthy and hopeful. pic.twitter.com/GIraZ1G7Ph

— Libby Phelps (@LibbyPhelps) June 10, 2014