Years in the making, this weekend's Baltimore Pride will move to a new, larger space on the edge of the gay-popular Mount Vernon neighborhood. Both the Saturday block party and the Sunday festival will take place in what is commonly known as the ArtScape space, named after the city's large annual arts festival in July.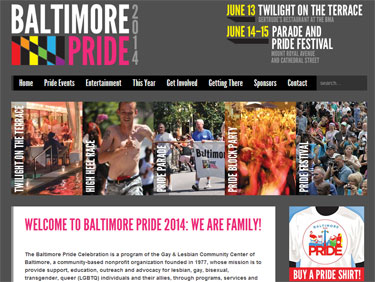 "We've outgrown the footprint of Charles and Eager Streets," says Dan McEvily, a spokesperson for Baltimore Pride, which draws in an estimated 30,000 people. In fact, rumors have circulated since 2011 about a move of the Saturday party from that blocked-off intersection in the heart of Mount Vernon. But rather than moving the block party to the festival site in Druid Hill Park, as some had suggested back then, organizers opted instead to move both events to a site only four blocks north of Charles and Eager and near the city's Penn Station. One other small move this year: The seven-block pride parade will now kickoff at that intersection and not the city's Washington Monument, which is currently surrounded by construction.
To a degree, the moves reflect this year's Pride theme, "We Are Family," by accommodating more people but also by making a push for greater unity and local connection. "In previous years the block party was a younger audience and the Sunday event was more family-oriented," says McEvily, director of communications for the GLCCB, the city's gay community center and producer of Baltimore Pride since 1978. "We're trying to integrate both of those groups together…. It's just going to be a little bit of everything for everybody on both days." The Baltimore Pride celebration officially kicks off Friday night, June 13, with the Twilight on the Terrace fundraiser at Gertrude's Restaurant at the Baltimore Museum of Art.
In addition to beverage gardens and food and merchandise vendors, entertainers will perform both days of the street festival on two stages. The lineup includes singers, drag kings and queens, DJs, belly dancers and assorted others — all of them local or regional acts. "We don't have a headliner this year," McEvily notes, adding, "Instead we've amped up our local talent to give it a very local flavor." Other locals getting recognition: Tom Patrick, volunteer manager for the service organization Moveable Feast, as the parade grand marshal and Sharon Brackett, the board chair of Gender Rights Maryland, as 2014 Baltimore Activist of the Year.
Perhaps the closest thing to a national headliner this year is Susan Morabito, the veteran club DJ who will spin at Club Hippo Saturday night starting at 8 p.m. The venue at Charles and Eager will open with an outside bar at noon that day, in time for the short, quirky high-heel race that kicks off the Pride Parade at 12:45 p.m.
The Hippo's Chuck Bowers isn't worried about a loss in business even without an all-day Block Party directly out front his bar's doors. Says Bowers, "It's going to be a lot of fun. We're all part of the community here."
For specific times and other information about Baltimore Pride visit baltimorepride.org.