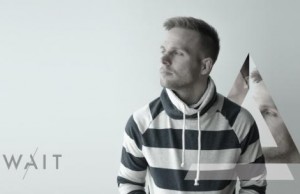 Tom Goss is a familiar name around the Washington-DC music scene.  He's performed countless gigs around the area, he's released a string of excellent CDs, and his videos have lit up on YouTube. Goss is back with his just-released fourth album, Wait, and it's a strong return — his finest effort yet. It's a collection of exuberant power-pop recorded with superb clarity and focus.
Wait is a mix of rockers and ballads, with strong melodies and profoundly moving lyrics. Opener "It Only Takes One" sounds at first like it's going to be a sprightly acoustic number until a torrent of electric guitars unleash during the chorus. The production standards are impeccable – – Producer/Engineer Mike Ofca of Innovation Studios should be commended, as well as Randy LeRoy who mastered the album. The sound is crisp and alive, allowing the songs to jump out of the speakers with boundless energy — it feels like you are in the room with the players.
"Take a Chance" is an acoustic-rocker with an infectious melody and a wonderful old-school organ whirring in the background. The barrelhouse rocker "Wait," a terrific travelogue with some outstanding piano work right out of Elton's Honky Chateau, is an unforgettably catchy number that will rattle around in your head for ages.
There are a number of lovely ballads. "Illuminate the Dark" is a touching and powerful track, one of the album's finest moments. "Breath and Sound," featuring guest vocalist Matt Alber, is another gorgeous track with strong vocal performances over the gentle acoustic guitar and piano, along with a lovely cello part played by Doug Poplin.
There are a couple full-blown rockers as well, particularly "I Think I," which is 2 ½ minutes of power-pop in the vein of The Records or The Only Ones. The musicianship is air-tight throughout, but never more so than on this little nugget of edgy rock — it is certain to be a live favorite. "Deeper Shade of Blue" is another melodic rocker with a nifty little synth line that gives it some added zest. "Falling," with Goss singing in his lower register, is another standout track.
The album ends with the romantic "You and Me," unquestionably one of the finest tracks Goss has written. "In time, we'll see this through wiser eyes," couldn't be a more truthful moment of clarity with which to end the album.
Wait is undeniably impressive. Goss has improved as a songwriter, the album is self-assured and practically bursting with energy. The musicianship is top-notch throughout: kudos to Goss on guitar, bassist Don Harvey, Liz DeRoche who seems to be all over this album, and electric guitarists Mike Ofca and Gary Prince. Wait goes by all-too quickly; but the good thing is, ya can play it again… and I suspect once you hear Wait the first time you will indeed be coming back to it again and again.