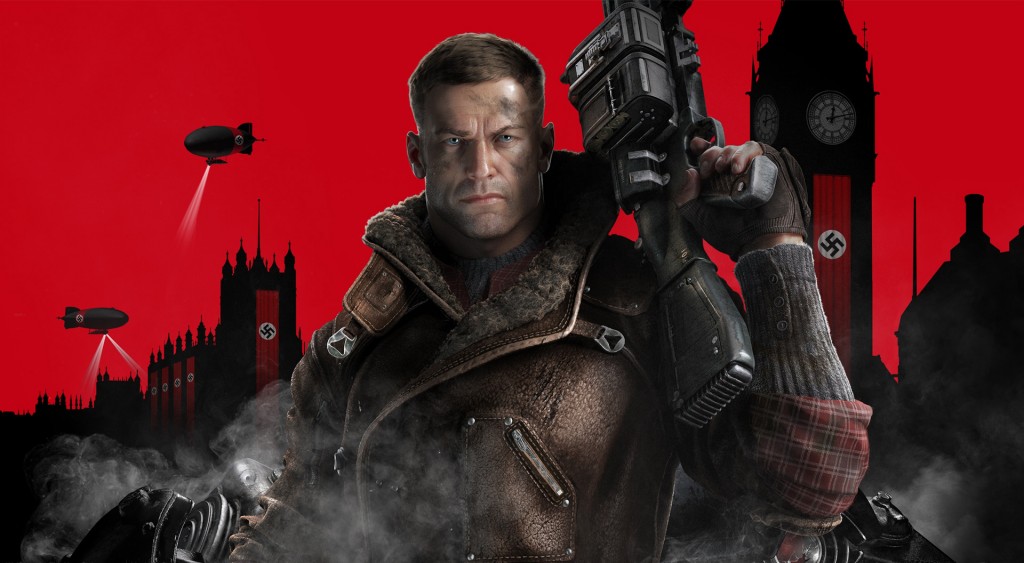 Wolfenstein: The New Order starts by posing one question, a question that fuels every decision and story arc over the game's single-player narrative: What if? The series has always focused on the Nazis as an antagonist – their horrific atrocities during World War 2 provide endless material for inspiring gamers to pick up a gun and work through a campaign – but it does so with a heavy dose of fiction. Wolfenstein 3D, which debuted in 1992 and established most of the tropes that exist in modern first-person shooters, ended its campaign by pitting the player against Hitler, dressed in a chain-gun suit. History Channel this isn't.
With The New Order, players once again find themselves in the shoes of protagonist William "B.J." Blazkowicz, a U.S. soldier of Polish descent. Blazkowicz entered the series in Wolfenstein 3D and, in the time since, has killed Hitler, assassinated a variety of fictional Nazi leaders, halted Nazi weapons research, stopped plans to resurrect an ancient German king, stopped the Fourth Reich's usage of paranormal powers to destroy their enemies, and stopped evil SS leader Deathshead from creating an army of undead cyborgs. He's been busy, in other words.
Though he has accomplished a lot, it has all seemingly been for naught, as The New Order's alternate reality attempts to answer the biggest "what if" of them all: what if the Nazis had won World War 2? It's a pretty terrifying thought – Hitler and company oversaw a genocide that killed an estimated eleven million people between 1941 and 1945. What if those atrocities had been allowed to continue, unabated? In Blazkowicz's world, it's reality. The game opens in 1946, three years after the events of Wolfenstein, in a world where the Nazis have created advanced weaponry and transport, allowing them to easily outgun the Allied forces. Fighter jets, mechanized attack dogs, large robotic walkers – all enable the Nazis to easily swat away any Allied bombers and military units.
Players are dropped into the game in the middle of an intense firefight, as Allied forces attempt to storm a Nazi weapons research facility. Here, The New Order not only shows its age, but also proves that there's more than a little truth to the tried-and-tested analogy. As you take control of Blazkowicz, everything feels right. He feels heavy on his feet, though far from unwieldy, moving in a way you'd expect of someone carrying so much armor and weaponry. Gun control is spot on, a nice balance between the heavy realism of Killzone and the light, zippy firearms of Call of Duty. The series that defined the first person shooter proves it can make a game feel just as good as its modern competitors.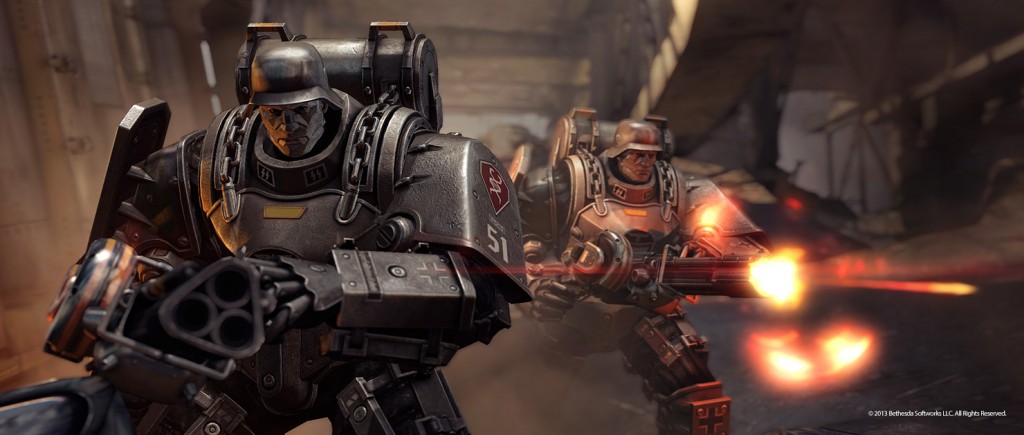 Once you've expended all of the bullets in your arsenal or taken a few hits from the AI, which has been well-programmed, offering flanking maneuvers and intelligent reactions, the game's retro roots start to show. Unlike almost every other action-oriented game on the market, and even its predecessor from 2009, Wolfenstein, there's no health regeneration. Blazkowicz can't endure a torrent of bullets to the chest and simply duck behind cover to feel better. Instead, Wolfenstein relies on separate health and armor meters – the latter helping dull the reduction of the former. Filling either is accomplished by finding health kits, food and pieces of armor that Blazkowicz can pick up. Ditto when that rifle you've been recklessly firing runs out of ammo, players will need to scour the battlefield and downed Nazi's bodies to replenish their stocks.
At the start of the game, it feels so old-fashioned it's almost a turn off. Picking up health and ammo is accomplished by running over it and pressing a button – it's not automatically grabbed like in other games – which can lead to some very inelegant moments of running through areas mashing the appropriate button in the hopes that you'll grab everything you need. However, after a while, it starts to make sense, not only because it's the way it was handled in the original Wolfenstein 3D. Though realism is far from The New Order's intention, it does add a challenge to gameplay and makes Blazkowicz feel much more human and vulnerable than he otherwise would. Micro-managing his health and armor, making every bullet count, making liberal use of the simple, one-button cover system becomes an essential part of gameplay. Unlike other shooters where it's easy to run into an open area and start firing off shots before retreating to recover and regaining any lost health, I had to really think my way around some of the trickier areas present in the campaign. Often, my own mistakes would lead to impassable situations – at one point I was left with very little health and faced with having to fight through a corridor filled with soldiers eagerly waiting to put holes in my body. Unable to advance, I had to scour the battlefield for a health kit that offered enough of a boost to ensure I'd survive the assault. Wolfenstein forced me to take care of Blazkowicz, which only helped with regards the main highlight of playing through The New Order – its excellent narrative.
Unlike many modern shooters, where the story is present to drive you from one set piece to the other, doling out explosions and "dramatic" moments along the way, Wolfenstein's biggest strength is the story it successfully weaves. What helps the most this time around is that Blazkowicz is a fully realized character. His humanity is made apparent in cutscenes and internal monologues, offering a man who is battle-hardened, yes, but who also dreams of an end to the war, of settling down and having children, of living an easier life. MachineGames, who crafted the game, isn't afraid to test his emotional limits, either. The game's opening scene tasks the player with choosing between two characters – one will live and one will die, affecting the plot – and it's Blazkowicz who bears the emotional impact. What's more, shortly after, he is knocked unconscious, a piece of shrapnel embedded in his brain. Taken to an asylum in Poland, he is left to recover — for fourteen years. Yes, the main portion of Wolfenstein: The New Order takes place in 1960, and that's what makes it all so utterly gripping.