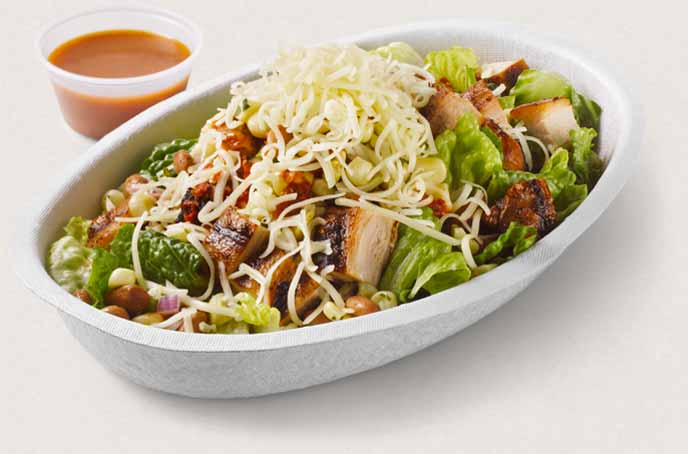 I'm 25 years old. I work full time, go to school, write on the side. Nevermind the daily gym visits, or the weekly hockey games. I don't have time to make a meal every day — especially for lunches. Yes, the king of ready-to-go meals is chicken and veggies cooked in bulk, but sometimes you just need a little variety.
Because of those issues I (self-imposingly) face, I've spent quite a bit of time figuring out how to eat healthy at some of my favorite restaurants, including Chipotle.
What you put into your Chipotle, you'll get out of your Chipotle. Don't get a burrito. Yes, they're tasty, and yes they're easy to eat. But the bread is just a glorified fork, a means of getting the food from the table to your mouth. Ditch it. I prefer the salads to the bowls, because they put the lettuce on the bottom. I have a serious personal struggle when I try to mix all of the stuff together, and find it easier with the lettuce added first. The next few steps are where the magic happens. I get double chicken. Why? Because I love chicken — and protein. Fajita veggies are a must as well. Adds substance to it with little caloric effect. I skip the rice, and usually the beans. Rice is high carb, high calorie. Beans are a good source of protein, but again, high calorie, particularly with the amount they put in. The flavor of cheese is a must for me as well. I can't ignore it. Top it off with a bit of Tomato Salsa (also known as mild or pico de gallo depending on where you go) for a bit of spice, and some guacamole on the side for the healthy fats in the avocado. It's a lot of food and should fill you up for quite a while. The best part is its nutritional break down. Check it out below.

Notice that huge protein number there at the bottom? I get all giddy just seeing it. You can cut back to one serving of chicken, and save about 200 calories for something else like rice or beans, just my personal preference. Chipotle's website has an amazing nutritional calculator so you can plan what you're going to get before you even leave for it. You can find that here.