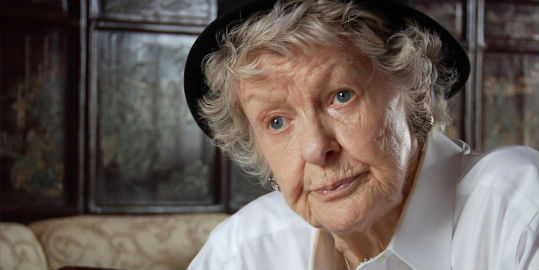 To help remember the legendary, brassy Broadway star Elaine Stritch, who died today at the age of 89 (RIP you great woman), the UK's Telegraph assembled several of the actress's best quotes. This we can say: The woman was blunt. And she loved a good drink. We offer an assortment below:
"I walked into that innocently, and I walked out doubly innocently." (On dating Rock Hudson.)
"I've got a certain amount of fame. I've got money. I wish I could fuckin' drive, then I'd really be a menace."
"Long as it has a wheelchair in it, I'm game." (On being offered acting roles in old age.)
"For my money, insecurity, depression, etc., can be healed by way of El Morocco, sad songs at 4am, and the pop of a champagne cork."
"I never say 'getting old,' because there's a finality to that. I'm just getting older and so are you, every day. So I'm still one of the mob."
"I don't think I'm gonna die tomorrow or even two weeks from now, or even ever. I just don't know — who the hell knows what's gonna happen to them? Nobody! Isn't that comforting? Nobody has a clue. I like that we don't know. And I like that it's somebody else's decision, not mine."
Read the rest at The Telegraph.
Related articles