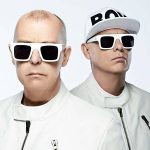 Neil Tennant, the remarkably talented and accomplished singer and lyricist for Pet Shop Boys, turns 60 today. The veteran pop duo has enjoyed a dizzying number of hits in their native U.K. and around the world, and they have a large and loyal following America despite the fact that their Top 40 success here dried up with "Domino Dancing" in 1988. The duo first emerged in 1986 with the global smash, "West End Girls," from their debut album Please, and they haven't stopped since, churning out one classic album after another.
Any Pet Shop Boys fan knows that their great songs aren't limited to their many hit singles; they have a seemingly endless number of phenomenal album tracks and first-rate b-sides, as well. In recognition of Tennant's milestone 60th birthday, here's a look back at 20 of the Pet Shop Boys' greatest lesser-known tracks in chronological order – – hidden gems that weren't singles, but perhaps should have been. The casual fan might not know some of them, but all of them are well worth seeking out.
"Two Divided by Zero" – Please, 1986
This opening track from the band's debut album is built around the repetition of the title sampled from a Texas Instruments talking calculator. The song tells the story of a young couple who – refusing to be divided by trouble at home – decides to run away and start a new life together. Ultimately you never know if they really go through with it or if it's just adolescent fantasizing. "Two Divided By Zero" is arguably the best track from their debut album that wasn't released as a single.
"In the Night" – b-side to "Opportunities (Let's Make Lots of Money)" single, 1986
From their very earliest singles, the Pet Shop Boys started a tradition of tacking on great b-sides, which thankfully is still ongoing. "In The Night," an urgent track fraught with dread and apprehension, is an early standout. It's a prime slice of mid-80's electronica, with a heavy New Order vibe. "In the Night" is featured on the stellar 2-disc Alternative, which collects the b-sides of the first part of the Pet Shop Boys' career.
"It Couldn't Happen Here" – Actually, 1987
This somber ballad, featuring a powerful keyboard arrangement by legendary Italian composer Ennio Morricone, is the duo's sad and shell-shocked response to the surging AIDS epidemic. Recorded and released at the height of the epidemic, "It Couldn't Happen Here" was one of the first songs by a major artist to deal with the issue directly. It's a poignant and beautiful track that remains one of the Pet Shop Boys' greatest ballads.
"Don Juan" – b-side to "Domino Dancing," 1988  
This frantic and incisive little song is quintessential Neil Tennant, name-checking King Zog, Marie Lupescu and King Alexander all in the same verse. It's easy to see why "Don Juan" was a b-side, as it's a very different sonic mood than the buoyant dance tracks on the Introspective album. Quirky and witty, "Don Juan," with its breathless melody and vocal performance, is one of the duo's finest b-sides.