One of the most iconic stars of Hollywood's early days, Charlie Chaplin enjoyed a film career that spanned more than five decades. In honor of his incredible legacy, mixologists and brothers Ari and Micah Wilder (Red Light & Federal Lounge), along with their partners Armin Amin and Adrian Williams, have paid homage to the movie star with the opening of Chaplin Restaurant & Bar.
Fans of the silent film actor, the Wilder brothers discussed the idea of a Chaplin-themed eatery nearly a decade ago. It was only after the opportunity arose to acquire the space formerly occupied by the failed Mandalay restaurant that they were able to make it a reality. The main goal of the restaurant? "To have a place, like Chaplin, that is playful and quirky," says Ari Wilder.
To help bring the culinary side of their vision to life, the menu has been put in the hands of Chef Jeremy Cooke — a student of the Orlando Culinary Academy — who previously worked for Roberto Donna at Galileo and, more recently, Erik Brenuer-Yang of Toki Underground. Cooke has selected an Asian-inspired menu based on his experience, as well as Chaplin's love of the Orient – he considered abandoning Hollywood life and retiring to China in the early '30s — a convenient connection given the Mandalay's kitchen was designed for Asian cooking, saving the Wilder's an expensive renovation.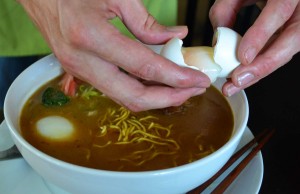 The centerpiece of the menu is a selection of ramen, the highlight of which is "The Masquerader," coconut-based chicken stock, chicken breast, mustard greens, pickled ginger and a soft-boiled egg added tableside. For larger parties, whole roasts of pig, duck, goat and lamb can be ordered.
Keeping with the brothers' roots in mixology, Cooke has also created alcohol-soaked dumplings. His "Night & Day" dumpling is made with a 28-day dry aged NY strip that's been soaked in Yamizake 12-year-old Scotch, then ground and mixed with roasted shitakes, porcini and oyster mushrooms. Cooke then lightly marinates the dumplings in roasted garlic, fresh scallions and ginger, with hints of Mirin and Shoyu. For the truly adventurous, Cooke also offers a dumpling shot. "Blood & Sand" combines Japanese Scotch whisky, cherry brandy, orange peel, and a hot beef dumpling into a unique flavor experience.
While the menu at Chaplin focuses on Asian cuisine at the moment, Cooke plans to evolve and expand in the near future, noting that Chaplin was also a fan of French and Italian cooking. Cooke's personal influence on the restaurant extends his choice of ingredients, with as much as possible sourced from local suppliers — a reflection of his experience growing up on a cattle farm in Montana.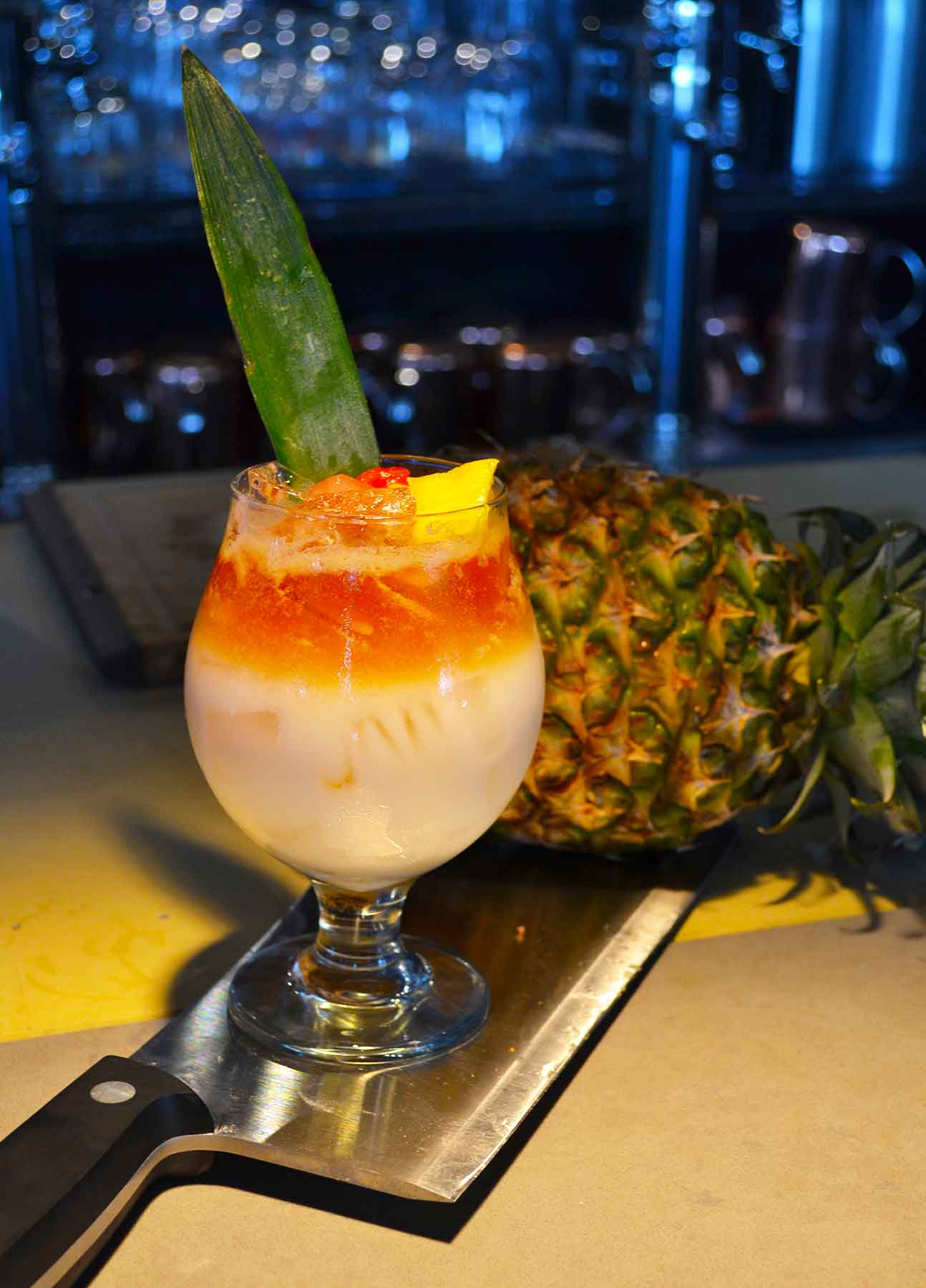 Of course, a good menu is nothing without good cocktails to accompany, and it's here that Chaplin gives in to nostalgia. Chaplin's cocktails are named after their namesake's comedic films, with standouts including Gold Rush (Champagne, Montenegro amaro, peach liqueur, peach bitters and golden flake), The Tramp (rye whiskey, Bénédictine, Peychaud's bitters and burned orange peel), and Sunny Side (a combination of three rums, orange Curaçao, cherry liqueur, Peychaud's bitter and pineapple with citrus).
The restaurant's layout and décor, the work of design and fabrication agency SwatchRoom, also harkens back to Chaplin's cinematic legacy. Throughout the two-story interior are various shades of black and gray to mimic the monochromatic cinematic experience of Chaplin's heyday. Like an upscale Planet Hollywood, the space also features textures and artifacts from film and entertainment history. For those unafraid to be Caught in the Rain there is also an expansive outdoor patio area. Escape the City Lights, ignore The Circus of Modern Times and settle in for A Day's Pleasure at Chaplin Restaurant & Bar.
Chaplin Restaurant & Bar is located on 1501 9th Street, NW. Call (202) 644-8806.