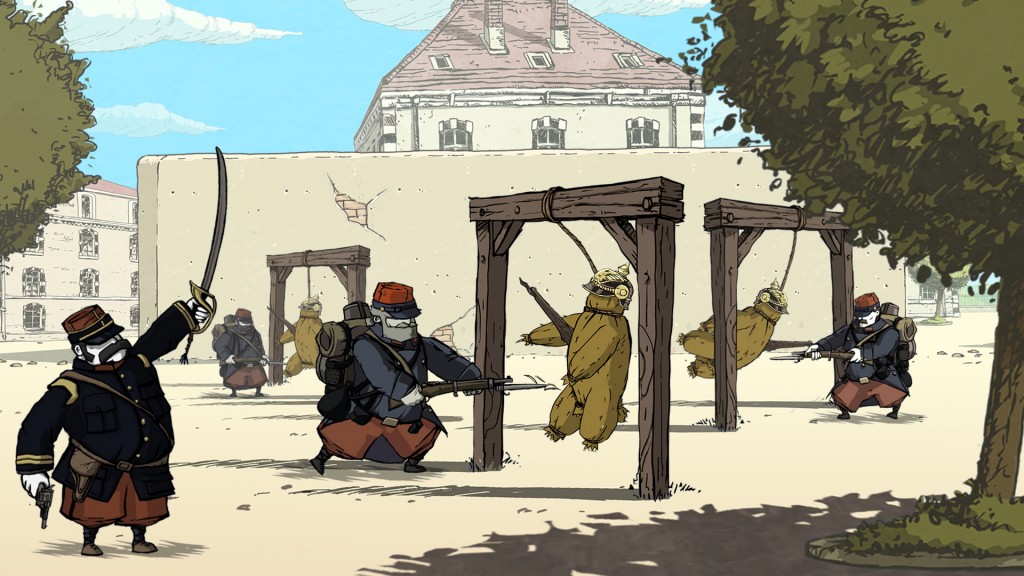 I'm a size queen. There's no shame in admitting it, I like them big. Open-world, first person, action adventure — the bigger the game, the more I enjoy it. There's something in the grandeur, the sense of endless possibility, that's utterly intoxicating to me. The vast worlds of Grand Theft Auto, Just Cause or Elder Scrolls are a drug I don't want to kick.
However, that's not to say I'm not one for a quick fix every now and then, and that's exactly what I had with Valiant Hearts: The Great War and Shovel Knight. Here are two downloadable games, both rocking a 2D art style, both offering under 10 hours of gameplay, but guaranteed to take the edge off of that gaming itch you need to scratch.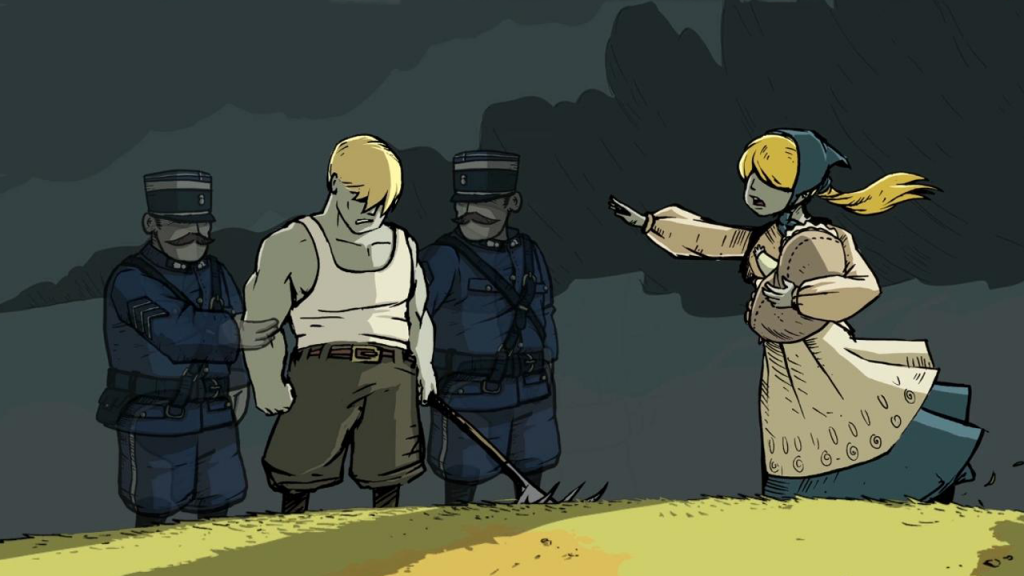 Right from the outset, Valiant Hearts is very intriguing. For starters, there's the title: The Great War. Gaming has already plumbed the depths of its successor, World War II, offering numerous games across numerous genres – but very few have touched upon the war that first went truly global, which spanned just five years between 1914 and 1918 and left almost 40 million people either killed, wounded or missing in action. What sort of game would you expect to arise from such dire circumstances? A shooter? A strategy game? What about a colorful, whimsical 2D puzzle game?
No? Well don't worry, as Valiant Hearts' creators, Ubisoft Montpellier, took one part history lesson, one part somber, beautiful storytelling and shook them together with a heavy dose of excellent animation and well-structured gameplay. Told from the perspective of four characters in various roles during the war, it follows them over the course of the five-year conflict. Each has their own reasons for being there, whether voluntary, forced, or conscripted, and all want nothing more than to be reunited with their loved ones.
Valiant Hearts takes its inspiration from the millions of letters sent during the First World War – with some examples appearing as collectibles during the main campaign, along with other objects from that time. As such, each character faces fictionalized situations from actual events during the war. You could be leading a platoon in a charge against the Germans, rescuing survivors of a German air raid in Belgium, or doing menial chores in a prisoner of war camp. Nothing is sugar-coated, either. Valiant Hearts, despite the beautiful animation and slightly whimsical nature of certain parts, never shies away from the horror and brutality of the war.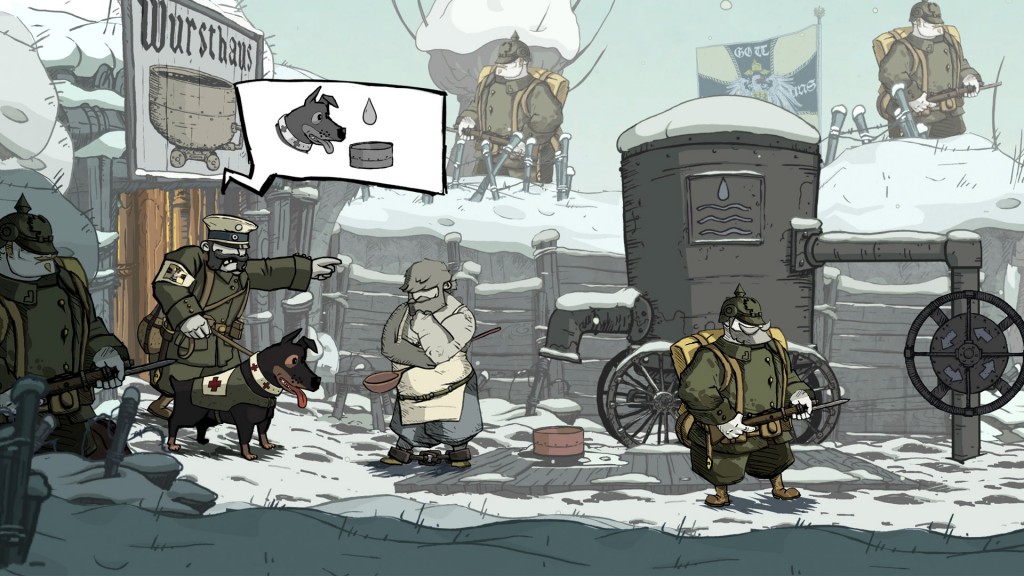 At one point, I was exploring a camp, treating soldiers as I found them. One such interaction involved a timed button-press mini-game that had my character sawing a soldier's injured limb off. Moments later, I was crossing a bridge only to realize that, underneath, were piles upon piles of decaying enemy bodies. It can almost shock with some of its content – but all of it is based in fact. Facts that are further corroborated by info cards appearing throughout the missions, offering a Wikipedia-esque nugget of reading to shed further light on the real history that influenced the scene you're currently playing through.
The puzzles themselves are incredibly straightforward, with only a few offering any real challenge, but the game controls well and each puzzle is intelligently laid out. Valiant Hearts isn't the most difficult game to play, but you're not playing it for a hardcore challenge. Instead, play it to fall into a world that manages to offer an animated, emotional, utterly wonderful look into one of humanity's darkest chapters. I wasn't sure if Valiant Hearts would work as a concept, but in practice? It's one of the best gaming experiences I've had this year.
The complete antithesis of Valiant Hearts is Shovel Knight. Available on PC, 3DS and the Wii U, it's also a 2D, side- scrolling game that harkens back to another time. Here, though, it's a highly concentrated blast from gaming's own past. Shovel Knight is retro, and it exudes that from every pore.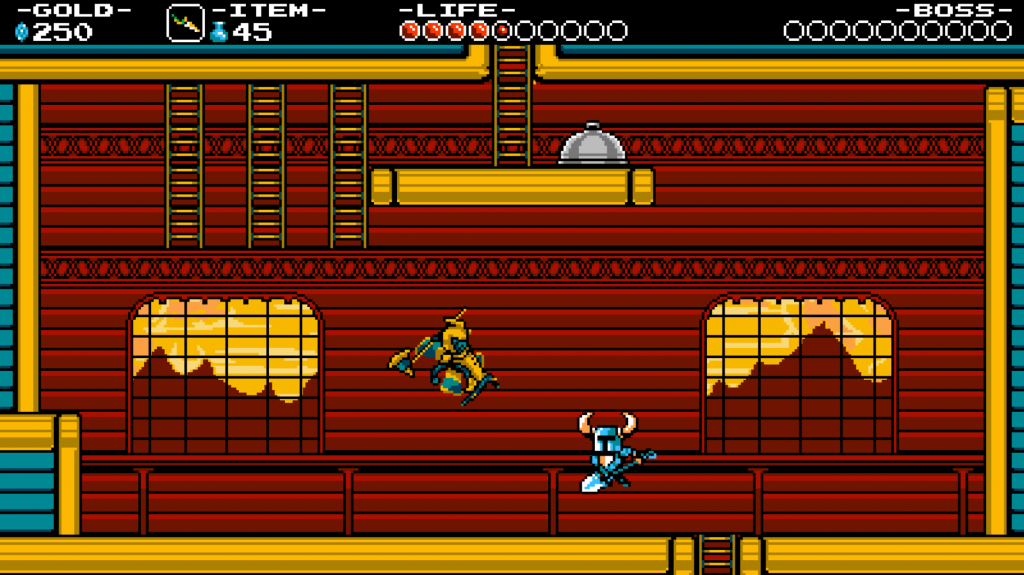 With 8-bit graphics, a chiptune soundtrack and a simplified control scheme, it takes inspiration from the days of the NES, with a light coating of modern gameplay design. Players take control of the titular Shovel Knight, who wields a shovel and is determined to discover the fate of his adventuring companion the Shield Knight. To do so, he must battle eight members of "The Order of No Quarter" who have been sent by an evil Enchantress to stop him from discovering Shield Knight's fate. With me? It doesn't matter – once you start playing you won't care about story or characters, you'll be far too busy sinking hours into the gameplay.
I must admit I'm not a fan of the current trend for retro-inspired games. There are simply too many on the market, all trying to recapture some sense of nostalgia. Shovel Knight's chiptune soundtrack was incredibly grating at first, its graphics felt too simple for a game made in 2014 and I just didn't get what all of the fuss was about. And then, four hours later when I was still sitting at my PC playing, I realized why so many people look back on the days of the NES with great fondness. Shovel Knight cuts out all of the crap of modern gaming and offers unadulterated fun. It's incredibly fair – the controls are tight, enemies are predictable, level design is just balanced enough that it can be punishing, but it's always doable. If you're messing up, you're just not playing it correctly.
As I bashed my way through the game, digging up treasure, jumping on enemies' heads, battling bosses, seeking out hidden chests and music scrolls, buying upgrades to my health and science abilities, finding relics and otherwise combing through every inch of its world, it became apparent that what Yacht Club Games have made is an utter gem of a game. It's simultaneously, gloriously simple and yet incredibly deep, with RPG elements – should I favor upgrading health or science? – and some wonderful writing in the text-only narrative with other characters and end of level bosses.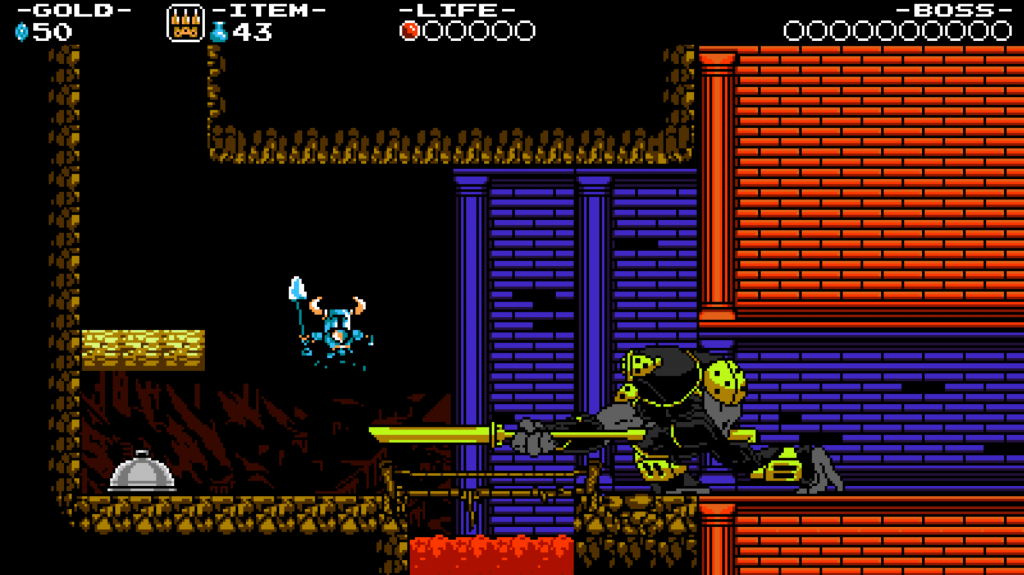 Retro it may be, but Shovel Knight offers an addictive, hardcore, punishing, joyous experience. If Valiant Hearts is all about setting and animation and emotion, Shovel Knight is about skill, technique and watching an hour of your life go by in an instant as you try to take down that one boss who won't stop killing you.
Neither game has the production values of a so-called "AAA" title, nor can they offer the grandeur and scale of such games. What each offers, however, is a condensed, distilled, purified experience. Valiant Hearts sucks you into its world, gives you characters to root for and showcases a period of time in a way I never expected to experience it. Shovel Knight beats you with an old NES cartridge and demands that you adhere to its retro mindset. Both may be small, but they're also utterly wonderful. For a quick gaming fix, either one will leave you satisfied.
Valiant Hearts is available on PS4, PS3, Xbox One, Xbox 360 and Windows PCs. Shovel Knight is and available on PC and Nintendo's 3DS and Wii U consoles.