Don't worry, heterosexual white men. The lengthy battles you've fought to gain equal rights, the daily discrimination you face for being a minority, the constant feeling of being a second-class citizen — it will all soon be over. Yes, America's first "Straight White Guy Festival" is happening and — we assume — aims to shed much-needed light on the plight of this oft-underrepresented group.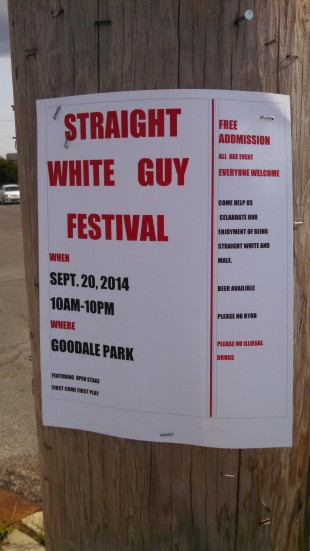 As WBNS-10TV reports, residents of Columbus, Ohio, have encountered numerous flyers across the city advertising "Straight White Guy Festival" (SWGF, henceforth), slated to take place September 20th in Goodale Park. That particular site is notable, as it is also home to Columbus' gay pride celebrations.
Equality advocate Michael Premo told 10TV: "This kind of thing implies there's some kind of struggle going on for being a straight white person in Ohio." Not so, it would seem, as Premo continued, "Straight white people are doing just fine." 10TV apparently checked with the city and were told that no permits had been requested for the day mentioned, and for all intents and purposes SWGF is not a real festival.
Shame, really, as those straight, white guys were just starting to get somewhere in this world.
Image Credit: Lauren Bagley/Twitter
Weirder things have happened, i suppose. Straight White Guy Festival, anyone? http://t.co/0mQKcItnOS pic.twitter.com/kib7tlx9hz

— Lauren Bagley (@TheREDison) July 18, 2014