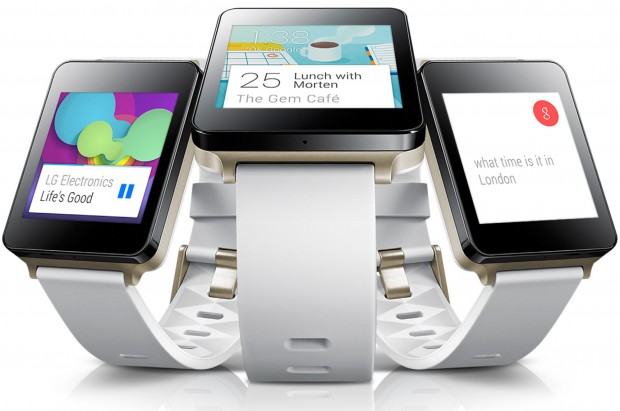 Google wants nothing more than to be absolutely everywhere all of the time. Not satisfied with dominating smartphones, tablets and search, Google has their sights set on every facet of their users' lives. Their annual I/O conference gave a first look at Android running on televisions and in cars, but it also offered up a final look at Google's plans for the one place numerous tech firms seem desperate to conquer: our wrists. The humble watch has, like that brick phone you had in the '90s, been found wanting – today, smartwatches are du jour.
The trouble is, until now, they haven't been particularly good. Whether it was Casio's calculator watches in the '80s, Microsoft's doomed SPOT watches in the early '00s, feature phones masquerading as watches at the end of that decade or any number of variations in between, countless companies have tried – and failed – to make a successful smartwatch. The problem has always been quantity over quality – the idea of the perfect Dick Tracy watch, one offering every function imaginable, has been a persistent factor. Just look to Samsung's Galaxy Gear, which launched last year. It offered a camera, TV remote, voice calling and a host of other features. It was also terrible. In trying to offer everything, Samsung forgot to really hone anything – particularly usability, design and longevity.
Of course, some have succeeded. Pebble's e-ink watches have carved out their own niche while fitness wearables are becoming ever smarter in their operation. Those few devices that have sold well have done so by focusing on the main reason most people pick up a watch or bracelet in the first place: it's an accessory. That is exactly the approach that Google is taking with Android Wear, their new OS designed for wearable devices. Rather than wrapping a smartphone around your wrist, Google is seeking to harness the power of Android and their Google Now assistant/search app to offer something different.

Unlike their smart predecessors, Android Wear devices won't require constant monitoring. "Rather than requiring attention and input from users, Android wearables are aware of their situation and state, and helpfully display the right information at the right time," Google writes. In layman's terms, you'll get what you want when Google thinks you need it – no fuss, no muss.
They do this by harnessing the power of Google's Now assistant – the software behind its search app on Android and iOS devices.
Google Now learns the habits and routines of its user, proceeding to suggest things it believes are pertinent to your current situation. Always go for lunch at the same time? Google Now will offer restaurant suggestions. Booked a trip? Google Now  will tell you when to leave for the airport, pull in your boarding pass and offer language translations and currency conversions if you're heading overseas. Even little things, like letting you know if you should leave work early to avoid traffic – it all adds up to a helpful whole across the average day.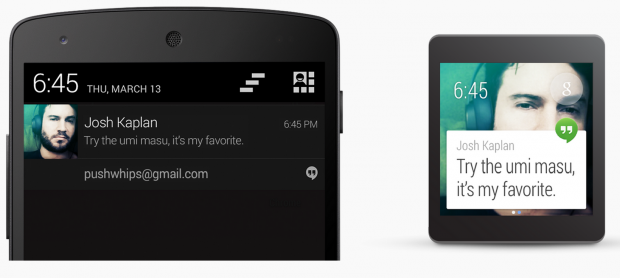 Wear devices will tap into that usefulness by removing one of the biggest steps to accessing Google Now, namely unlocking your Android phone. Wear watches will work in tandem with Google Now and Android's notifications system to help cut out some of the 125 times a day Google estimates we look at our phones. The watches will pull in every notification so, at a glance, you'll know if it's something you can dismiss or quickly respond to, or if it's something you need to get your phone out for. It's not going to change your life, but it will help save you time over the course of a day.
Just waking up? Your watch will have the weather waiting for you, your morning commute complete with traffic and an estimated time for when you need to leave, and your first appointment for the day. Heading to the airport? You'll find your flight information, boarding pass and any reminders (don't forget your passport!). Out for a run? Use your watch to pause or skip tracks while listening to music. If you want to change the artist or playlist, simply tell your watch to do so.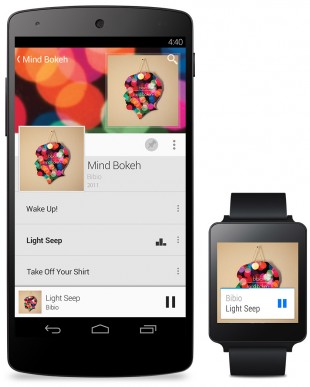 Yes, Android Wear makes full use of Google's voice dictation software and – given devices can launch without any physical buttons – it understandably runs throughout the Wear OS. At any time while using your watch, say "OK Google" to launch voice search. From there, it's possible to leave a reminder, set an alarm, call your mom, text a friend, respond to an email, use your watch's pedometer to check how many steps you've taken, search for the nearest restaurant, navigate to your destination, control your music or, even, just do a normal Google search. Can't remember what the capital of Taiwan is? Ask your wrist. Need a quick answer to a math problem? Your watch is waiting to help. Almost everything you can ask Google Now on your phone is present in diluted form in Android Wear.
Of course, Wear devices can't function alone – they need a smartphone with an active data connection to offer every function. It's a similar situation with apps. Twitter won't let you retweet your friends unless you have the app installed on your smartphone. Your phone and watch will run in sync together – dismiss a notification on your watch and it'll be removed from your phone, too. Ask your watch to show you directions home and your phone will open Google Maps and plan the desired route. Everything is controlled and adjustable through the Android Wear app, which will allow users to turn notifications on or off, set the default apps that the watch will use to carry out certain tasks, and stop certain apps from polluting the watch with notifications – if you get a lot of texts but only want to be notified about emails, Wear will let you control that minutiae. Conversely, if you want everything, just turn on your watch, connect it to your phone and that's it, everything will just work.
Android Wear's software is nothing without hardware wrapped around it, though, and Google had three hardware partners on hand at I/O to tempt buyers into adorning their wrist with an Android device.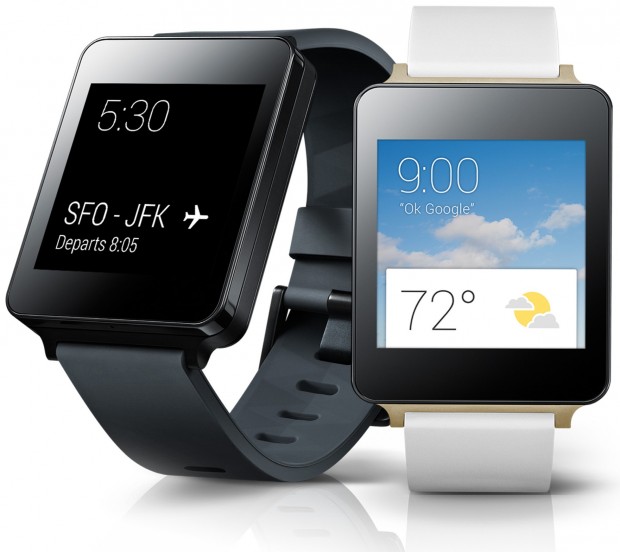 LG has previously partnered with Google on the Nexus 4 and 5 smartphones, which are well-made, if understated, devices. It would seem, though, for the company's first Wear device, they took that Nexus minimalism to the extreme. The G Watch is, essentially, a developer reference device, offering every standard of the Wear platform with little extra design embellishment. It's a simple metal and plastic square, available in black or white, with matching silicone strap. Its 1.65-inch screen features a 280×280 IPS LCD, powered by a 1.2 GHz Snapdragon 400 chip and 512MB of RAM. There's 4GB of storage – presumably for the Wear OS alone, as nothing can be transferred – and a full complement of sensors to monitor your footsteps and wrist movements. Juicing this tech is a 400 mAh battery, which LG claim is good for a day and a half of regular use.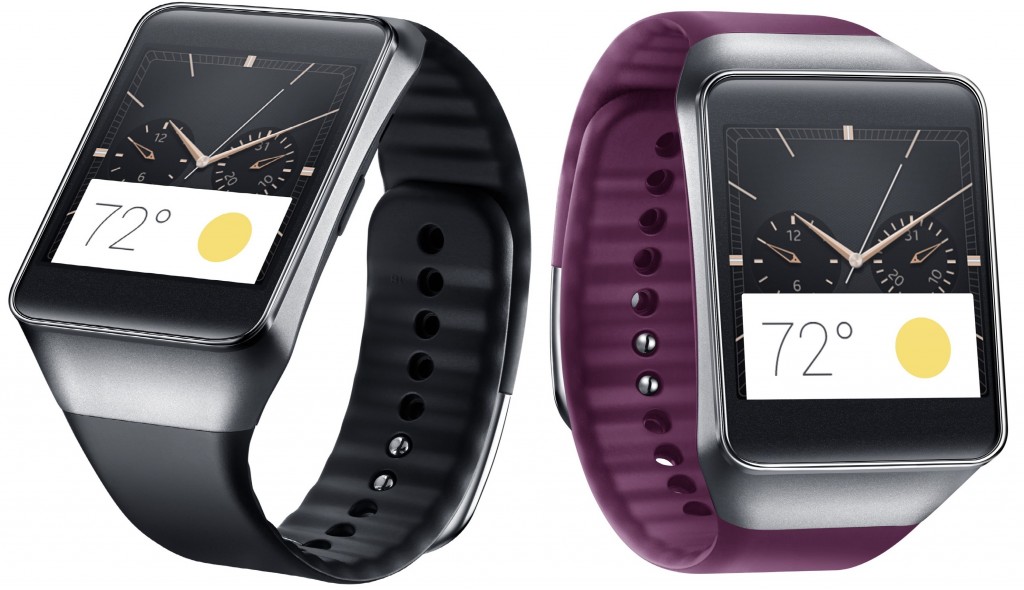 From Samsung, we have the Gear Live. The Gear Live marks the fifth smartwatch Samsung has launched since the original Galaxy Gear last year, and clearly they're not interested in rocking the boat as it's essentially a rebadged Gear 2 with some slight differences. Gone are the camera and IR blaster, as well as the hardware button under the screen – it's moved to the right-hand side. What remains is a slightly chunky, though somewhat stylish, watch with aluminum and plastic casing, available with either black or red straps. Inside, the Gear Live is identical to the LG save for its battery, which is only 300mAh – good for a day and a half or, according to Samsung, 6 days of "low usage." The Gear's screen differs, too, offering a smaller, 1.63-inch display but at a higher 320×320 resolution. What's more, it's one of Samsung's sAMOLED screens, which means vibrant colors, inky blacks and plenty of brightness. Samsung offers something the LG doesn't, too – on the watch's underside Samsung has kept the Gear 2's heart-rate monitor, which will let users track their pulse and sync it with fitness apps.
Both devices are much of a muchness, however, with preference coming down to external design and budget. Samsung's watch, despite carrying the better screen and more premium look, retails for $199. LG's watch, meanwhile, is $229. The former ships from Google's Play Store on July 8, while the G Watch ships July 3. Both will also reach big box retailers and wireless carriers, as well as the usual online retail sites.
However, if you're tempted by an Android Wear device, you may want to wait for Google's third watch – Motorola's Moto 360. Why? Because it's gorgeous. Rather than adhere to the square screen of every current smartwatch, Motorola has instead opted for a round face, more in keeping with traditional watches.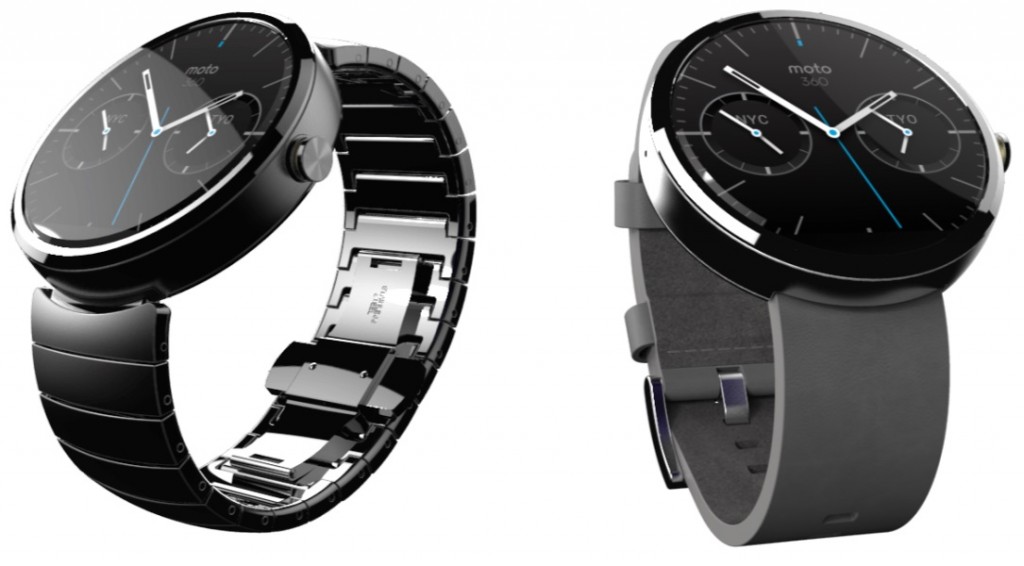 It's a small change, but the effect in person is striking – the Moto 360 is a premium device throughout, finished in high-quality metals and offering premium leather or metal straps, but it's that round, digital display which will draw the most praise and attention. Android Wear has been designed to support round displays and, after seeing the 360, we can completely understand why. Unfortunately, Motorola is remaining tight-lipped on most of the 360's specs. It is slated to launch at the end of summer, but we don't know when, for how much, what'll power it, how long its battery will last or what the tech behind its wonderful display is. If the product Motorola ends up shipping can deliver on the longevity and performance fronts, we could be looking at the definitive Wear device – at least until the numerous other manufacturers who will be making Android Wear devices show us what they have up their sleeves.
Wear is an interesting proposition. It eschews the Android norm of cramming in every feature possible and instead offers a more thoughtful, more streamlined approach to smart devices. It is first and foremost an accessory, running in tandem with your smartphone to help reduce how often you interact with the latter. That's not to say it isn't powerful, however, and it'll only improve from here. Google has mandated sole control over the Wear interface, which means watchmakers will be forced to compete with each other on hardware – which will hopefully lead to some exciting, beautiful devices, but should also mean a consistent, consistently improved interface and set of core features.
We'll have a full review of Android Wear, and the LG G Watch it's running on, over the coming days. We're currently putting Google's claims to the test to see if a smartwatch is a necessary purchase or if it's still very much a niche purchase, so keep an eye on metroweekly.com/life/tech for all things Android Wear.