Restaurateur and chef Richard Sandoval has managed to keep the menu at the D.C. branch of his Latin-Asian inspired restaurant, Zengo, fresh for more than a decade.  One of the ways he has done this is with his special "Test Kitchen" series.
Like mad culinary scientists, every few months Sandoval and his team at Zengo research and develop new recipes featuring the cuisine and spirits of one Latin and one Asian country. The result is limited time dishes and cocktails that feature some of the bold flavors and techniques from each region. These new items are made available during dinner service and given special status on the menu with a "TK" designation.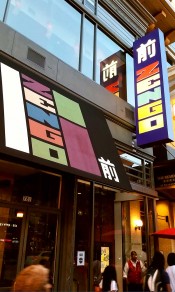 Through September 30, Zengo's new TK items are a blending of flavors from China and Brazil. According to Sandoval's regional executive chef Graham Bartlett, the interest in Brazilian cuisine has been a growing trend even before the Word Cup craze.
For the TK starters, there is Pan De Queijo Shrimp Buns that are Brazilian cheese bread with Thai chile shrimp stuffing and an orange glaze; and vegetarian Szechuan Eggplant Pastels that are deep fried pies filled with tofu, mushrooms and scallion served with a chimichurri and sesame soy sauce.   
A pairing of Sea Scallops and Char Sui Pork Belly with feijoada sauce, oranges, and red onions; and Kung Pao Lamb Chops Asado with a yuca puree are the new TK entrees.  And for dessert, corporate pastry chef Jose Luis Flores created a Gauva Rangoon with cream cheese, dulce de leche ice cream, and guava. The featured Chinese-Brazilian menu items will range in price from $7 to $30.
To complement the special dishes, Rob Day, Sandoval's national beverage director, has crafted two TK cocktails: a Monte Alegre, Pitu Cachaca, elderflower liqueur, Campari, fresh lychee, fresh lime juice and Champagne; and a strawberry Chipiroshka, vodka, Thai basil simple syrup, fresh lime, fresh strawberry puree, fresh lime juice, and ginger ale.
There is little doubt this new TK menu will have many diners yelling "GooaaAALLL!"
 Zengo is located at 781 7th Street, NW.  Call (202) 393-2929.