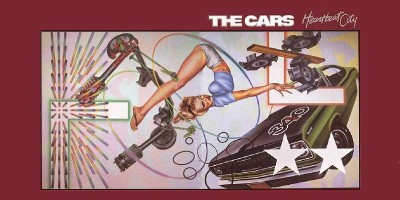 The Cars are one of the biggest and most important American bands to come out of the new wave scene of the late '70s and early '80s. Based out of Boston, their smart and quirky mix of guitar-rock with killer keyboard riffs, along with the arresting image and distinctly off-kilter vocals of their 6'4'' front-man Ric Ocasek, was a combination that proved golden. Their 1978 self-titled debut is widely considered to be one of the classics of the era, an album that helped define what "new wave" is all about. The Cars' success continued to grow into the '80s, and radio greeted most of the band's new releases with enthusiasm (although it was a bit touch and go with Panorama).
By the time 1984 rolled around, The Cars had enjoyed a string of smash hits like "Shake it Up," "Let's Go," "My Best Friend's Girl," and "Just What I Needed." They were poised for even greater success, as MTV was a booming new vehicle amped to blitz The Cars' music all over the television waves. After four straight albums produced by Roy Thomas Baker, the band veered left for their fifth release and tapped Robert John "Mutt" Lange. He might not have been the most obvious choice, but there is no arguing the results. Best known for producing AC/DC's duel titans Highway to Hell and Back in Black, Lange was also coming off a major smash with Def Leppard's Pyromania, a huge album in American for the British rockers. For The Cars, Lange focused the band's sound, allowing the hooks to stand out clearly above often densely layered backing vocals or keyboards. He also gave the band a more radio-friendly sheen. Lange's method worked, and Heartbeat City is a lean, mean collection of sparkling pop gems that hasn't dulled one iota in the ensuing decades. Released on March 1984 to immediate success, Heartbeat City ultimately reached #3 on the Billboard Album Chart; it's The Cars at their commercial and artistic apex.
MTV was at the peak of its influence, and Heartbeat City's first single couldn't have suited the network better. A sprightly new wave rocker with a memorable keyboard & guitar riff, "You Might Think" quickly shot into the Top 10. The single was helped enormously by its influential video, which made heavy use of computer graphics — an enchanting novelty at the time. The video would go on to win the first ever MTV Video Music Award for Best Video of the Year, beating classic clips like Michael Jackson's "Thriller," The Police's "Every Breath You Take" and Cyndi Lauper's "Girls Just Want To Have Fun" in the process.
To follow-up "You Might Think," the band chose a perfect summertime tune. "Magic," released in May 1984 as the second single from Heartbeat City, features another clever video in which vocalist Ric Ocasek walks on the surface of a swimming pool, much to the amazement and bewilderment of the strange assortment of characters gathered to watch. It turns into a bit of a demented pool party, with Ocasek looking pale and somewhat awkward as he wanders around the surface of the water, miming the lyrics. "Magic" received substantial MTV airplay and Top 40 radio also embraced the catchy rocker, sending it to #12. 
It was the third single, though, that earned The Cars not only their biggest hit from Heartbeat City, but the biggest of their career: the haunting ballad "Drive."  Bassist Benjamin Orr had previously been featured on the occasional lead vocal (including major hit singles "Just What I Needed" and "Let's Go"), but "Drive" was undoubtedly his turn in the spotlight. Orr's nuanced but emotionally charged vocal performance, delivered over beautifully layered keyboards, was note-perfect for the feeling and meaning of the song. "Drive," helped in part by an intense video co-starring Ric Ocasek's future wife, Paulina Porizkova, climbed all the way to #3 in the U.S. and was a global smash. It is now widely regarded as an '80s classic, and deservedly so; thirty years later, and "Drive" still holds its power. Benjamin Orr would go on to score a solo hit when "Stay the Night" reached #24 in 1986, but "Drive" would prove his career pinnacle. He died of pancreatic cancer in 2000 at the tragically young age of 53.
The Cars followed-up the massively successful "Drive" with the album's opener, the jittery new wave rocker "Hello Again." Despite boasting a video directed by Andy Warhol, "Hello Again" wasn't able to replicate the success of the first three singles, stalling at #20. Yet another single, the synth-heavy ballad "Why Can't I Have You," reached #33. By then many fans already had the album already, making additional singles a bit pointless (Heartbeat City has sold in excess of 4 million copies to date).
One of the reasons that Heartbeat City stands up so strongly today is that even the non-singles are great '80s pop/rock tracks. Austrian pop singer Falco covered the mid-tempo rocker "Looking for Love," with different lyrics (it became "Munich Girls" who were looking for love), on his hit 1985 album Falco 3. The ominous rocker "Stranger Eyes," "I Refuse" and the title track are all strongly commercial songs that could easily have been singles, and the creepily atmospheric "It's Not the Night" surely would have fit nicely onto the soundtrack of any mid-80s thriller. Heartbeat City is a perfect distillation rock, pop, new wave and a batch of terrific songwriting – a sonic time capsule that takes us back three decades with style. Even the striking album artwork is courtesy of a 1972 work by famed British artist Peter Phillips called Art-O-Matic Loop.
The Cars were never able to come close to the magic of Heartbeat City again. They scored a hit with "Tonight She Comes" from a 1985 Greatest Hits collection, but their next album, 1987's Door to Door, failed to connect with a significant audience. Ric Ocasek enjoyed a moderately successful career as a solo artist and producer, and the other members of the band toured in a completely different configuration (dubbed "The New Cars") without their famous front-man. They reunited for 2011's Move Like This¸ but apart from a couple gems it didn't really live up to the hype of being the first new music by The Cars since 1987.
It's another lesson that it's very difficult (if not impossible) to take a band that was very much a product of a particular time and place, fast-forward thirty years, and expect the same magic to be there. All of The Cars' main albums are worth getting, even the underrated Door to Door ("Strap Me In" is a classic Cars single, and "Coming Up You" and "You Are The Girl" are stellar as well). But it's Heartbeat City that stands at the core of their sound, and their success. Mutt Lange presented them perfectly for the era, and the songs were the strongest of their career. Heartbeat City is on that list of essential albums that our kids or grandkids will be playing – in who-knows-what new shiny format (or maybe beamed directly into their brains) — for eons to come. Still sounds magical.