"Since you have chosen that path, we will not support you any longer. You will need to move out and find wherever you can to live, and do what you want to. 'Cause I will not let people believe that I condone what you do."
— Voice of a woman in a recently posted video, "How not to react when your child tells you that he's gay," which allegedly shows a gay man being attacked by his family.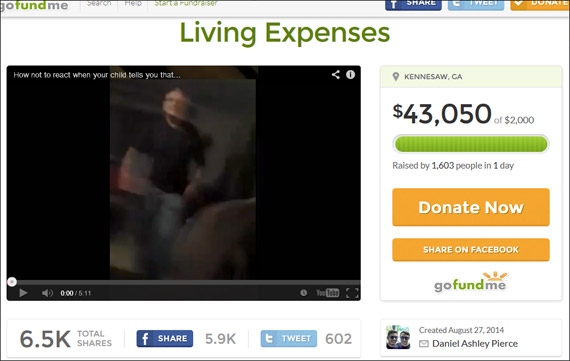 By 12 noon EST, the YouTube video had been viewed over 550,000 times, and 200+ people had donated more than $7,000  to Daniel Ashley Pierce at a crowd funding site.
[UPDATE: By 11:59 pm on Thursday, the donated amount had increased to more than $43,000 from 1,600+ contributors; and the YouTube video had more than 1.5 million views. One donor, Chris Robbins, made a single pledge of $1,000.]
The video mostly shows a darkened floor and walls while an audio conversation is being recorded. Words exchanged are allegedly between "Daniel" and his family. At first, the conversation seems cordial, with one female expressing love and saying she had "known that you [Daniel] were gay since you were a tiny little boy." However, the back-and-forth discussion quickly turns into a disagreement about his sexual orientation being a "choice," "the word of God" vs. "scientific proof," and a perceived lack of support.
An argument then erupts into a heated shouting match over several issues, and there appears to be a physical altercation. A male can be heard calling "Daniel" a "damn queer" and "a disgrace."
 On Facebook, a page by Daniel Ashley Pierce, included this post early yesterday:
"What a day…. i thought that waking up at 9:48 and being 15 mins late to work was going to be the biggest problem today. but i didn't know that my biggest problem was going to be getting disowned and kicked out of my home of almost twenty years. to add insult to injury my step mother punched me in the face repeatedly with my grandmother cheering her along. i am still in complete shock and disbelief…."
In a discussion on the original Facebook video, Pierce stated that he went to stay with an aunt, and:
"Physically i am okay. my step mother did a number on my face and lip but its not worth me worrying about."
UPDATE: On Thursday afternoon, Pierce exchanged emails with The Huffington Post, saying the reason he had recorded the incident was because, "I wanted to make sure there was evidence in case something happened." HuffPost reports that Pierce had not contacted police over the incident.
[Watch a detailed video interview with Daniel Pierce on page 2]