The last time Alfred Molina played a gay man, the role was based on a real-life person – the obsessive, neurotic Kenneth Halliwell, partner to the late, great British playwright Joe Orton. Of course, it was Halliwell who caused the death of Orton, in a fit of jealous rage, brutally reenacted in Stephen Frears' bracing 1987 film, Prick Up Your Ears.
"You wonder if Ken Halliwell and Joe Orton actually did love each other at all," says Molina during a recent phone conversation. "Whether it was a relationship built on something way too sour and dysfunctional, whether it was a relationship that was actually destructive from the start." 
Twenty-seven years later, the actor is playing gay again, but this time the role is far more loving, warm, and tender. As George in Ira Sach's Love Is Strange, the younger half of a 39-year-strong gay couple who, days after they finally, blissfully say their wedding vows, find themselves in a difficult situation, one that puts a strain on not just them, but on the the family and friends who choose to help them, Molina gives a career-defining performance in a long, stunning career.
And what a career — from a mechanical-tentacled mad scientist to a trigger-happy '70s drug dealer to a tempestuous husband of a noted Mexican artist to a stint on the fabled Law & Order franchise, it's no understatement to say Molina has done a bit of it all. And yet, when you watch him in Love Is Strange, those other roles melt away, as George – and his plight – takes hold of our hearts. It is the measure of a brilliant performance, one that brings hope to an increasingly hopeless situation.
METRO WEEKLY: Though its two central characters are gay, I don't feel it's fair to classify Love Is Strange as a gay film. It seems much more like a film that happens to have at its core two gay characters in a relationship. Now, neither you nor John Lithgow are gay, but I'm curious how an actor finds the key that unlocks the ability to create something that feels so indelible, real and authentic?
ALFRED MOLINA: I think it's a question of collective experience. Any actor who has had any experience with a long-term relationship could play those roles with a degree of authenticity because, ultimately, as you said, it's not about being gay. Gay men and women fall in love in exactly the same way as straight men and women. Love is love, wherever you find it, regardless of who's doing the loving, or who's being loved. And your instincts, your concerns, your anxieties, the joy you find in it, the heartbreak you find in it – it's all the same, regardless of one's sexuality. Gay or straight, we all fall in love in the same way. We're all thrilled by it, uplifted by it, hurt by it, all in the same way. There's no difference.
MW: What was it that drew you to this particular role?
MOLINA: It was the interesting journey that we go on with these two characters. And it was also the fact that very often in relationship movies, it's usually about people at the younger end of the age spectrum — particularly anything with a gay theme. It's usually young men or women in the throes of finding each other, finding themselves, making their way in the world, finding their place in that world. Whereas, here we've got two characters in the autumn of their years, a relationship that's been going on for the better part of four decades, suddenly doing something the rest of us take for granted — exercising their basic human right to get married.
And suddenly their world gets completely turned upside down through the church's decision to fire George using their so-called religious freedom to bypass the law of the state. [I was drawn to] the ordinariness of these two men. They weren't flamboyant, theatrical gay men who were making a huge human cry about being gay — they weren't politically motivated. This film is not polemic in any way, and I thought that was very interesting. It becomes a story about a relationship rather than anything to do with them being gay.
MW: It's must be incredibly painful to be separated from one's partner of so long – a point punctuated by the scene where George visits Ben, after they've been living apart for a spell, and fully breaks down. Later, he admits to not being able to get used to sleeping without Ben by his side.
MOLINA: It's something anybody in a long-term relationship can relate to, whether you're straight or gay. The familiarity, the intimacy that develops over a long period of time, the sensation of your partner's body next to you in bed — or the lack of it — becomes crucial. It becomes part of your sleep pattern. And when it's denied you. . . .
MW: There's a lovely, subtle thing you do at the very beginning. You're getting ready for the wedding, dressing, and Ben walks by and you just shoot him this sweet, halting smile. It instantly reveals everything that you need to know about their lives together.
MOLINA: Yes. That's part of that physical language that you have with your partner when you've been together a long, long time. You develop a repertoire of physical language, body language that often becomes even more eloquent than words because it tells stories of mutual history and experience. And that was all in the script. This was what made the film so fascinating and so attractive — all those beats. Another one was the scene when we're clearing up after the family has gathered to talk about our impending homelessness. There's a lengthy sequence where Ben is washing up and George is drying, putting away the cheese, emptying the trash and so on. And it's all played at the pace of life. It's not leisurely, exactly, but it's measured, no one's rushing anywhere. And there's a little moment in there where I rub Ben's back and give him a little kiss on the cheek. That was in the script, which is why when I read it I was so impressed because it was so clear and finished. The script was absolutely polished and complete in terms of the world that we were being asked to inhabit. It was a beautiful piece of writing.
Stay Informed! Join Our Email List!
MW: That scene between you and Charlie Tahan is remarkable.
MOLINA: That scene — and the denouement of that scene when he leaves the apartment, goes down the stairs and stops in the stairwell, and there's that long, fixed frame when he's on one side — is almost a moment of banality, but it's so eloquent in terms of what it reveals. It's all so incredibly subtle, but rich with feeling, creating an extraordinary moment. It'sbeautiful filmmaking.
And Charlie Tahan — I predict it now on this interview so you'll have it down on record — I predict that he's going to have the most extraordinary career as a film actor. Young Charlie is absolutely the real deal. He's got serious chops as an actor.
MW: You and John Lithgow seemed to mesh so well.
MOLINA: I found it very easy working with John because we've been friends for a long time. We created a kind of shorthand that was already there. We didn't have to spend too much time getting over any awkwardness or getting to know each other. We did all that years ago. It was like putting a hand in a glove. You know, just perfect.
MW: You meshed in a very different way in 1987's Prick Up Your Ears. Such a magnificent, ferocious performance — and the gay chemistry between you and Gary Oldman was extraordinary. When you look at Love Is Strange and Prick Up Your Ears, it's clear how far the world has come with regard to the attitude towards gay men. They're almost like bookends.
MOLINA: Absolutely. We made Prick Up Your Ears during the first crisis wave of the AIDS epidemic — the deaths of certain celebrities were still very redolent in the news, Freddie Mercury and Rock Hudson, and so on — and I remember at the time, having discussions with serious people, people who I had a great deal of respect for in terms of their opinions and their attitudes, and they were  questioning whether playing a gay role was a good idea for an actor, whether it would have any repercussions on one's career. You wouldn't dream of suggesting that to an actor nowadays, you wouldn't turn around to a straight actor and say "Are you sure you want to play a gay role?" So things have changed. Things have progressed. There's still a ways to go, but it's interesting that in the cultural history that we all share, there has been a big major shift toward a more accepting, more inclusive society.
There was a time when most gay films were full of dread, death, crisis, shame, societal despair and disrespect, but now we've got films like Love Is Strange, where you've got a more benign, more inclusive, open-armed, open-hearted attitude towards it, which I think is fantastic.
MW: You've acted in these intimate films and of course, you played Doc Ock in Spiderman 2. You are forever going to be known as Doc Ock to a certain subset of society.
MOLINA: That's fine with me. That movie put two kids through two very expensive college educations, so I'm not complaining.
MW: You are also in the opening of Raiders of the Lost Ark, as Harrison Ford's guide. How does it feel to be part of one of the most iconic scenes in film history?
MOLINA: I'm very proud of it. Very proud, and I would never downplay it because I've never been able to separate the work I've done from the situation I happen to have been in at that time. When I got cast in Raiders, I'd never done a movie before. Our daughter was about to be born. I was broke and was working for some ridiculous amount of money in the theater in London. Suddenly this movie comes along, and it paid what was to me an absolutely princely sum. I realize now, of course, in movie terms, I was as cheap as dirt, but at the time it was like manna from heaven and it enabled us to have our child in a modicum of comfort. I've thanked Mr. Spielberg many a time, publicly and privately, about that. So I would never, never, never decry it. The fact that the movie went on to become so iconic — and that scene in particular — I'm very proud of it. Very proud.
MW: I feel obliged to ask this of straight actors, but sometimes it engenders a good story. Do you remember the first time someone came out to you, and do you remember what your response was?
MOLINA: No, I don't remember anyone saying it to me personally that they'd come out, but I do remember having my very, very first conversation with someone who was openly gay and was perfectly happy to talk to me and educate me in terms of what it meant to be gay. I was clearly ignorant at the time — it was when I was a student. I was at drama school, and I became friends with a student who was on the music course at my college, so we didn't have any classes together, but we socialized a great deal. He was probably the most openly, flamboyant gay man I'd ever met. He wasn't camp, just quite openly homosexual, made no bones about it.
He started off the conversation by saying, "It's a shame you're not gay. "And I said to him, "What do you mean?"And he said, "Because you're very attractive, and if you were gay, I'd probably ask you out."And I remember feeling a little bit embarrassed. I was very young — I was what, 19, 20 years old? — I was a little embarrassed and a little shocked, and I must have blushed or something, and he just put his hand on my arm and said, "Relax, it's okay. Don't worry. I'm not hitting on you."Andwe talked a great deal about it. It was the first time I'd ever sat down with anyone who was openly and confidently gay, and I'm really glad that we became friends because it was a huge part of my education.
MW: You know, it's kind of odd growing up and watching you and Gary Oldman take on quieter roles. I mean, he was Joe Orton and Sid Vicious, now he's Commissioner Gordon. It's an odd disconnect.
MOLINA: We all get older. I've reached the age where I'm soon going to start playing senators and judges. I think someone is going to stick me in a black robe and put me on the Supreme Court any minute.
MW: How old are you?

MOLINA: Sixty-one.

MW: You look amazing. You look like you're in your late 40s. I don't know quite how you're doing that.

MOLINA: Are you flirting with me?

MW: No… I… No, I'm not… I'm…

MOLINA: [Laughs.] Nothing wrong with the occasional flirt.

MW: Well, I can now say I flirted with Alfred Molina. Forget flirting, what is love to you? And why is it strange?
MOLINA: I take the title of the movie literally. But I think of the word "strange" in the Shakespearean sense as being most wondrous strange, the idea of something magical and mysterious and unquantifiable, something that completely defies all logic, something that takes you by surprise, something that somehow cannot be answered or contained or quantified, something that takes you over.  
I think it's the old Italian thing about the thunderbolt — you get hit by this thunderbolt and you spend the rest of your life trying to repair the damage. That's how I imagine love to be. I don't think it's something you can prepare for. I don't think it's something you can plan for. I don't think it's something you can create. I don't think it's something you can decide upon. I think, whatever it is, it chooses you, and I think you wake up one morning and you kind of go, "Shit, I think I'm in love." It's something that hits you, a slap around the face after the event. Maybe that's just me being really romantic, but that's my experience of it and that's what I believe it to be.
Read our interview with John Lithgow here.
Love Is Strange opens Friday, August 29, at area theatres.
Get the best of Metro Weekly! Subscribe to our Daily Blast!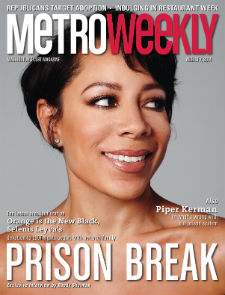 Our daily emails are personally curated by our editors and feature a wide range of news, features, reviews and interviews. Don't miss out on any of our award-winning content -- from news to arts, cars to tech, food to fitness, we've got it all!
Features!
Breaking News!
Win CDs and Tickets!
Special Exclusive Offers!
We respect your privacy and never share your email with a third party.