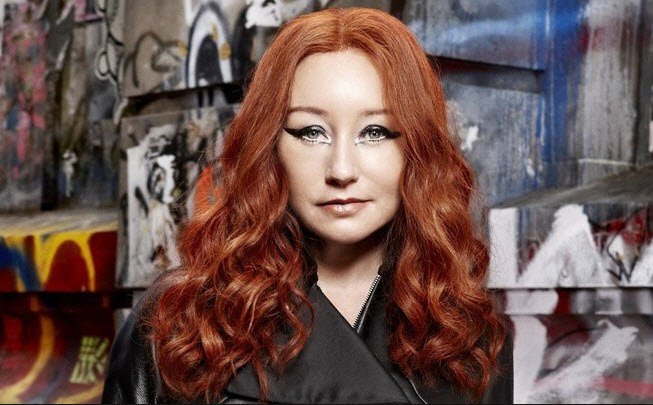 Tori Amos loudly exclaimed that it was her "home-town show" as she waved her hellos to the enthusiastic audience that greeted her this past Saturday at DAR Constitution Hall. Amos is touring in support of hew new album Unrepentant Geraldines, but the set-list was a career retrospective, as she covered material from the new album going all the way back to "The Big Picture" from her 1988 pre-Little Earthquakes album of cheesy hair metal Y Kant Tori Read.
This was a solo show, so it was Tori Amos, her piano, a synthesizer and at one point, an old-style organ.  She looked radiant in a stunning red dress, her trademark red hair and a pair of glasses that imparted an aura of wisdom. She's not the same woman who sang all those early songs, but that younger being is still very much a part of her. Vocally she sounds the best she has in years. For the last few tours an unpleasant nasal quality had crept into her performances. There was no sign of that Saturday night, as she hit the high notes with as much crystalline power as ever.
Highlights included the scintillating opener "Parasol" and the powerful "Taxi Ride," one of her most emotionally potent songs. Like a typical Amos show, this wasn't about the "hits" or the singles — one of the joys of seeing her live is the unpredictable set-list, and she didn't disappoint. She hit every one of her albums in a 21-song set, as well as a couple covers during the "Lizard Lounge" segment, pairing The Cure's heartbreaking "Pictures of You" with her own early single "The Big Picture" in an inspired mash-up. She also performed a powerful take on Fleetwood Mac's "Gold Dust Woman," which she followed with her own epic ballad "Gold Dust."
Tori Amos hasn't lost any of her magic – seeing her live is still an experience well worth having for any music fan. 
Setlist and source album:
Parasol (The Beekeper)
Taxi Ride (Scarlet's Walk)
Cloud on my Tongue (Under the Pink)
Crucify (Little Earthquakes)
Ophelia (Abnormally Attracted to Sin)
Northern Lad (From the Choirgirl Hotel)
Bouncing off Clouds (American Doll Posse)
Unrepentant Geraldines (Unrepentant Geraldines)
Weatherman (Unrepentant Geraldines)
Pictures of You (The Cure cover / included segments of her single "The Big Picture" from Y Kant Tori Read)
Gold Dust Woman (Fleetwood Mac cover)
Gold Dust (Scarlet's Walk)
1000 Oceans (To Venus and Back)
Ribbons Undone (The Beekeeper)
Not the Red Baron (Boys for Pele)
In The Springtime of His Voodoo (Boys for Pele)
Cornflake Girl (Under the Pink)
Encore:
Winter (Little Earthquakes)
16 Shades of Blue (Unrepentant Geraldines)
Precious Things (Little Earthquakes)
Carry (Night of Hunters)