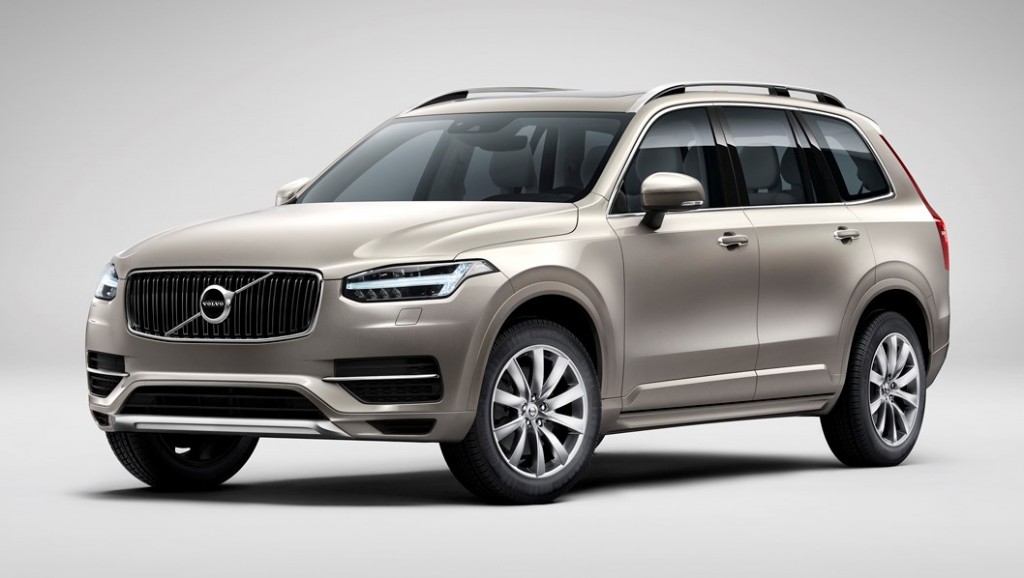 Relax, everyone. The all-new 2015 XC90 has finally, eventually been revealed following months of teases, glimpses and preview concepts alluding to what would eventually replace the current version — which has been plodding along for over a decade now as the largest vehicle in Volvo's line-up. Yes, the Swedish firm has finally seen fit to showcase its family-hauling seven-seat SUV, and… well… are we alone in being more than a little underwhelmed?
There's no denying that the XC90 is a handsome car. It's got a bold front end, with Volvo's logo proudly splayed across the grille. Volvo's signature new look, the T-shaped LED running lights running through the headlights — affectionately known as Thor's Hammer (sorry boys and girls, Chris Hemsworth isn't included) — is up front and present, while the rear of the car offers a more dynamic take on Volvo's tall tail lamp enclosures. It's certainly an inoffensive, attractive design, with clean lines and some nice detailing. Unfortunately, given the way in which Volvo dragged out its launch, we must admit we were expecting something a little more dynamic, or, at the very least, something a little less generic.
Above is Volvo's Concept XC Coupe, which was said to offer the best idea of what the new XC90 would look like. I'm sorry, Volvo, but if you're going to showcase something as sleek and sexy as that concept, the production model had better match up. The XC90 doesn't. It won't offend anyone with its looks, but it certainly won't set many pulses racing, either.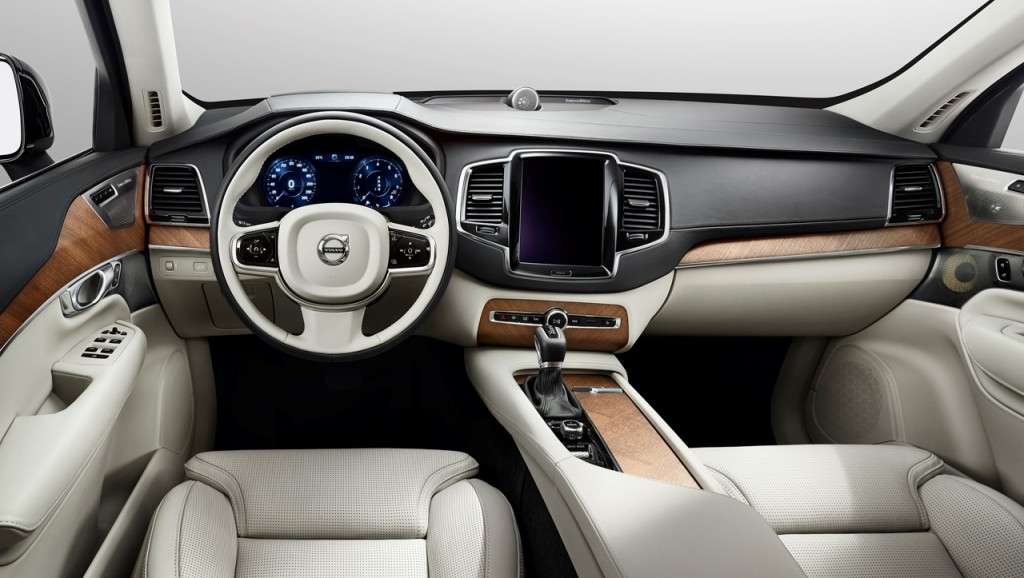 That being said, none of it will matter once you've stepped inside its cabin. Here, you'll be greeted by what looks to be one of the nicest interiors out there. Wood, metal and leather are combined in a sumptuous, modern design, with Volvo designers freeing themselves from the button-heavy approach of other cars in the marque's stable of vehicles. Gone is the floating dash and in its place sits a large, tablet-like screen, surrounded by a thin strip of chrome. The gear shifter is an elegant piece of metal and glass. Big, leather-wrapped armchairs wait to cosset your behind and melt away highway miles. Even those forced to sit in the rearmost seats will no longer feel like the driver secretly hates them, with an increase in overall cabin space giving everyone plenty of room — though they're still only recommended for those under 5'7″.
The XC90's strong points continue under the sheet metal, too, with a new range of engines. Standard models get a T6 2.0-liter engine that's turbocharged and supercharged to produce 316 horsepower and 295 pounds-feet of torque, all mated to an 8-speed automatic. Need a little more power? Opt for the range-topping plug-in hybrid model, which combines the 2.0-liter engine with an electric motor to produce 400 horsepower, with Volvo estimating class-leading fuel economy. It will also be the world's first 7-seat plug-in hybrid, so score one for the Swedes.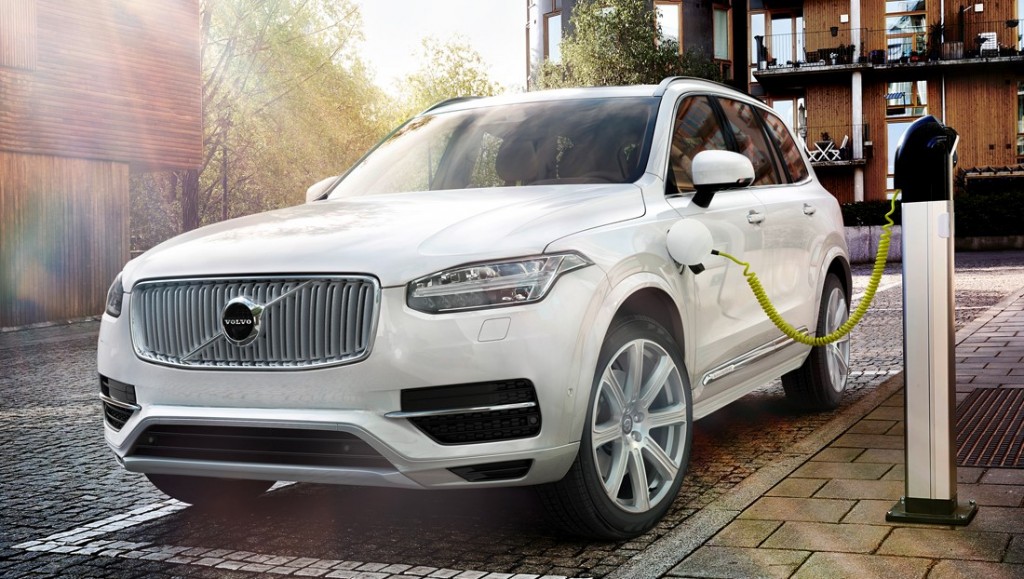 Volvo's usual array of safety equipment is on board, with the new XC90 able to brake itself should the driver turn into the path of an oncoming car, automatic braking which detects vehicles, pedestrians and cyclists, and a world-first system that detects if the car leaves the road unintentionally and prepares occupants for impact by tightening the seatbelts, while special impact-absorbing sections in the seats cushion the spine upon landing.
There is still a lot left to learn — such as any additional engine choices, drivetrain options and the price of individual trim levels —  but the new XC90 will start at $48,900 for a T6 AWD model, which comes with standard sat nav, panoramic sunroof and 19″ alloy wheels. In addition, a limited run of 1,927 First Edition cars will be sold through Volvo's website, starting September 3. These individually numbered cars come with unique logos and keys, four-corner air suspension, Onyx black paint, Amber nappa leather, 21″ alloys and a 1,400 watts Bowers & Wilkins audio system, priced at $65,900. It may not have concept car looks, but the XC90 is certainly shaping up to be pretty special nonetheless.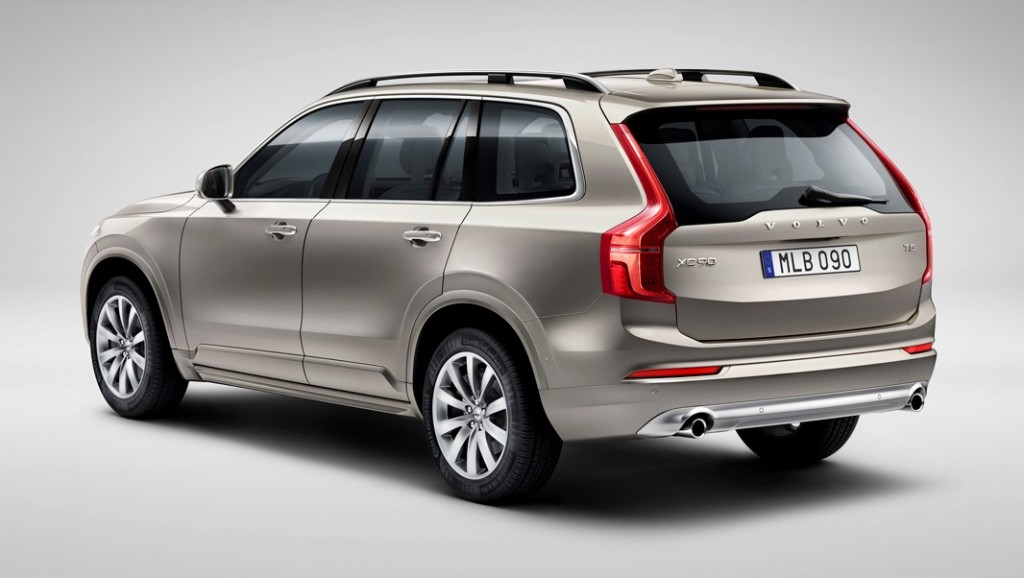 Stay Informed! Join Our Email List!