Legendary Ladies
Bea Arthur, Dixie Carter and Elaine Stritch featured at Whitman-Walker Clinic's AIDS Benefit
"It's not a huge evening, " says A. Cornelius Baker of "A Celebration of Life, " the Whitman-Walker Clinic's eleventh annual Spring gala. "It's not a lot of dashing about here and there. It's a very, very elegant, very sophisticated evening that is joyous but also remindful of the work that we still have ahead of us to do. "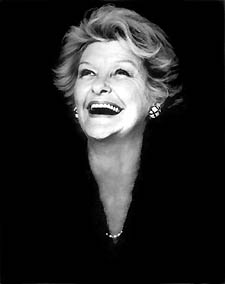 Elaine Stritch
Baker, Executive Director of the Clinic, is especially thrilled about this year's event, which will feature performances by three bona fide legends of stage, film and television -- Bea Arthur, Dixie Carter and Elaine Stritch. "It was one of those occasions where they let me have some input on the choices, " laughs Baker, a gay man who has been living with HIV since the mid-eighties. Ever the gracious diplomat, he won't pick a favorite when pressed, but he will admit that he's looking forward to hearing Stritch sing the Sondheim classic "I'm Still Here " from the show Follies. "It's one of those resonant moments in the theatre, " says Baker. "But for those of us who have lived through the HIV epidemic for the past decade, it's an anthem in itself. "
Stritch, for her part, says she's not yet sure what she'll sing in her allotted time, but she notes in a raspy voice both warm and direct, "I'll do what I'm told. Which is rare for me. But when it involves AIDS, I do what I'm told. "
Stritch, a Broadway and film mainstay whose HBO special, Elaine Stritch at Liberty: On Stage and Off premieres on the cable network May 29, is dedicated to the cause of AIDS, a cause that impacted her personally and profoundly.
"Aside from falling in love with him, when I got over that illusion, I became a very close friend of Rock Hudson's, " she recalls. "I guess you'd say it affected me the first time, the shock of seeing him just waste away from this horrible disease. It was just a nightmare. I was killed, and my heart was broken. Because he was such a wonderful guy.
"Not to mention, " she continues, "the unbelievable amount of young men in the theatre that were close to me that I knew and that I worked with and were just dropping like flies during that early period in New York. Remember? When it was really hitting hard, before any of the drugs came out? "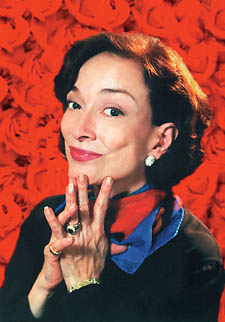 Dixie Carter
Photo by Todd Franson
Adds Dixie Carter by phone from New York, where she's appearing in Thoroughly Modern Millie: "We all have memories of wonderful beloved friends who aren't with us anymore. John West, a gorgeous young man, who started my cabaret career -- he's gone now. " Her voice trails off as she stops to collect herself.
Through her work in Designing Women, Carter developed a special bond with the gay community. "I feel like I have enjoyed a friendship and a lasting loyalty from the gay community, " she says. "And when I can, I try to reciprocate that friendship. "
Of the coming gala, Carter beams, "I get to be on the stage with two absolute icons -- and I'm thrilled. I don't quite put myself in their category. "
"These special events are more than fundraisers for us, " says the Clinic's Baker. "They're affirmations of the work that the Clinic does. And it's a way for people to move that work forward and join together for the evening to affirm their own commitment to that work and be a part of it. "
And that work does make a difference.
"You have to take your hat off to the medical profession for keeping thousands of people alive, " says Stritch. "I know so many people who are living with AIDS. And in pretty good shape. But we can't let it become a memory. We don't want it ever to get like yesterday's news, do we? And that's the problem: once a few big, big celebrities die, everybody seems to forget about it. So we want to keep it all alive. It's just as pertinent today as it was twenty years ago. "
"Things are happening, and because of the kinds of efforts that are being made here in Washington, there's a turnaround going on, " says Carter. "The plague isn't conquered, but we see that there's hope. "
A Celebration of Life will take place on Wednesday, May 26th, at the Mayflower Hotel, 1127 Connecticut Avenue NW, and will include a dinner, performance and reception. Tickets are $500 and up and space is extremely limited. Call 202-797-3545 or visit www.wwc.org for more info.
---