Bowled Over
Bandleader Doug Bowles conducts 'GI Jive!'
Doug Bowles may not be the only gay conductor in town, but in the genre of swing and big-band music, he's pretty sure he's one of only a few openly gay bandleaders in metropolitan Washington.
''I've played with many of these big bands and it's an overwhelmingly masculine, heterosexual art form,'' says the 41-year-old singer and pianist, who runs his company, the SingCo Rhythm Orchestra, out of Hyattsville.
Bowles is preparing to unveil his latest production, GI Jive! Letters from the War, a musical tribute to World War II veterans in the form of a 1946 radio broadcast, featuring popular music from the '20s, '30s and '40s, at Atlas Performing Arts Center as part of The In Series.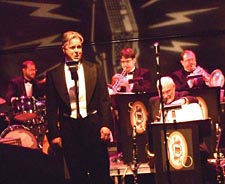 Doug Bowles
''The device that moves us forward in this play,'' explains Bowles, ''is that this radio station that we're broadcasting from has been receiving letters from folks at home and also some of the boys and girls overseas during World War II.
''The letters are of my own devising,'' he continues. ''They're fictional letters with fictional names attached to them.'' Inspiration came from interviews Bowles conducted with musicians and people who lived through World War II, a musical era the bandleader has been passionate about since he was a child growing up in Roanoke, Va.
''I remember as a little kid responding in a very sort of gut way to this music,'' he says. ''I heard a little bit of the 'Rhapsody in Blue' in school when I was about 7, and it felt like home. It was like I knew this music even though I had never heard it before, like something I had lost and found again.''
GI Jive! Letters from the War runs at 8 p.m. on Friday, Jan. 25, and Saturday, Jan. 26 (''Out at the In Series,'' featuring a post-show discussion and socializing), at Atlas Performing Arts Center, 1333 H St. NE. Tickets are $33 general admission. Call 202-315-1323 or visit www.inseries.org.
---