Bourne Different
Matthew Bourne on his (mostly) male version of 'Swan Lake' and his current choreography work for 'Mary Poppins' & 'Edward Scissorhands'
"It's known wrongly as the all-male Swan Lake," says British choreographer Matthew Bourne of his inventive reinvention of a classical dance staple that, a decade ago, put him solidly on the choreography map, "but it isn't. A third of the cast are women."
The 1995 Tony Award-winning production is making its way across North America, with a stop at the Warner Theater for one week only, April 25 to 30. In re-envisioning the popular ballet, Bourne wanted to "wipe away" the iconic images we usually associate with the ballet's swans -- "a female dancer in a white tutu and headdress and pointy shoes" -- replacing it with a more athletic, muscular male image. "I wanted the audience to know right from the outset that they were watching something that was different."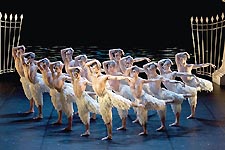 Matthew Bourne's 'Swan Lake'
As for gay content, it's definitely implied in the subtext of the story of a young prince beguiled by images of a male swan, images that turn dark and potentially threatening. But says Bourne, "I've always had this fear of it being labeled a 'gay Swan Lake.' Although you can read the story in that way, it's not as straightforward as a prince falling in love with a gay swan. He's in a complex, unique situation."
The 46-year-old Bourne, who is gay, has had a busy few years. Currently, he's adapting his choreography for the musical production of Mary Poppins, slated for a Broadway debut in the fall, and will return to Washington in 2007 with the Kennedy Center debut of his extravagant adaptation of the Tim Burton film Edward Scissorhands, a ballet set in part to the score by Danny Elfman. It's this unbridled creativity that motivates Bourne, who recently lost his mother, another strong motivating factor in his life.
"She was absolutely a direct influence on what I now do," he recalls, quietly. "She used to sit me down in front of the TV when I was a very young boy to watch certain things that she was excited about." Among those things: MGM musicals. "She gave me my love of Fred Astaire at the age of about 5 or 6.
"She so enjoyed my success," he continues. "She had a wonderful last 15 years following me around, coming to the London and New York openings of things. She absolutely adored doing that. The last time she was in New York with me she met Liam Neeson and Kevin Kline and had such a great time. I was glad I could give her that much pleasure in her later years. I miss having her here. But to be able to say you had a great life at the end is really something, isn't it?"
Matthew Bourne's Swan Lake runs April 25-30 at the Warner Theater. Tickets are $44-$76.50. Call 202-397-SEAT or visit ticketmaster.com.
---