Avant-Garde Homos
Brian Freeman revives his '90s-era theater group Pomo Afro Homos
''What's the model for this? Is it the Village People?'' Brian Freeman's '90s-era group Pomo Afro Homos may not have been nearly as popular as that disco group, but he has nonetheless revived his avant-garde theater ensemble, whose name is shorthand reference for post-modern African-American queers. Freeman just doesn't expect to keep it going ad nauseam. ''I don't think this is going to be a return to that kind of ensemble for an extended time,'' he says.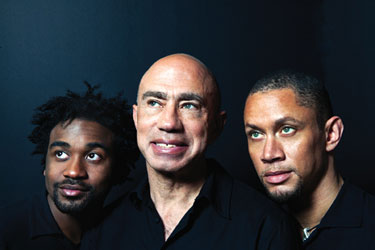 Pomo Afro Homos
(Photo by Duane Cramer)
''The whole notion was kind of groundbreaking, being a black queer performance ensemble,'' he continues. And at a recent revival of the Pomo Afro Homos' most popular work, Freeman says, ''people had a very emotional response. … People kept coming up to me and hugging me and bursting into tears.''
Washington will have its own chance to see Fierce Love (Remix) this weekend at Dance Place, as part of a short nationwide tour. Freeman says it's ''a very funny show,'' but it's stamped by its time. ''While it's not an AIDS piece per se,'' he says, ''it's in the DNA of the show. And I think there's something about that that speaks to people, even those who weren't born yet.''
The 55-year-old Freeman, who has made his home in San Francisco for over 30 years, has been a teacher, a theater director, actor and a playwright since Pomo Afro Homos ended in 1995. For the remount, Freeman is working with a ''new crew of performance artists,'' including a couple men who were in the early ''homo-hop'' group the Deep Dickollective, whose first album, 2001's BourgieBohoPostPomoAfroHomo, was titled in homage to Freeman's group.
The show, one of the few theatrical works to explore gay black life, is ''slightly updated. Some of the stories have been brought up to this moment, [and] some are firmly rooted in the era in which they were created.''
Pomo Afro Homos performs Saturday, March 5, at 8 p.m., and Sunday, March 6, at 7 p.m. Dance Place, 3225 8th St. NE. Tickets are $22. Call 202-269-1600 or visit danceplace.org.'
---