Toasting the Travelers
National Geographic honors inspiring Travelers of the Year
Every year National Geographic Traveler magazine receives, according to the magazine's George Stone, "lots of cool letters from passionate individuals telling us about their travels ... almost like receiving a bunch of postcards."
But instead of just cluttering the sides of a refrigerator or bulletin board, George Stone and his editorial colleagues decided to feature these adventures by creating an annual best-of series. Started in 2012, the magazine's annual Travelers of the Year series recognizes about a dozen people from all walks of life whom Stone calls inspiring "passionate travelers," those who "go out and see the world and bring something back, [and] make some kind of an impact on destinations that really touched them."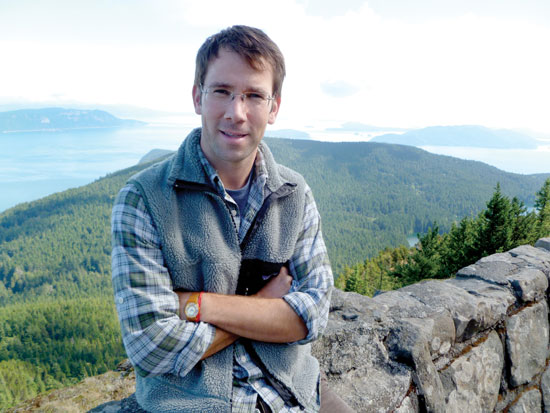 Natitonal Geographic: George Stone
(Photo by Christopher Farmer)
Next week, Stone will moderate a panel with a handful of those honored in 2013, including, Shannon O'Donnell, who developed a "voluntourism" database featuring volunteering and sustainable tourism opportunities worldwide; Molly Burke and Muyambi Muyambi, who created a program to distribute bikes to low-income entrepreneurs in Uganda; and Hilda and John Denham, a couple who established a nature preserve to protect turtle nesting areas in Costa Rica.
Stone, the magazine's editor at large who lives with his partner in Southeast Asia, says National Geographic wasn't sure what to expect when they started the program. But the number of nominations for Travelers of the Year doubled from 2012 to 2013, when they received 1,600 nominations. (Nominations are now open for the 2014 round.) Similarly, last year's inaugural event featuring the first round of travelers at Grosvenor Auditorium almost sold out.
"Turns out people loved the idea of seeing someone maybe doing what they aspire to do." A post-discussion wine-and-cheese reception sponsored by United Airlines doesn't hurt, either. '
Travelers of the Year is Thursday, Feb. 6, at 7 p.m., at the National Geographic Society's Gilbert H. Grosvenor Auditorium, 1600 M St. NW. Tickets are $30. Call 202-857-7700 or visit nglive.org.
---