Fab Babs
With 'Guilty Pleasures,' Barry Gibb has once again created a Barbra Streisand album of immense pleasure
Barbra Streisand working with Barry Gibb of the Bee Gees -- the serious Streisand paired with glib Gibb sounded like a recipe for pop music only a mother could love. Which is true, in a manner of speaking. Your mother and her generation lapped up Streisand and Gibb's first pairing 25 years ago. One of Streisand's best-selling albums and the source for several of her biggest hits (''Woman in Love'' and the Grammy-winning title track), Guilty helped set the pace for newly emergent adult-contemporary pop, a guilty-pleasure genre designed specifically for Baby Boomer moms and dads.
But in spite of how it appeared, in reality Guilty worked wonderfully well. It was a guilt-free piece of soft-pop pleasure, probably Streisand's best pop album. So happy was Streisand with the results she vowed to work with Gibb again. But her oft-caricatured type-A, power-trip personality kept her from rushing to do it. And her hesitancy, in fact, is the real reason she titled her just-released second set with Gibb Guilty Pleasures. As her co-executive producer Jay Landers explains in the album's liner notes, it was a guilty pleasure for Streisand ''to turn the reins over to someone she could trust to do it all – write the songs, produce the tracks and sing on them as well.''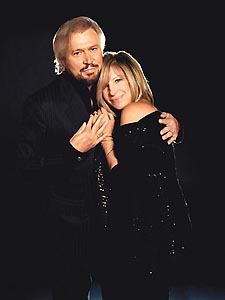 Together again: Gibb and Streisand
The only person she'd trust to do that, apparently, is Gibb, who wrote every song, with help from his children Ashley and Stephen, and sings backing vocals on most songs, as well as dueting with Streisand on several. She even moves aside to pose with him for the album cover, and he appears next to her in every photo but one in the liner notes. In effect, it's a Streisand album in name only.
But just as with Guilty before it, Guilty Pleasures is a Streisand album of immense pleasure, one that should help Streisand regain some of the fame and record sales she's lost in the past few years. Nearly every song is an appealing, easy-to-like composition. The album is full of sweet, leisurely paced love songs destined to become wedding anthems. Or perhaps every song might be weaved together to form a new jukebox musical with a book about the joys of love and marriage. Many of these songs, especially the ballads, have a timeless quality to them that in another era would become widely recognized pop standards that any number of popular singers would set out to reinterpret as his or her own.
A few songs, actually, could use reinterpreting. Gibb has orchestrated some tracks here so they sound at least 25-years-old already, begging the question of whether they might have just been leftovers from the Guilty sessions. This is especially true of those grouped together as the album opens. ''Come Tomorrow'' has a nice swagger, a little slower but not so dissimilar to ''Islands in the Stream,'' Dolly Parton's 1983 duet with Kenny Rogers that was in fact written by Barry and his Bee Gee brothers. But ''Come Tomorrow'' is not helped by the old-school electronic instrumentation that sounds precious today.
Though it usually succeeds, sometimes the collaboration between Streisand and Gibb demonstrates why it was unlikely to begin with. ''All The Children'' is written to be a dramatic showstopper celebrating the forces for good. ''All the children will send out love to everyone,'' begins the chorus. ''All the children will dance and sing for you.'' But Streisand and Gibb are never on the same page, and it's not clear who's more to blame. Either Streisand is too mannered and cautious to make this Middle-Eastern-flavored showtune soar or Gibb is overly wild and emotive. At several points Gibb gets his vocal motor running interpreting the sound of a forcefully strummed guitar -- ''ram-ta-da-ram, ta-da-ram, ta-da-ram.''
The two pair blissfully on ''Without Your Love.'' Gibb isn't heard vocally, but he and his son, Ashley, have created a sophisticated, spare ballad, accented by touches from jazz and chorale music, that serves Streisand well. It immediately takes its place among the best recordings of her long and storied musical career.
---