Sonic Enjoyment
Basement Jaxx create a widely and wildly appealing global-pop radio set, and Arling and Cameron create warm electro-pop
It launches with a feverish 40-second bang of orchestra and chorus, but Crazy Itch Radio's ''Intro'' track only hints at the all-out aural assault yet to come on Basement Jaxx's fourth album. Basement Jaxx has created a carnival of sonic enjoyment that firmly establishes the duo of Simon Radcliffe and Felix Buxton as the British equivalent to Outkast. As with that Atlanta hip-hop team, the Jaxx don't go for understatement. And it's hard to overstate just how great Crazy Itch Radio is.
A woman, Vula Malinga, who sounds like she could be the sister of Outkast's Andre 3000, drawls out the album's concept as the first single ''Hush Boy'' begins. ''Crazy Itch Radio tunes for you,'' she shouts. The duo draws from a wide and wild range of music, creating a widely and wildly appealing global-pop radio set. The album sounds like what might result from a recording party featuring not only Outkast, but other artists always ready to create party-pop: Gwen Stefani, the B-52s, Prince, Missy Elliott, MIA and Junior Senior.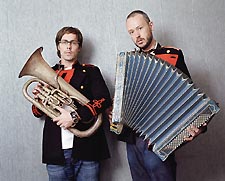 Global Party Pop: Basement Jaxx
(Photo by Jamie Beeden)
The best tracks are the most unusual, from the banjo-charged ''Take Me Back to Your House'' to the Caribbean party-funk of ''Run 4 Cover'' to the mix of gypsy and klezmer music on ''Hey U.'' Featuring Swedish pop singer Robyn, as well as a 30-member Malawian children's chorus, ''Hey U'' could soon become as big a hit as Outkast's similarly spirited ''Hey Ya.''
In a promotional podcast, Radcliffe and Buxton explain that they made the album as a reaction to the minimal and dark mood that has found favor in much of today's leading-edge electronica, especially in Europe. In reality, it's the same thing they've been doing since they paraded onto the scene in the late '90s with Remedy. The same thing, that is, only better and more consistent. Radcliffe and Buxton do a better job here keeping the energy up without going over the top. They also do a better job of maintaining the energy throughout the album. They seemed to wear themselves out by the time they reached the end of 2003's otherwise fantastic Kish Kash, and the duo's earlier albums were even more disjointed.
Crazy Itch Radio does slow down near the end with several unexpected chilled-out songs. But the effect was clearly intentional: After soaring to heavenly heights, the guys are working to bring you back down to earth gently, allowing you to catch your breath before you inevitably press repeat and listen to the album all over again.
It's an itch you can't scratch, you might say. And you go crazy before it stops -- or at least, before it starts again.
Though its music sounds little like Basement Jaxx's, Arling & Cameron also create fun, electronica-driven party music. You might say this Dutch duo is the Beach Boys crossed with Devo, with a little ABBA thrown in for color. In any case, the duo's first album in five years, Hi-Fi Underground offers one breezy-but-warm electro-pop tune after another, perfect for sipping martinis. It has a sophisticated air, a diffidence and an almost nose-in-the-air snobbishness. And that just adds to the appeal. That almost-snobbishness is not directed at you but with you -- about those things and people that annoy you. ''We can't be somebody else,'' Gerry Arling and Richard Cameron sing on one track. So, of course, the only thing to do: ''We better love ourselves.''
Arling & Cameron set out repeatedly to amuse you with cute pop and clever wordplay. On the charming album opener, ''Shake It,'' the duo channels the Beastie Boys to create a manifesto for today's aging hipsters. ''Fight for your right to...party...be free...say anything...be anyone,'' a woman chants. And then: ''Get naked, shake it.'' Despite being a mild-mannered, button-downed pop tune, you can't help but obey her sweetly delivered command. Why not? Life's too short, as the duo reminds you on ''We Can't Be Somebody Else.'' ''There's life before death and it's death for the taking,'' they (sort of) reason.
Take life, shake it and stir: that's Arling & Cameron's credo, right down to the last martini drop.
---