Scottish Muse
KT Tunstall's latest music is inspired by her dreams
''I've always been a very, very vivid dreamer,'' says singer-songwriter KT Tunstall. ''It's a great source of [creative] interest for me.''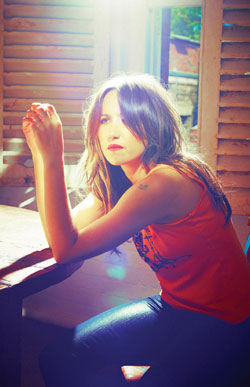 KT Tunstall
(Photo by Simon Emmett)
Dreams inspired Tunstall's first and biggest hit, 2006's ''Black Horse and the Cherry Tree,'' which earned her a Grammy nomination. The folky rock song became a hit courtesy of American Idol. ''I was asked through my manager whether I'd let [contestant Katherine McPhee] sing my song,'' she explains, ''and I said of course. Yes! Do it!''
Tunstall, who lives in the English countryside with her husband, is now touring in support of her third album, Tiger Suit. She stops this Saturday at the 9:30 Club. The focus of the new set ''was basically trying to tap into the pulse of dance music. [Exploring] the relationship between dancing around a campfire … and dancing in a club, and where those two things meet."
Tunstall started playing the acoustic guitar as a toddler in Scotland. Her new album's title derives from a recurring dream she had growing up, about petting a feral tiger in her garden. She sees the dream as a metaphor for stage fright, and confronting fears in general -- donning a tiger suit, as it were, ''to become who you want to become.''
About her powerfully evocative music's natural appeal to the gay community, Tunstall says, ''There are a couple of songs for sure that could be taken for Sapphic love songs,'' she says, citing her hit ''Suddenly I See,'' with its ''beautiful girl'' muse. Having gay support is ''quite a compliment,'' Tunstall continues. ''It makes me feel like there's hopefully a positive force within the music that's touching a nerve.''
KT Tunstall performs Saturday, Nov. 27, at 10 p.m. at the Nightclub 9:30, 815 V St. NW. Tickets are $25. Call 202-265-0930 or visit 930.com.
---