Refreshing
Erasure hasn't sounded this confident or fresh in nearly two decades, a contrast with the duo's producer Frankmusik
Is Andy Bell over electronic music?
''Then I go insane, I'm bored of this modern town,'' Erasure's gay frontman sings on one track of the band's new album, Tomorrow's World. ''Sick of this techno, mono-phonic sound.''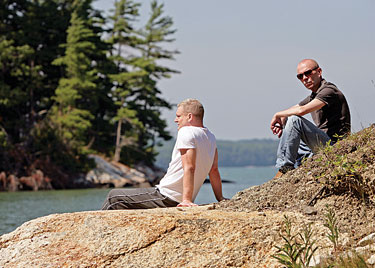 Erasure
(Photo by Jacob Pitcher)
Technically speaking, there's not a lot in the way of techno and certainly little mono-phonic sound to be found on Tomorrow's World. And Bell doesn't sound bored or sick of the style of pop that he and his bandmate Vince Clarke helped pioneer over two decades ago and still pursues with passion.
All throughout Tomorrow's World, Bell and Clarke lyrically explore exceptionally complicated themes -- struggling with the agony and confusion over love and modern life, the need for escape, and trying to glimpse the future. They're riddled by insecurity and uncertainty, as you might expect, given that Bell is 47 and Clarke is 51.
Musically speaking, Erasure hasn't sounded this confident or fresh in nearly two decades. The duo handed over production duties to Vincent Frank, who works under the handle Frankmusik and counts Lady Gaga, Pet Shop Boys and Ellie Goulding as other remix and production clients. That decision pays off handsomely. Frank was born the year the two first teamed up -- 1985 -- after Clarke had found success as a founding member of Depeche Mode and as part of the short-lived duo Yaz with Alison Moyet, and Bell was new on the scene.
Frank's youthful vigor helps keep Tomorrow's World from wallowing too much in middle-aged melancholy or in dated electronic knob-twiddling.
ERASURE
Tomorrow's World
Mute
$11.68




Out Oct. 11
''A Whole Lotta Love Run Riot,'' in particular, is as Top 40-ready as any recent electro-pop hit produced by David Guetta or RedOne, right down to its suspended chorus and other dramatic, blip-and-bleep sonic manipulations in the bridge. And then the song just peters out at the end, perfectly capturing the lyrics about a damsel in distress, or someone who can't keep a man.
The short set of just nine songs starts light and bright, with Bell hopelessly in love on ''Be With You.'' ''Call me, anytime, just call me,'' he sings, in his warm, expressive voice. ''Tell me that you want me, feel it everywhere.'' Soon enough, it gets unbearably heavy, as Bell preaches to us on the yawning, gospel-colored ballad ''You've Got To Save Me Right Now.''
Fortunately, Frankmusik rights the ship as it sails off to the end. Probably the set's standout, ''I Lose Myself,'' is a punchy track that recalls early Depeche Mode, even a little New Order, as much as it does Erasure. ''I been savaged by the vicious ones, every boy in his low-life corner,'' Bell sings. And still, he survives, a measure, he says, of his self-control and inner resolve. ''And I coo over you.'' And the world smiles. Please don't lose yourself any time soon, Andy.
FRANKMUSIK HAS JUST released his second album, Do It In The AM. All told, the set is better than you might expect if you caught the L.A.-based Brit opening for Erasure at the 9:30 Club last month. There, Frankmusik was a bit all over the place, and his hyper, anxious state created a kind of buffer with the audience, especially those unfamiliar with him or his music.
FRANKMUSIK
Do It In The AM
Interscope
$8.99



Ultimately, the pleasing new set doesn't break new ground. The album's title track is an ode to hedonistic late nights out at a club, performed with Far East Movement. And the set's new single, the relatively weak ''No I.D.'' with Colette Carr, is similarly of-the-moment. ''Blame It On Me'' is another modern-sounding gem with hit potential. But even more than contemporaries like Black Eyed Peas, LMFAO or Pitbull, Frankmusik's music often recalls the late 1990s, an era of cold, heavily syncopated pop. ''The Fear Inside'' may make you think of the Backstreet Boys, while ''Running'' is N'Sync through and through. And on and on it goes. The 25-year-old musician's formative years have had significant influence on his sound, it seems.
It's an interesting contrast: Frankmusik does a stellar job making an established, pioneering electronic band like Erasure sound contemporary and fresh. But so much of his solo work reminds you of the past. It's the sound of a newcomer still finding his way. At the very least, he's on the right track.
Enter to win copies of these and other albums at MetroWeekly.com/win.
---