Error in Judgment
Doug Wager's 'Comedy of Errors' has an air of Shakespeare meets Jerry Lewis, while Ford's chimes in with 'Christmas Carol'
You might not recognize it at first, but hidden beneath the painted puffy clouds that peek through a tall pink llama, behind Groucho Marx mugging in a procession of walking topiary, and alongside a tap-happy chorus line hoofing it to 42nd Street, there is a play by William Shakespeare -- the twin-centric The Comedy of Errors, to be exact.
Shakespeare meets Jerry Lewis.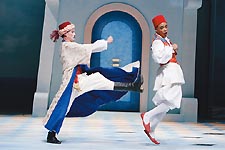 Kicked around: Whitthorne and McClain.
(Photo by Richard Termine)
Yes, it's called The Comedy of Errors because it is, in fact, a comedy. But Shakespeare's story about two sets of twins separated at birth by tragic circumstances is more than transparent farce and hapless tomfoolery. Lucid productions highlight the human reconciliation and joyful reunion when the brothers and family are finally reconnected, in the same warm spirit as the finale of The Winter's Tale. And it takes more than two acts sprinkled with goofy clowning and giggly in-jokes to achieve that kind of emotional resonance and hearty significance. Yet somehow, that point was lost on Douglas C. Wager.
Wager's revival relies entirely on staged gimmicks and physical slapstick to carry the plot through scene after silly scene, resulting in a Comedy that feels hollow, as though it should bear a ''Shakespeare for Children'' stamp upon it.
In exaggerated comic strip fashion, Wager's cast traffics in laughs of the physical variety, along with a few splashes of David Copperfield debonair. From literal disappearing acts to flashy pyrotechnics, the Shakespeare Theatre Company spares no expense for a comedy that only works half of the time. Because despite its time manipulation and jaunts in and out of reality, Wager's Comedy remains hopelessly one-dimensional.
Still, there are a couple of good performances, notably Daniel Breaker and Marni Penning. Sandra L. Murphy adds comic heft to a tiny part that is often overlooked in other incarnations. Her ''spherical'' Nell is the perfect complement to Breaker's lively Dromio of Syracuse, the only brother who executes Wager's choreographed bits with meticulous timing and charming buffoonery. His twin from Ephesus, LeRoy McClain, is no match for Breaker's deft skill and enviable precision, rendering the brothers Antipholi -- Gregory Wooddell (Syracuse) and Paul Whitthorne (Ephesus) -- a tame sideshow for the pair usually kept front and center. And while Chandler Vinton doesn't fare well with the comedy of Ephesus's wife Adriana, Penning delivers a comic blow as her flittering sister Luciana.
You have to applaud designer Zack Brown's imagination for conjuring up the quacky sultan digs for Floyd King's absurd Doctor Pinch. And Victoire Charles' belly-dancing courtesan is an outrageous medley of Diana Ross, Beyonce and Wonder Woman in her gold and red superfly getup. Fabian Obispo contributed original music for the show-stopping ''Ephesus'' number, another bizarre addition to an evening brokered by signature shtick.
From Dali's melting clocks to M.C. Escher's illusionary staircases, Wager and Brown borrow a liberal serving of random cultural references in their attempts to update a Shakespearean classic. Ultimately, the only things special about their heavily culled production are the effects.
---
It's time again for Ford's annual Dickensian delights, and producing director Paul Tetreault decided ''if it ain't broke, don't fix it,'' reviving Michael Wilson's adaptation of A Christmas Carol: A Ghost Story of Christmas, with many of the same cast members and design team intact from last season's original production. Though the stage is ringing with a few new bells and whistles to the discerning ear, there are still eye-popping treats that have been refined with revitalized lighting from Pat Collins, and Jacob Marley sports new claws from the Great Chained Beyond that are a tad less indicative of one Fred Krueger.
Martin Rayner reprises his role as the miserly Ebenezer Scrooge, growling and snarling his way through ''blackness of heart,'' while a new Ghost of Christmas Past teaches him that ''humankind should be my business.'' The sprightly Suzanne Richard is a perfect casting choice, adding fresh elements of whimsy and mirth to an evening already aglow with creativity and seasonal splendor. The entire affair feels more neatly packaged than its carnival-like predecessor, while still efficiently dispensing the classic tale of how one man learns that a life full of charity, with good will toward all, is always a life well-lived.
---