Anger Management
A stellar cast delivers the message of 'Twelve Angry Men' in a production tailored for the current generation
Given the explosion of courtroom dramas on television over the past decade, it might seem unnecessary to go to the Kennedy Center to watch another one -- even one starring Norm and John Boy. Rather than rest on their laurels, the two headlining stars, George Wendt and Richard Thomas, prove that they still have important contributions to make, as does Reginald Rose's classic play, which remains a tour de force examination of the best -- and worst -- constructs of our legal system.
Set in 1954, 12 white men are seated on a jury to determine the fate of a young African-American man accused of fatally stabbing his father. Initially it appears that it will be an even shorter deliberation than the O.J. Simpson trial -- but with a different verdict. But Juror Number Eight (Thomas) isn't ready to hand down a death sentence. Even though he's not convinced of the boy's innocence, he stands up to his peers and fights for the judicial process.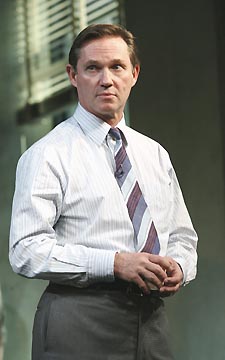 Doubting: Thomas
(Photo by Joan Marcus)
Twelve Angry Men is a return to the nobility associated with fighting for justice and believing in the sanctity of the system -- think Atticus Finch rather than Judge Judy.
A staple of any courtroom drama, the evidence is dissected and questioned piece by piece. In the process, more is revealed about each juror than the innocence or guilt of the accused. When evidence no longer supports the presumption of guilt, the true convictions of each man are laid bare. A highly talented cast avoids turning each man into a stereotype and allows for a real look into each juror's motivations.
The play is lead by two actors each well-known for their previous roles -- Wendt on Cheers, Thomas on The Waltons. Wendt, who must still be hitting the beer nuts as he is alarmingly overweight, is strong as the foreman of the jury, but has a limited role. Thomas, the doubting juror, is masterful and projects as much power and force through his calm logic and hopeful exuberance for finding the truth as his shouting counterparts.
Though most people will attend to see Wendt and Thomas, two other jurors -- the angriest of the angry -- are truly the masters on stage as the play becomes a case of good guys versus bad guys. As the bigoted Juror Number Ten (Julian Gamble) delivers his racist, vitriolic diatribe with convincing passion. Meanwhile, Juror Number Three (Randle Mell) is equally strong as a man whose personal experiences cloud his vision.
Director Scott Ellis brings out the best in the actors. As the tension builds, Ellis avoids melodrama by ensuring that every line is heard and that the actors don't simply rely on shouting. Enough humor is interspersed throughout that a fine balance is created which gracefully moves the play forward to a powerful climax.
Allen Moyer's staging initially appears to be the show's potential downfall; when first seated, half of the jurors have their backs to the audience. However, his bare jury room actually provides the corners and space needed to develop characters through side conversations and interactions.
TWELVE ANGRY MEN
Kennedy Center
Eisenhower Theater
To Oct. 22
202-467-4600

Running one hour and 40 minutes with no intermission, Twelve Angry Men slowly and methodically builds towards its climax. As each new vote of innocence is taken, tempers flare higher and tension escalates. However, it's clear that a fight is being won and, if only on a small level, progress is being made.
Although Twelve Angry Men borders on the preachy with its clear delineation between right and wrong, a tremendous cast makes it a thoroughly enjoyable show. It reminds us that change is hard and can only come from within. As the lights dim, it's reassuring to know that 12 angry white men can do the right thing.
---