Acts of Bravery
Woolly Mammoth takes on the challenge of bringing entire communities to life within literal steps of one another
Over at Woolly Mammoth, sisters are doing it for themselves. The risk-taking downtown theater company has literally packed the house with two one-woman shows. Nilaja Sun's award-winning off-Broadway play
No Child...
has taken up residence on the main stage while company member Kimberly Gilbert has carved out her own niche in the Melton Rehearsal Hall for the world premiere of Laura Schellhardt's
The K of D
. One wonders what else Woolly could do if they were to have a barn out back and some old sheets for curtains.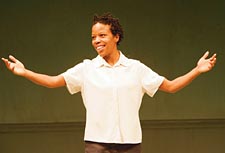 "No Child" at Woolly Mammoth
It's an interesting turn of events, with area audiences being afforded the opportunity to see two actors taking on the challenge of trying to bring entire communities -- in one case a public school in the Bronx, in the other a small town in Ohio -- to life within literal steps of one another.
And the results could not be more different.
Sun's No Child... is a well-crafted performance where the actor steps in and out of her characters with a seamless precision. The K of D, on the other hand, has its own unique texture as Gilbert seems not to so much occupy the various characters of the play but instead present them to us as a storyteller would. Or, perhaps more accurately, as a person might tell a story from their childhood, here dropping her voice to repeat what her father said and here raising his voice to chime in with his own youthful dialogue.
No Child... ended its much praised one-year run at New York's Barrow Street Theatre in June of 2007. A creative and intelligent response to President George W. Bush's highly debated and now controversial ''No Child Left Behind'' Act, Sun transforms the Woolly Mammoth stage into Malcolm X High School, a school where it seems everyone and everything has been left behind.
In a building littered with broken bathrooms, holes in the ceiling and more metal detecting equipment than some regional airports, Sun reminds us just how much is going on beyond the margins of standardized testing. Students who have stopped trying because they believe no one expects them to succeed. Teachers who arrive thinking they'll be the ones to change everything only to discover the real world of the classroom bears little resemblance to the one in those feel-good, one-teacher-changes-everything inspirational films.
But, make no mistake, there is hope in Sun's play. There are hard working teachers and administrators and even a particularly savvy school custodian who have not given up. And as a teaching artist arriving at Malcolm X to turn one of the school's English classes into a troupe of thespians, creating a play within a play within a play, Sun becomes one of those people.
Over the course of No Child... Sun melts in and out of characters with a startling ease. One moment she is marching down the hall with the bulldozer confidence of Malcolm X's never-say-die principal, while the next finds her meekly trying to gain control of the class as the new teacher, Miss Tam. Over-caffeinated teenage boys and apathetic girls. Elderly janitors and outcasts. Sun's sharp performance brings each of her characters a brilliant humanity and moving dignity.
Laura Schellhardt's The K of D, an abbreviated form of the ''kiss of death,'' is cast as an urban legend. This is something that has always struck our lead narrator -- a person known simply as ''The Girl'' -- as odd because most of these stories seem to take place in rural settings. Like the small town of Saint Marys, Ohio where The K of D is set.
Saint Marys is the kind of community where kids run in mismatched packs, where everyone knows stories about everyone else and where some people, like the McGraw twins, spend their days longing to simply get out.
While ''The Girl'' is our guide through the story, the focus is Charlotte McGraw. When Charlotte's twin brother is hit and killed by Johnny Whistler's rusty blue car, Charlotte stops speaking. She also, as urban legend would have it, gains a strange new ability from her brother's dying kiss.
Those who saw Gilbert in her Helen Hayes-nominated performance in Woolly Mammoth's production of Martha, Josie and the Chinese Elvis know the tremendous talent she brings to the stage. A smart performer who manages to make great use of the Melton Rehearsal Hall's very close quarters, Gilbert has some strong moments where the characters she's painting come vividly and powerfully to life.
But there are times where the work struggles and Gilbert's constructions do not feel completely realized, where the choices she makes seem too predictable and her gestures do not so much create character but instead serve simply as signals to the audience that a new voice has entered the room.
And, given the tight quarters of the rehearsal hall, Matt Otto's sound design is often overpowering. It weighs things down by giving too much of the story a kind of concrete footing that doesn't always mesh with the play's mythic quality.
NO CHILD...
ToFeb. 17
THE K OF D
To Feb. 10
Woolly Mammoth Theater Co.
641 D St. NW
$18-$57
202-393-3939
www.woollymammoth.net
Set designer Marie-Noelle Daigneault does far better with her wonderful scenic work. The seemingly makeshift, offhand design evokes campfires and slumber party ghost stories and perfectly accents the piece while respecting the limits of the space.
The one-person show is as much an act of bravery as it is a performance. Whether braving the hallways of a struggling public school or the dark corners of a small town, the actor literally carries that imaginary world on his or her shoulders. D.C. is fortunate to be playing host to two performers so willing to fearlessly take on that heavy lifting.
---