It's the end of the world as we know it, and Beckett doesn't feel so fine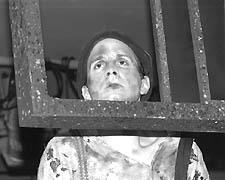 Scraping by: Terrill
(Photo by Bruce Robey )
Where does Catalyst Theater Company, a mere four productions old, fit into this multifaceted wonderland we call Washington theatre? Their mission statement goes something like this: "To produce plays that reflect a moment of remarkable change in the world view of the culture from which they were written, and to respond artistically to a 'new world' by investigating 'catalytic' plays that have come before us and exploring new works that possess a 'catalytic spirit.'"
One can only hope that "to entertain the ticket-buying public" can be assumed somewhere along in there, although judging by the company's production of Samuel Beckett's Endgame, the odds are not in your favor.
Like Beckett's 1952 Absurdist stage landmark Waiting for Godot, 1958's Endgame is about inaction and contemplation -- the theatrical equivalent of navel-gazing. Tides are gone, light is fading for good -- in other words, the post-Apocalyptic world is in its dying gasp.
Humans aren't finished just yet, although Endgame's four characters are in especially dire straits. Hamm (Eric Singdahlsen) rules the remnants of his household like a mad tyrant, ordering around Clov (Jesse Terrill) and heaping abuse upon his parents Nagg (Steven Kirkpatrick) and Nell (Wendy Wilmer), who are both legless and confined to trashcans.
Blind and wheelchair-bound himself, Hamm isn't in much better shape physically. But he does hold sway over Clov, whose sight and mobility haven't yet succumbed to the ills of this nuclear winter-like state that have put the human race on the fast track to eradication.
Why does this motley crew even bother anymore, when there's nothing left to live for and their existence is nothing more than pure suffering? Well, that's Beckett for ya'. To serve his philosophical ends, they have to be there, meandering aimlessly about how miserable they are, and questioning and re-questioning ad nauseam how all of this will end.
Forty-five years after the fact, can Endgame's effect be anything more than ultra-tedious? Catalyst's earnest production, shaped by director Christopher Janson, emphasizes the work's grotesqueness, but never really captures Beckett's bleak sense of humor, which would make Endgame bearable.
Endgame
Directed by Christopher Janson
Capitol Hill Arts Workshop
Through 3/15
800.494.TIXS
www.catalysttheater.com
You get visual cues -- a PC among the on-stage rubbish, contemporary furniture, those lovely green curbside trashcans -- that would have you believe Endgame speaks to our 21st-century war-and-terrorism-driven fears of mass destruction or outright annihilation. But a 2003 American audience reflects a society with the compulsion to take action under duress. We buy duct tape, invade countries, or do any number of things to stay busy while waiting for the ax to fall.
"I can ponder the futility of existence on my own time," I found myself thinking as Endgame droned on last weekend on the eve of a blizzard when I still needed to get milk and bread, not to mention fresh water supply backup in the event of bioterrorism. "Don't these characters have anything else better to do than talk for ninety minutes?"
At the very least, you'd think the strongest among them -- Clov, played by Terrill with the most visible strain of humanity to be discerned -- would put Nagg and Nell out of their misery, or knock off the oppressive Hamm, or take himself out of the picture. At least that's what you want  Clov to do, since Terrill's sympathetic take on the character reveals a man whose awareness of his likely insanity leaves you hopeful that he can still pull it together and do something rational in response to his circumstances.
Not so, though, as you react to Singdahlsen's overwrought rendition of Hamm. The double entendre of the character's name notwithstanding, Singdahlsen's Hamm is excessively cruel and crazy, to the extent that you've tuned him out by the time Beckett's text draws to a close and commands more attention in final moments than you have left to give it.
Ultimately, despite Catalyst's overarchingly realistic approach to Endgame, it's really about theatricality as much as reality, if not moreso. Beckett teases the audience with Endgame's awareness of itself as a play -- revealed in characters' asides -- that leaves you concerned with how human existence will end, as well as how this theatrical conundrum will resolve itself.
Can a play end if its characters won't take any logical steps to facilitate resolution? Beckett and his 20th-century audience may have found such mind games playful, but Catalyst merely makes Endgame feel torturous and unworthy of your theatre-going time and attention.
---