Crazy Rich
Studio brings a wonderful musical to full bloom with a cast that's focused, talented and seamlessly bound together
The difference between eccentricity and madness is, sometimes, how much money sits in your bank account.
At least that's how it would seem to have been in the days when society pages were filled with glamour and privilege and descriptions of Chinese lantern-lit garden parties where the ladies who lunch and the husbands who let them traded witty banter and champagne-fueled small talk. That capital ''R'' Romantic idea, about a not-so-distant past where beautiful estates and gorgeous New York apartments were occupied by flamboyant, creative women, their loyal -- usually drunk and single -- best friends and the largesse of absent husbands has given birth to a number of books and plays and musicals.
None, however, have been quite like Grey Gardens.
Based on the true story captured in a 1975 documentary of the same name, Grey Gardens shows what happens when the trappings of wealth and society crumble and deteriorate leaving only that fabled ''eccentricity'' behind. It's a show that is as lovely as it is tragic.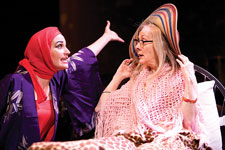 'Grey Gardens'
The musical opens in 1941, the morning of ''Little'' Edie Beale's (Jenna Sokolowski) engagement party at her family's enormous East Hampton home, Grey Gardens. The party is the talk of the island as Edie is a Bouvier -- granddaughter of J.V. ''Major'' Bouvier -- and her intended is the young Joseph Patrick Kennedy Jr. Long before Jackie and John F. remade Washington into Camelot, the Bouviers and the Kennedys were society royalty. This is to be the party of the season.
But ''Little'' Edie's mother is also a Bouvier and ''Big'' Edie (Barbara Walsh) is a woman of definite ideas, ego and a tendency toward the theatrical. In other words, she's a bit of an eccentric. Which is to say, she's a trifle bit crazy, with money enough for a butler and a live-in, full-time piano accompanist. Said accompanist, George Gould Strong (Bobby Smith) is that eccentric's best friend, the drunk.
What begins as a fairytale writ on the society pages ends some three decades later in squalor trapped on celluloid.
While Doug Wright's book for Grey Gardens is both touching and funny, it is Scott Frankel and Michael Korie's music and lyrics that transform this show into something truly special. There's a wonderful feeling to the sound they've developed -- a kind of audible sentimentality. A sepia-toned photograph for the ear. Think of those scratchy, well-worn recordings of a warble-voiced soprano singing about keeping his sweetheart safe while he's fighting the war. It's nostalgic and evocative and sets the mood better than any prop piece could do.
That sound is what ties us to the start of the show, when Grey Gardens was a prestigious and envied home, when we rejoin mother and daughter in the 1970s of the musical's second act. But, much like the house that is falling down around the Bouvier Beales, much like the social standing that once protected them from the judgment of the outside world, the music too has taken on a new character. A kind of desperate longing, a barely contained anger.
Sentimentality has given way to a painful sense of pitiable loss. ''The Girl Who Has Everything,'' ''Little'' Edie, has been replaced by a broken woman who cannot quite believe she's to spend ''Another Winter in a Summer Town.''
Bringing this music to life is a cast led by a trio of outstanding women. Walsh plays ''Big'' Edie in Act One and then returns as the older ''Little'' Edie. Equally at home in both roles, it is her turn as the second act's ''Little'' Edie that is most exciting. Walsh's Edie teeters on the very edge of things -- despair, sanity, fashion. She creates a sense of longing so great it sits in the theater like a member of the audience. It's an outstanding performance.
Walsh is joined by Sokolowski (who plays the younger Edie in Act One) and Barbara Broughton (as the elderly ''Big'' Edie in Act Two). What is most enjoyable about the performances of these three actresses is the cleanly wrought connection they share. The shifts between them are flawless and organic with Walsh adopting the extended vowels and mannerisms of Sokolowski's Edie while Broughton maintains the pride and blind optimism of Walsh's portrayal.
Mention must also be made of area-favorite Smith as ''Big'' Edie's single, drunken, gay best friend Gould. He is, as always, a welcome presence on the stage and takes full advantage of a brilliantly drawn character.
With Grey Gardens, Studio Theatre brings a musical to full bloom with a cast that is focused, talented and seamlessly bound together. To miss the chance to see it would be madness.
---