Purring Along
Strong acting helps sell a farce that has relevance today, in Black Box Theater's first fully staged production
James Kirkwood's P.S. Your Cat Is Dead was one of the first plays to address gay themes. But it was originally a flop on Broadway, and was far overshadowed by its gay writer's contribution to another, superior 1975 Broadway play that also tackled gay themes: a little ditty called A Chorus Line. But P.S. would survive to become a cult staple off-Broadway, as well as the basis for a well-received book. Earlier this decade Steve Guttenberg directed and starred in a mediocre indie film version that trudged through the gay film festival circuit.
Now, the new Black Box Theater Company has revived the farce for a local production at the Playbill Café. Black Box's managing director Jonathan Bush goes so far as to compare P.S. to the iconic 1939 film It's A Wonderful Life, in which a guardian angel helps perennial nice-guy George Bailey cope with life after losing so much. And in fact, the analogy is not quite as far-fetched as it sounds.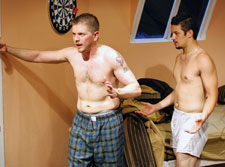 P.S., your cat is dead
In P.S., Jimmy Zoole (Mitch Irzinski) is an even-more down-on-his-luck common man than George Bailey. He's set to usher in New Year's Eve in his studio apartment alone, without the girlfriend who just dumped him or his cat, who is dying at the animal hospital. Having just been fired from a starring role on Broadway, Jimmy doesn't see much hope in going on living until he catches gay burglar Vito Antonucci (Ryan Sellers) in the process of robbing him – for a third time.
As the play progresses, Vito becomes Jimmy's unwitting, eccentric, de-facto guardian angel. With Vito's prodding, Jimmy finally decides to take charge of his life instead of waiting for others to give it meaning.
You have to suspend a certain level of belief with P.S. Your Cat is Dead. Take, for example, the fact that Jimmy first straps Vito to his kitchen counter, and then strips him bare-ass naked. Vito remains denuded for a good portion of the evening. It's not sexual, and it's not particularly sadistic. Who would do such a thing?
Actors Irzinski and Sellers make the implausible believable. Strong acting, particularly from Sellers, helps sell a story that has relevance today, when so much seems to be spinning out of control – or at least out of any one person's control. The rapport between the full cast makes the character-driven play's repartee that much more delightful. Leigh Anna Fry strikes just the right note as Zoole's departing girlfriend Kate, and Bush charms by playing it straight as Kate's new love interest. But it's the way in which Irzinski and Sellers play off of each other that compels our interest. And these two actors generate good comic chemistry.
Based on this production alone – Black Box's first full-scale theatrical production presented at Playbill's cozy, 30-seat makeshift theater in back – Bush and his new company show promise. Bush, for example, wisely opted to stage P.S. as a one-act instead of Kirkwood's original two. The latter half of the evening drags somewhat, as Vito is physically freed from the kitchen counter only to become tied to Jimmy emotionally. But the play itself moves along relatively briskly, and a break would have only accentuated the play's stronger first half.
P.S. YOUR CAT IS DEAD



To Aug. 15
Playbill Café
1409 14th Street NW
$15
800-494-8497
www.boxofficetickets.com
The production values are on the low end – but then so is the price of entry. A cheaper, more cost-rewarding night out to the theater would be hard to find. And the production team as a whole does a serviceable job. In particular, Michael Roike does yeoman's work in creating an adaptable set in such a small space. Now, if only Playbill would crank up the A/C. At a performance last weekend, several patrons had to resort to regular fanning with their programs to keep cool. And everyone in the cast did their best pretending not to notice the sweat flinging from the shirtless Irzinski.
In the end, the improbable relationship that develops between Jimmy and Vito is actually quite touching. Vito becomes Jimmy's surrogate cat – lapping up food from a cat dish with his tongue, even peeing in a "litter box," otherwise known as the sink. As the thick-accented Vito would say, their relationship is simply "poivoise." And it proves that sometimes it's the unexpected or even unwanted things that make life special.
---