Funny Ladies
A Girl's Guide to Washington Politics riffs on the current state of women in and around politics
''You don't hear as many legitimate conversations about foreign policy in Chicago as you do [in D.C.],'' says Brooke Breit of Chicago's Second City. You also don't generally hear the name Adrian Fenty there.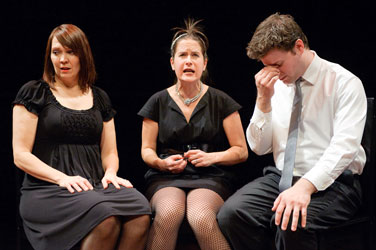 A Girl's Guide to Washington Politics
''I felt terrible in that moment because I didn't recognize the name,'' says Breit, who stars in Second City's A Girl's Guide to Washington Politics, currently at Woolly Mammoth. Leading five members of the renowned improv theater troupe, Breit, a North Carolina native, blanked after an audience member a few weeks ago suggested Fenty as the subject of an on-the-spot musical skit. "It was a little embarrassing that it went down that way with the mayor,'' says Breit, ''but I know now!''
A Girl's Guide is a follow-up to Barack Stars, a hit the past couple seasons at Woolly Mammoth. More of a satirical revue than a play, A Girl's Guide mixes current and archive material with some material designed specifically for this show. It riffs on the current state of women in and around politics. Breit, who was also in Barack Stars and has been with Second City for over three years, plays various characters, including an Evita-like Elena Kagan and a Suze Orman-styled financial advisor.
''Comedy tends to be a more male-dominated world,'' says Breit, ''so it's very exciting to get to be a part of a group that is primarily women. We get to do some of these numbers that are for women.''
A Girl's Guide to Washington Politics runs to Jan. 9. Woolly Mammoth, 641 D St. NW. Tickets range from $26 to $60. Call 202-393-3939 or visit woollymammoth.net.
---