Party Games
Edward Albee's ferocious 'Woolf' takes the stage with enough passion and talent to make an audience forget the famed film
There are, at times, movie adaptations of a play so potent, they threaten every live performance that follows. Take, for example, Richard Brooks's Cat on a Hot Tin Roof, based on the Tennessee Williams play. Anyone who has ever savored the subterranean waves of emotion rolling through the eyes of Burl Ives up close and personal, is going to find it real hard to be in row J peering between heads at anyone lesser. Even more to the point is the indelible stamp of Mike Nichols's Who's Afraid of Virginia Woolf?, based on Edward Albee's play, in which Elizabeth Taylor and Richard Burton deliver, with bitter spectacle, a marriage twisted by delusion and disappointment. What future theatrical performance would not be haunted by Taylor's unstoppable Martha and Burton's quietly fuming George?
So, when a production does make you forget a mind-blowing film, it really is saying something. And although the Steppenwolf Theatre Company's production of Woolf, playing at the Arena Stage, invites a few comparisons, it nevertheless takes back some serious ground from the motion picture.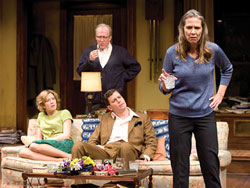 Howling Woolf: Morton and the cast of Virginia Woolf
(Photo by Michael Brosilow)
Making Martha completely and utterly her own, Amy Morton ensures from the get-go that this will be no rehash. Offering an educated, dissipated elegance, this is a Martha who exudes a brittle East Coast cynicism and intelligence. And even as she fails to convince as daddy's (neglected) little girl, she suggests something just as powerful and accessible: the thwarted intellect. A sharp, ambitious mind relegated, for reasons unexplored, into the backseat of her husband's career, Martha has turned on her marriage, her husband and ultimately herself. Like a free radical, she lives to disrupt with games, attacking the life she hates and yet also accepts. Morton is eminently believable and riveting as Martha, at least until the final denouement in which a display of genuine grief fails to sit all that comfortably on such a powerhouse.
Still, even with Martha's bitter underpinnings, under the hand of director Pam MacKinnon, there is a noticeable emphasis on the humor and Morton throws off her one-liners with a savage and savvy glee that never diminishes her moments of bitterness and near-rage. And it is through Morton's Martha that Albee's voice rings loudest and clearest as one of the best -- and original -- examples of the quick American wit and the sometimes overlooked (by Europeans) thirst for irony. She is as darkly funny and irreverent as if she had been written yesterday.
Alternately grappling with, stalking and ignoring Martha is George, her retiring -- if not exactly shy -- husband. This is a challenging role, for there is more to this apparently put-upon man than at first meets the eye. Moving between the long-suffering George and the George that fully engages in a mutually constructed arena is no easy task. Tracey Letts, a remarkable playwright in his own right (August: Osage County, being but one example), renders a suitably unsettling George, although there is sometimes an awkwardness in his transition into the game-playing George that belies the kind of familiarity one would expect. And while Letts ably matches Morton in stage presence, there is a self-consciousness that does not always feel intentional.
Set in George and Martha's living room, the revelations begin with the arrival of the young marrieds, Honey and Nick (Carrie Coon and Madison Dirks), who Martha has invited to the house for late-night drinks. Nick, a newly hired professor at George's college, is soon revealed as ambitious and fully aware that Martha's is the daughter of the college president. Nick soon becomes a foil for both George and Martha, but despite his masculine charisma Dirks doesn't quite exude the kind of hard shell Nick needs to so easily enter the games. In the role of Nick's mousey wife, Coon is quietly effective, offering a contemporary style of comic timing that works well.
Still, quibbles and celluloid aside, this fresh, original take on Albee's vivisection of a marriage is alive and kicking.
Also offered in Arena's Albee Festival is At Home at the Zoo, a play in which, interestingly, Albee wrote the second act (which began life as a stand-alone work) 45 years before he penned the first (full details can be found in the program notes). At times existential, at others realistic, the first act is in many ways a cerebral experience. Like pieces in a puzzle, we contemplate the disjointed chatter between upper-middle class New Yorkers Peter and Ann, as it evolves into a series of revelations about their marriage and themselves.
WHO'S AFRAID OF VIRGINIA WOOLF?




1/2
To April 10
Arena's Kreeger
AT HOME AT THE ZOO




To April 24
Arena's Kogod Cradle
1101 6th St. SW
202-488-3300
arenastage.org
Avoiding a complete reliance on the natural rhythm of conversation, Albee gives us a rhythm more in the way of pauses in which we can stop to think about what has been said and what it might mean. There is an inherent, intentional stiltedness here and the actors do an excellent job of maintaining momentum, even if they meet the challenge of Albee's ''voice'' with some unevenness. Although she brings a warm realism to her Ann, Colleen Delany employs an actorly intonation that emphasizes the discourse but also distracts. And as Jeff Allin convincingly evokes his buttoned-down Peter, it is harder to accept his leaps into personal revelation or the climactic fantasy he shares with Ann. A thought-provoking piece, especially when referenced to act two -- which launched Albee's storied playwrighting career as The Zoo Story -- this is a work that stimulates more after than during the performance.
Far, far more immediate, the second act opens with Peter now settled on a favorite bench in the park, reading. He is soon approached by the tense and questing Jerry, who chooses Peter for a conversation Peter would rather not have. In what amounts to a near-monologue, Jerry subjects Peter, and us, to a painfully intimate portrait of his life on the fringes of society until he finally provokes Peter to engage.
In a mind-bendingly stellar performance as Jerry, James McMenamin captures Albee's brilliantly drawn lost soul with a finely crafted mixture of menace, humor and irony -- the damaged child is never far from the disturbed adult and this nuance ensures a genuine pathos as he draws us into his despairing world. Though Allin never quite convinces when he finally confronts Jerry and the climax announces itself with a bullhorn (mainly because it has been copied so liberally ever since), it all still works under McMenamin's powerful spell.
---