Rock Out
If you can stomach the cheese, the noise and the poop jokes, Rock of Ages has a couple gay twists that'll amuse
I know what you're thinking. A jukebox musical with cheesy rock and noisy hair metal from the '80s? Starring Constantine Maroulis, an American Idol also-ran -- from six years ago? Given that Rock of Ages is playing at the downtown National Theatre, it does sound like a perfect tourist trap, a sop to the unadventurous, out-of-town theatergoer.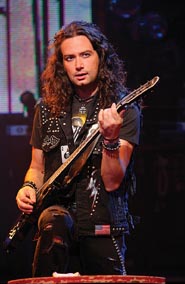 Constantine Maroulis
(Photo by Joan Marcus)
As the Rock of Ages narrator (Patrick Lewallen) mocks at one meta point, it's not a serious drama -- it's a musical with poop jokes and Whitesnake songs. (Adding further disinterest: Next summer, it'll be a big-budget movie, starring Tom Cruise and Russell Brand, among others.)
Certainly, if you didn't grow up with Whitesnake songs -- or those by REO Speedwagon, Foreigner, Poison and the like -- you should probably just stay far away from the Freedom Plaza area this week and next.
But if can let go of your theatrical pretensions and can stomach the cheese, the noise and the poop jokes, well, you're likely to have nothin' but a good time, as they say.
And you should also know that Rock of Ages, which debuted on Broadway two years ago, isn't just a straight man's Priscilla, Queen of the Desert -- or, for that matter, Glee. Though the general story and selected music is hetero-centric, there are a couple gay twists to the story that will leave any queer theatergoer amused. (In particular, Travis Walker may not play character Franz as gay -- ''I'm not gay, I'm German!'' -- but he does put his fey dukes up and will hit you hard with delight.)
Whatever you thought of him on Idol lo those many years ago, Constantine Maroulis has clearly found his calling with this show, which actually earned him a Tony nomination. In the early stretch of Rock of Ages, he seems a bit tentative, unsure of himself. In fact, he's overshadowed by Peter Deiwick, playing the Bret Michaels-inspired rock god Stacee Jaxx. But you come to realize that it's all part of the act. By the time he joins the cast for the Act 1 finale, to the dramatic and undeniably great Whitesnake tune ''Here I Go Again,'' Maroulis is the undisputed star of the show, charming his way around his co-stars and hitting an impossibly high note, belting it with such force, his head looks like it might explode.
There's fantastic singing from most of the principals throughout the show. And what's more, you might be surprised to find that many of these songs are worthy of the vocal firepower given to them. Ultimately, I wish director Kristin Hanggi and company had put more thought into re-interpreting the songs, instead of offering so many note-for-note staged versions of them. But at least they spent some time creating thoughtful mash-ups. You can't help but smile, for example, at the way Hanggi alternates choruses and verses of Joan Jett and the Blackhearts' ''I Hate Myself For Loving You'' with Asia's ''Heat of the Moment,'' all in service of the plot.
And yes, there is a plot, buried underneath all the vocal acrobatics and peeling electric guitars and vintage hair, makeup and costuming.
Maroulis plays Drew, an aspiring nice-guy rocker, who angles for stage time while doing menial labor at a famous rock club on Los Angeles' Sunset Strip during the derelict '80s. He falls hard for Sherrie, an aspiring actress from Kansas played winsomely by Elicia MacKenzie. But nice guys finish last: Sherrie falls hard for Stacee Jaxx. The rest of the show finds Drew and Sherrie unsuccessfully chasing their dreams alone until, well, they remember they're in a crowd-pleasing musical. Gotta end on a high note, and leave 'em happy.
ROCK OF AGES



To July 24
National Theatre
$56.50 to $151.50
800-447-7400
NationalTheatre.org
Chances are, you'll miss some of the dialogue in Chris D'Arienzo's book. The five-piece rock band, including two electric guitarists and a boisterous drummer, rarely stops playing, and even amped actors with good projection have to fight to be heard. The band's near-constant presence also seems to throw off the pacing a touch. Some of the more dramatic moments in the plot whiz by before you've had a chance to process them. Instead, like a kid suffering from ADHD, we're on to the next song and plot point.
But that's okay. Rock of Ages isn't meant to be taken seriously. It even explicitly laughs at itself at several turns. You're supposed to just come out and enjoy the constant sight-gags -- from the crazy message t-shirts and limber moves of Patrick Lewallen, who serves as the show's narrator Lonny, to Kelly Divine's giddy, goofy choreography, to Gregory Gale's totally rad costuming.
Sound designer Peter Hylenski and lighting designer Jason Lyons do their best to make you feel like you're at a concert, not a show.
And in the heat of the moment in July... well, why fight this feeling?
---