Holiday Hilarity
Michael Stebbins gives the gift of Sedaris satire
''Right out of high school, I wore a lot of orange spandex and spangles,'' says Michael Stebbins, laughing at the memory. The actor, who grew up in Wisconsin, got his start in show business singing and dancing on cruise ships and at Six Flags theme parks. (Just ask him about Auto World in Flint, Mich.)
This weekend at Columbia, Md.'s Rep Stage, Stebbins will read three essays from David Sedaris's acerbic, hilarious Holidays On Ice collection. Now in its third year, the Sedaris readings have become its signature holiday offering.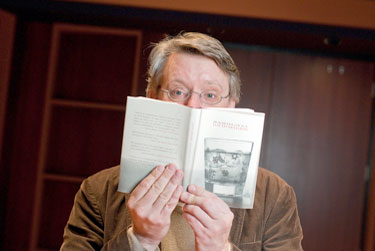 Stebbins, Rep Stage's producing artistic director, reads the essays in the style in which Sedaris first presented them on NPR. ''What I love about [Sedaris] is that he reads them rather straight, so to speak, and let's the images and stories themselves reach out to the audience.'' So Stebbins simply stands at a lectern, or sits in a chair, and reads aloud. Among the featured essays is ''Seasons Greetings to Our Friends and Family,'' a holiday letter from the Dunbar family, which now includes a 22-year-old Vietnamese prostitute, the love child of the family patriarch, a Vietnam vet.
Stebbins also calls theatergoers up onstage to show off their many gaudy Christmas fashions and win prizes as most ''festively'' dressed. And he plays the Christmas music he grew up with, Firestone albums by Julie Andrews and Robert Goulet. ''It becomes a very little festive evening,'' he says, ''a nice alternative to all the Nutcrackers and all the Messiahs.
"I'm sort-of one of those seasonal geeks,'' he continues, conceding he won't actually be one of those in costume. His showy days are over.
Holidays on Ice readings are Friday, Dec. 17, at 8 p.m., Saturday, Dec.18, at 2 p.m. and 8 p.m., and Sunday, Dec. 19, at 2 p.m.' Rep Stage, 10901 Little Patuxent Parkway, Columbia, Md. Tickets are $12 at the door. Call 443-518-1500 or visit repstage.org.
---