Review: Wit
In ''Wit,'' now playing on Broadway, Cynthia Nixon reveals herself to be an incredibly expressive actor of great range
Cynthia Nixon laughs and laughs and laughs in one late scene in Wit. The actress even seems genuinely tickled, too. (Maybe she's reveling in the controversy she stirred up in the past week, about her contention that she chose to be a lesbian.)
Laughing may not be as hard to pull off for an actor as crying – though, it should be noted, Nixon also succeeds at that here, during a few brief moments. But it still can be difficult to make the emotion sound real, as Nixon does.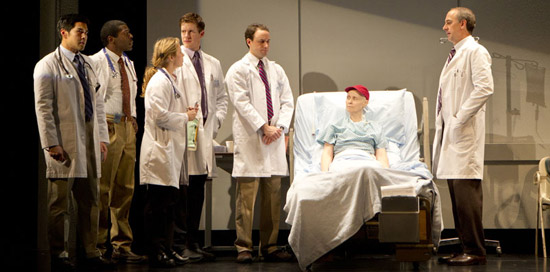 Pun Bandhu, Chiké Johnson, Jessica Dickey, Zachary Spicer, Greg Keller, Cynthia Nixon, and Michael Countryman
After 75 minutes, Nixon's moment to giggle, while playing Vivian Bearing, must provide the actor some serious solace. (It certainly does the audience.) Because all told, Wit is no laughing matter. Focused on the fictional struggles of a lonely academic fighting a losing battle with cancer, Margaret Edson's play, now making its official Broadway debut 17 years after its first production, is chiefly intellectual, not emotional. Other than instances where Dr. Bearing pokes clever fun at those who aren't as whip-smart as she – that is to say, everyone – Wit is as serious, studious and scholarly as theater gets.
Bearing's giggling outburst is provoked by reaction to her use of the word soporific, as she inquires about the shot of medicine her nurse is preparing to give her. ''I don't know, but it'll make you sleepy,'' responds nurse Susie Monahan, in a fully realized, brilliant performance by Carra Patterson. The two share a laugh at Monahan's expense, once Bearing explains, just as her father did when she was a toddler, that soporific in fact means sleepy.
As it turns out, nurse Monahan is the closest to a friend Bearing has – in part because everyone whose job doesn't require interacting with the arrogant academic long ago tired of her superiority complex. The only other person who comes to visit her in the hospital is her academic mentor, played with an aching sensitivity by Suzanne Bertish.
It's only as she lies on her deathbed that Bearing realizes her lifelong mistake in completely shunning emotions for intellect, pushing people away in favor of books and literature. ''I thought being smart enough would be enough,'' she says at one point, an acknowledgement that life – or really death – has a way of cutting everyone down to the same size and situation.
Truth be told, Wit will have a soporific effect on some theatergoers. At one point, Dr. Bearing gives the audience a dry, erudite lecture about 16th Century English poet John Donne, whom she heralds as smarter, more sophisticated than his famous contemporary William Shakespeare. The technique of having Bearing address the audience is one manner in which playwright Edson aims to make Wit a little less soporific. The character even quibbles over the playwright's approach in documenting Bearing's plight at a couple turns, in a self-referential manner also partly aimed at keeping theatergoers awake. Director Lynne Meadow stirs more life into the production by working with scenic designer Santo Loquasto, who created a revolving set and scenes that segue one to another in often subtle, intriguing ways. And Peter Kaczorowski's evocative lights provide slightly more pizzazz than you'd expect from the play's drab institutional settings.
Edson, born and raised in D.C., teaches social studies at a middle school in Atlanta, where she's raising two children with her female partner. Wit, which won the Pulitzer Prize after a 1999 Off-Broadway production and later earned an Emmy for a 2001 HBO production starring Emma Thompson, is Edson's only play. Informed by Edson's academic background in literature as well as time spent at a research hospital's oncology unit, Wit does a marvelous job of exploring the connections between academic and medical research. In both realms, students and subjects are often treated in dehumanizing ways – when theory conflicts with practice, or research meets reality. In a thankless role as Jason Posner, a medical research fellow, Greg Keller shines as the medical equivalent to the academic Bearing. He's wholly uninterested in her as a person – as she was with her students, a group that includes Posner. He doesn't really care how much or how long she suffers as long as she fulfills her research potential.
WIT



AND ONE HALF
Samuel J. Friedman Theatre
261 West 47th St.
New York
Tickets are $57 to $116
212-239-6200
www.telecharge.com
For her part, Nixon handles the rigors of the role of Bearing with aplomb. A Tony-winning theater veteran who is most widely known for her work on screen as Miranda in Sex & The City, Nixon is almost unrecognizable as Bearing – and not just because she trades high fashion for no fashion, wearing only a hideous hospital gown and a red baseball cap over a bald head. Nixon reveals herself to be an incredibly expressive actor of great range.
Wit makes much hay out of the strange, albeit understandable, custom of health care professionals greeting patients by asking them, ''How are you feeling today?'' It's how Wit opens in fact, with Bearing addressing the audience with the query.
The honest answer, at least post-show, is: ''good and bad.'' Wit is that kind of a show -- so well done and so moving, it's depressing. And so depressing, it's hard to feel good.
---