Westward, Shrew!
Folger's ''Shrew'' is an uneasy marriage between a tale told in Elizabethan verse and actors evoking Disney's Frontierland
The West is more mild than wild in Folger Theatre's new production of The Taming of the Shrew, William Shakespeare's so-called comedy that revels in male superiority and female submission. Director Aaron Posner has imposed a 19th century American West conceit for no discernibly compelling reason, creating an uneasy marriage between an Italian-set tale told in Elizabethan blank verse and actors twanging it up in an environment that evokes nothing so much as a Disney theme park Frontierland.
Of course, it's an uneasy marriage that's the point of all this business to begin with: Katherine (Kate Eastwood Norris) is the ornery older daughter of, in this case, wealthy saloon owner Baptista (Sarah Marshall), who must find her a husband before younger daughter Bianca (Sarah Mollo-Christensen) – as sought-after as the ''shrew'' Katherine is shunned – can be wed to one of her many suitors.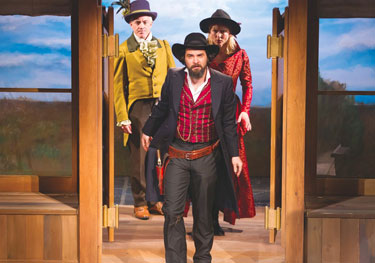 Shrew: Danny Scheie, Cody Nickell and Kate Eastwood
(Photo by Jeff Maley)
Swaggering gambler Petruchio (Cody Nickell, Norris's real-life husband), enticed by Baptista's substantial dowry offer, is convinced that he's the man for the job. And sure enough, marrying Katherine and then barraging her with charming educational tactics such as spanking, starvation and sleep deprivation, he convinces her that she's the woman for the job he has in mind: a wife without a willful, original thought in her head, who'll (literally) call the moon the sun if that's what her husband says it is and who'll live for no other reason than to serve his every whim.
Funny stuff, Shakespeare! Norris and Nickell draw from deep wells of personal chemistry and stage presence to make sense of the 16th century psychology, which becomes no more charming, palatable or relatable in a 19th century context. Her Katherine quickly and clearly yearns for Petruchio and genuinely wants to please him – although what choice does she have if she ever wants a full meal or a night's sleep? And Nickell conveys the passion that ultimately drives Petruchio, even if he's as passionate about control as he is about Katherine.
The Blind Balladeer (skillful singer-songwriter Cliff Eberhardt) is a constant presence onstage, punctuating the proceedings with generally melancholy numbers that emphasize the more confounding aspects of love. Responsibility for the most conventionally witty aspects of this battle of wits falls to several servants (actual ones, that is, as opposed to wives forced into the role): Tranio (Holly Twyford) and Biondello (James Gardiner), whose master, Lucentio (Thomas Keegan), outmaneuvers less-dashing rivals for Bianca's hand; and Grumio (Danny Scheie), upon whom his master, Petruchio, heaps abuse as freely as what's dished out to Katherine.
Funny thing is (or not), Scheie's fey, flamboyant mannerisms – all but identical to his recent starring role in You, Nero at Arena Stage – only serve to temper the misogynistic tone with an anti-gay undercurrent, as if to say, ''You know how gays and women are! Give 'em a man who's butch enough, and they're happy to be treated like dirt!'' Yee-haw? Yuck.
If the performances can't transcend the limitations of Shakespeare's text and Posner's concept, then neither, for the most part, can the visual design. Costumer Helen Q. Huang does pull off evocative, colorful and whimsical looks, but Tony Cisek's hulking, uninspired saloon set isn't flexible enough to clearly suggest the multiple locales it has to, and Jennifer Schriever's unflattering lighting draws little aesthetic inspiration from the American West beyond bright and harsh.
THE TAMING OF THE SHREW


1/2
To June 10
Folger Theatre
201 East Capitol St. SE
$39-$65
202-544-7077
folger.edu
This certainly isn't the worst Taming of the Shrew you could ever see, but it's surely not the best one, either. (And in a Shakespeare-loving town like Washington, you're bound to have a shot at another production in the near future.) Posner and company have ultimately gone to a lot of trouble to make tepid work out of something that really demands a full acknowledgment of how twisted it is.
Make it a full-on whips-and-chains, master-slave torture fest, or throw Katherine a telephone and give her the digits for a domestic abuse hotline – anything that would truly get at the emotional reality of the situation. But Petruchio and Katherine riding off happily into an Old West sunset? How tame, indeed.
---