Misanthropic Mamet
Round House and Theater J do their parts, but the shortcomings in the stories themselves remain
Round House Theatre does very well by playwright David Mamet with its new production of Glengarry Glen Ross, which many consider to be Mamet's best work. When it was first presented in 1984, it even garnered him a Pulitzer Prize. No doubt, the strong acting ensemble and design team Round House has corralled will be justly celebrated. It's definitely an award-caliber production.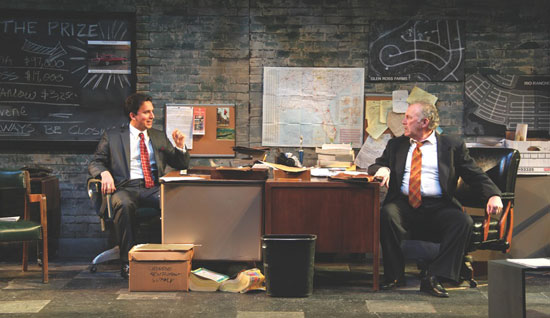 Glengarry Glen Ross
(Photo by Danisha Crosby)
But all that doesn't mean you'll walk out of the company's Bethesda theater singing the show's praises. The high-octane, dystopian play just doesn't foster a sense of celebration, at least not to this theatergoer. While it may have been on the cutting-edge of art capturing, in style and substance, the greed, excess and hyper-masculinity of the '80s – it came several years before the film Wall Street, for one – it just strikes me as a bit retrograde and misanthropic in its portrayal of human nature.
Glengarry Glen Ross focuses on a group of struggling salesmen in a real-estate business, whose sole concern is making sales – ''always be closing'' – so they can get rich and afford Cadillacs. Who cares if the properties aren't worth their asking prices, or if their clients can't really afford to buy – or want to change their minds a couple days after being strong-armed into buying? These money-grubbing, self-absorbed men won't take no for an answer.
I'm not so naive to think this doesn't reflect real life, or even that those notions are outdated. From the foreclosure crisis to rampant debt, American culture today still encourages people to bite off more than they can chew, and settle for a lesser quality of life than they deserve. But somehow in Glengarry Glen Ross, it's all just a bit too much to stomach, especially since there's no sense of resolution. ''I hate this fucking job!'' is the last line in the play. So take it and shove it – just walk out the door, you want to yell back.
Glengarry Glen Ross



To March 3
Round House Theatre
$10 to $61
240-644-1100
roundhousetheatre.org
Rick Foucheux as the play's lead Shelly Levene, and Alexander Strain as the youngest and loudest salesman Richard Roma, are both particularly dexterous here, never once stumbling over the complicated ''Mamet speak'' of regular interruptions, overlapping dialogue, half-thoughts and incomplete sentences. And director Mitchell Hébert and set designer James Kronzer make effective use of a turntable stage, moving with ease the action from a bright, inviting Chinese restaurant to an untidy, unsettled office. If only it didn't leave you feeling a bit unsettled at the closing.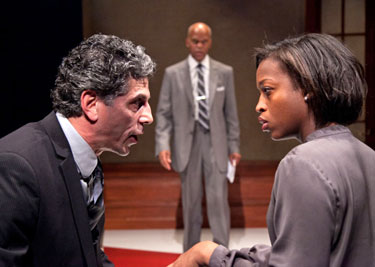 Race
AND IF YOU THINK GLENGARRY GLEN ROSS is unsettling, try Race, which David Mamet wrote 25 years later – and just after he renounced his former self as a ''brain-dead liberal'' and came out as a misanthropic conservative. (''I began to question what I actually thought, and found that I do not think that people are basically good at heart,'' he wrote as part of an anti-progressive, bomb-throwing essay in the Village Voice in 2008.) First staged to mixed-to-poor reviews on Broadway in 2009, Race is now gracing the Goldman Theater at the DCJCC in a Theater J production directed by John Vreeke that is both part of a local mini-Mamet festival with Round House and also the basis for a symposium this weekend at the DCJCC on the subject at hand: ''Race in America: Where Are We Now?''
Naturally, Mamet wouldn't answer that with any sense of optimism. Race, which focuses on a wealthy white man, Charles (played by Leo Erickson), who until we meet him has never spent a moment questioning his race or how others might perceive him – especially the black women he sees as sexual objects. After a hotel maid accuses Charles of rape, he seeks out counsel from a firm with two black lawyers – whom he wants to hire specifically because they're black.
Race


-1/2
To March 17
Theater J
$35 to $60
800-494-8497
theaterj.org
Theater J stages Race without an intermission – just as Round House does with Glengarry Glen Ross – with the goal of keeping theatergoers focused. You might not wish for an intermission – it only runs 80 minutes – but you'd certainly prefer a break from some of the tedious exchanges in the play. It harps for too long on the idea that everyone, black or white, is playing the race card in some way or another – and pretty much to bad ends, if not bad intents, every time. The cast stumbles here and there with the play's Mamet speak, but once again we have a theater company mostly doing right by Mamet.
The question is when will Mamet do right by these obviously good-hearted theater professionals? When will he do right by us?
---