Heart of Darkness
''Voodoo Macbeth'' touches, with rawness and relevance, on all that is unsettled about humans at war
Adapting an adaptation, The American Century Theater puts an intelligent and provocative spin on Orson Welles's Voodoo Macbeth, itself a radical interpretation of Shakespeare's Scottish play. Instead of Welles's dangerously all African-American, magic-filled Haiti, director Kathleen Akerley sets her tragedy in a war-torn Scotland of 2033 in which, for reasons left to the imagination, all-male American troops have been dug in for a decade. They are tense, battle-weary and living an insular and uneasy existence among an unseen local population. Like Shakespeare's medieval Scotland and Welles's closely held Haitian culture, it is an isolated and deeply hierarchical community. With soldiers so bored and stressed from danger and (most of them) far removed from their families, it's not surprising they have devolved into a new normal, which includes strange rituals, self-harm and the potential for delusional fervor. And like the earlier plays, it's a credible pressure-cooker for Macbeth's ambition and the malevolent magic that feeds it. It is a Macbeth by way of Apocalypse Now and it's a premise that works exceedingly well.
In fact, it works so well it begs to be freed from the constraints of a small theater, even as it benefits from the intimacy of close quarters. With a bigger budget, more time for development, and the further encouragement of performances full of promise (and the keeping of those already in full bloom), this production is a real contender for its power and originality.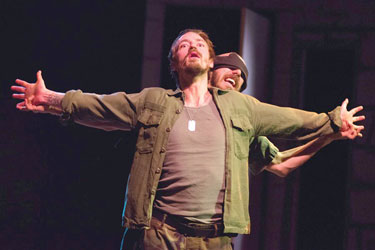 Voodoo MacBeth
(Photo by Johannes Markus)
Of course, having said that, not everybody will want to see their Shakespeare re-envisioned into what is essentially a fragging, and others may be unsettled by a Lady Macbeth (called here by her historical name of Gruoch) played as a man (not by a man as she was in the bard's day). And still others may be unhappy with Welles's changes to the play, which Akerley keeps. But depicted with her care and the actors' credibility, this is an experiment that deserves an open mind.
And it starts with the ensemble who, working cohesively, suggest effectively a military far from home, with nerves and moral compasses unraveling. Acquitting themselves well, they inject credible edge to their outbursts and the near-somnambulistic refuge they take in religion. In keeping with her theme and particularly inspired, Akerley's witches present as prisoners of war blindfolded and made to harm those who are perhaps their own. Their leader, Hecate, given far more prominence than Lady Macbeth/Gruoch by Welles, is less elegantly conceptualized, but is nevertheless intriguing as he haunts the encampment in the guise of various warlike personas.
But as essential as the ensemble may be, this play is of course about its Macbeth. And here, emerging wild-eyed and tightly sprung from the sweaty, burned-out ranks, Joseph Carlson's is a feverishly good one. Angry, uncertain, adamant and bereft, he is a Macbeth full of the madness of war and the complex drive of a man determined to survive. Completely at home with the language, there is no light between Carlson's delivery and expression; and this alone is a rarity. He brings memorable identity to this man and theatrically, physically, it is a wholly riveting performance.
Another standout, even if his initial closeness to Macbeth is not as defined in this adaptation as it could be (and thus the agony of his betrayal lessened) is Frank Britton's Banquo. Giving his man a stoic yet canny cast in life, once a ghost, Britton's Banquo has a fascinating charisma. Understated yet with eyes that bore into Macbeth, Banquo leaves an impression that lingers long after his ghost departs. Another actor at home with the language, Britton brings the kind of credible urgency that makes one forget that it was written some 400 years ago.
As Macbeth's nemesis Macduff, Christopher Dwyer is full of promise. Showing good facility with the language, there are times when Dwyer delivers with much pleasurable pace and rhythm, others when he gets a little out of synch, although never fatally. His energy is also intact and he delivers it well in the pivotal scene in which he learns that Macbeth has ordered the slaughter of his family, even if greater experience will bring him a more poignant texture. As Hecate, William Hayes offers a striking presence with his neo-Nazi-esque look and offers a smooth and effective physicality. Nicely assertive yet understated, further vocal development and more experience with the language will allow these strengths to converge. Delivering his Shakespeare rather like Welles's players – in natural voice – Ryan Sellers engages with an unfussy, almost filmic Malcolm; exuding a confidence that works well in intimate theater. Providing some amusing moments and, with Sellers, an effectively executed death, Cyle Durkee offers an easygoing Porter and some quirky, low-key comic turns.
Voodoo Macbeth



To April 13
$25-$40
The American Century Theater
Gunston Arts Center
Theater II
2700 South Lang St.
Arlington
www.americancentury.org
703-998-4555
Harder to quantify is Matt Dewberry's Gruoch. Requiring a mix of pushiness, madness and generally odd behavior, but devoid (thanks to Welles's adaptation) of Lady Macbeth's driven continuity, this is a challenging role. Not surprisingly, Dewberry tries for a careful delineation of Gruoch's varying moods, but it results in some exaggeration. Although he brings much energy to this unsettled mind, a bit less would be a lot more.
But young players or not, this is a production to be seen as an astute take on Welles's own radical interpretation. It isn't likely to shock as his did, but it does touch, with rawness and relevance, on all that is unsettled about humans at war. And who can shock a 21st century audience anyway?
---