Environs
Antiques Roadshow appraiser brings renovations to crime-affected Shaw neighborhood
| | | |
| --- | --- | --- |
| | You'll find an abundance of perfect spaces for all your antiques in this 4 BR, 2 BA Shaw townhouse. Newly renovated and overflowing with character and charm galore. | |
When antiques appraiser Reid Dunavant was followed by a man with a gun into his Shaw townhouse, he did what any man who had just spent four months on renovations would do. He came out swinging.
Reid: I bought this house in 1998. I'd been living in a house on Corcoran Street before that. I decided it was time to buy something because housing prices were going crazy. I spent some time looking around and couldn't afford anything over by Corcoran Street. I stumbled on this street and liked the brick sidewalks, the nice little park and prices were still kind of affordable over here. I wanted an old house with a lot of the original character. Working in the business that I work in, I needed to have an environment that was appropriate for antiques.
| | |
| --- | --- |
| | |
At the time I moved here, crime was pretty much a problem because Ninth Street was a bad traffic avenue. Lots of drug dealers hung out on corners and, in fact, the week after I closed on the house there was a chalk outline on the sidewalk. I don't think I have ever heard of a home getting broken into over here. It was mainly drug trafficking. Actually, when I first moved in I had somebody follow me in the house with a gun. I walked in and I got a look at him in the mirror before he could speak. He knew he wanted to rob me but he was too messed up [on drugs] to actually function. He was waving around and I had come from the grocery store and had grocery bags in my hands. So, with two or three big bags I just went up and hit him in the head and he ran out. It made me more mad than anything. I had just moved in here and had spent a fortune getting this place renovated the way I want it and somebody was trying to take advantage of me. Yeah, I was really mad.
| | |
| --- | --- |
| | |
[In the living room] Working as an appraiser at an auction house I have a very eclectic style. I like lots of different things like porcelain, paintings and glass. Most things that are here I've bought at auctions. This is a collection of Chinese export porcelain, which is very popular all over the world. It's made in China but not to be sold in China. Then I have a collection of these fans that are hand-painted on ivory. These two armoires and this table are actually made of boulle, which is a combination of tortoise shell, ebony and gild bronze. The tortoise shell is the red part. Tortoise shell is actually more of an amber color but it is translucent so they put a red foil behind it to make it that color. It was a technique developed by a Frenchman in the mid-eighteenth century whose last name was Boulle. These are things that I like I buy. There is no rhyme or reason.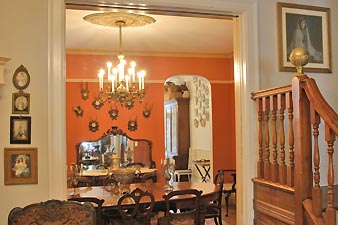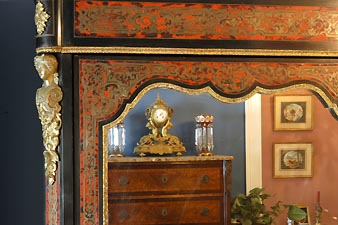 [In the home office] This is sort of my office. All my research books are in here -- everything from silver marks to buttons. You'll often see me sitting at the beach reading a book about antique clothing or duck decoys or something like that is not very interesting to most people.  Most antiques appraisers are specialist and focus on one thing like French impressionist paintings. I have always been very general in my interests, which has actually worked out great because there are very few people who do that. Besides the auction house, I also work on the Antiques Road Show, which is a great place to do research. What they show on television is a minutia of what we actually see. We will go in and see nearly seven thousand people between 10 a.m. to 6 p.m. -- that's a lot of people and they have a lot of stuff.
| | |
| --- | --- |
| | |
| | |
| --- | --- |
| | |
[In the dining room] I bought that dining room table from an estate in New Mexico but it is actually an English dining table, which dates back to about 1840. I liked it because it was very wide and it was the perfect size for this room. I don't worry too much about things getting damaged. Things that people would use like the dining room chairs, the Persian rugs or the upholstered sofas -- if they get broken they get broken. I don't really worry about that. Accidents happen. I think if you are living with antiques you have to accept the fact that while they are perceived to be precious they really aren't. Everything is replaceable.
---