Environs
Southwest townhome puts Realtor Jeff Sasche near DC's Waterfront
| | | |
| --- | --- | --- |
| | Your ship has come in with this 4BR, 2BA townhouse just a stone's throw away from the D.C. Waterfront. Floor-to-ceiling windows, plenty of green spaces and friendly neighbors make this southwest community a desired destination by land or by sea. | |
Experience pays when buying a home, so real estate agent Jeff Sachse quickly spotted his southwest D.C. townhouse as a great buy in a fabulous neighborhood. What was once a dreary group house became a spacious abode with room for a busy career, family heirlooms, flea market finds, and a dog named Truman. And with the Waterfront just moments away, Sachse can take to the waves at a moment's notice.
JEFF: I like the spaciousness of this house. I had a bigger house up in Chevy Chase, but I have a boat and I wanted to be closer to that. I have a 28-foot Sea Ray Sundancer at the marina, which is a pretty big boat -- I can take eight to ten people out on it. You can weekend on it very comfortably. And it's about three minutes from the house. I used to live in Chicago where I had a great condo right on the water. I've always loved living near the water.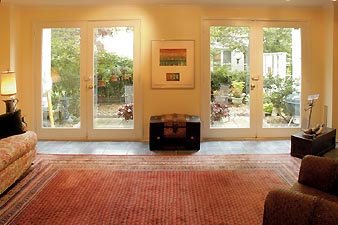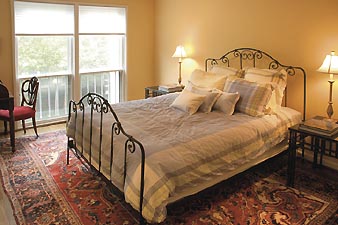 [In the foyer] When I bought this place it was a rental group house. The entire house was carpeted and painted off-white. It was pretty dreary. I've been through about three different paint colors on the walls. This is "tea biscuit." [Laughs.] Actually, this is a great color. Throughout the house, you basically have floor-to-ceiling windows in every room. There's a lot of openness, but the house faces north so I don't get a lot of direct sunlight. Originally, I had used some dark colors. They were nice colors but they made the house seem dark. So that's why I chose tea biscuit.
[In the living room] I switched the room around recently. I used to have the dining room over here but then I put it in the smaller area over there. I'm not a cook, and I don't really entertain at home that much. I use the living space more than I use the dining space, so it made sense to bring the living space into the bigger part of the room.
I use the back yard and patio pretty often. It's nice at night when the torches are lit. It's also nice to be able to just let the dog out on the patio without having to walk him every single time. But I like the feeling of having a little yard that's not too big. It's really easy to maintain. It's really quiet here and the neighbors are very nice. People often have a misconception that there's a lot of crime in southwest. I've never had one problem here.
This painting's kind of interesting. My grandparents picked it up during a trip to Europe. It's signed Winslow Homer, and they had tried for years to get it authenticated. It's very Homer in its look and technique.  People think that it's a portrait of a fisherman in an English town where Homer spent a lot of time. I have old newspaper articles from the 1960s about their attempt to authenticate it. But they were never able to, which is why it wound up in my living room and not my mother's.
[In the guest room] I like the room size in this place. This is a really pretty big guest room, and the windows are big. Truman will sleep on top of any pile of pillows and on the back of sofas. You can see his little indentation on the bed pillows there.
When I first walked into this place it had a dirty beige carpet. I'd seen other units here and I knew there were hardwood floors underneath, so the first thing I did was rip out all the carpet and redo all the floors. They're really beautiful floors. I can maybe understand carpeting a bedroom, where you want to have warmth on your feet. But I'd rather have an area rug -- it just looks so much better.
[In the master bedroom] Originally, there were two bedrooms up here. But I don't need two bedrooms, so I opened up the space between them [with sliding pocket doors]. For resale purposes, I didn't want to completely take the wall out. This gives me a sitting room next to the bedroom. It really opens up the floor and makes it look so much bigger.
[In the office] These shelves were here already and it actually worked out perfectly. I find it incredibly convenient and fantastic to work at home. As a real estate agent, you don't spend a lot of time sitting in an office anyway. It's just a convenience to be able to work out of the house. Wake up, go into the office for the things you need to do, and just get it done. I think if I had a job where I was sitting in the office in my house all day it might get a little lonely and I don't think I'd enjoy that. But this way it's about being able to get out and get the stuff done that needs to be done.
---